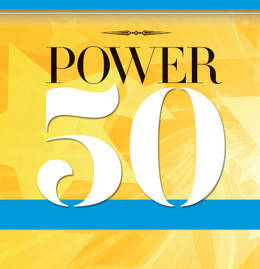 Power 50
The top names to know in the South Jersey business world 2021
This year's class of influential leaders is full of difference-making titans of industry who are recognized for getting the job done and helping push the region forward. From high-powered politicians and heads of health care systems to top executives and other visionaries, these folks are the linchpins of the South Jersey business world and its because of their efforts that our future looks brighter than ever.
JAMES ANDREACCI
Title: Market President, BB&T/Truist. Of note: Andreacci was appointed market president in 2017 for BB&T Bank and brings more than two decades of experience in the banking industry to the job. The merger of equals between BB&T and SunTrust formed Truist, creating the sixth largest bank in the U.S. with more than $450 billion in assets. Scout's honor: An Eagle Scout himself, Andreacci is heavily involved with the Boy Scouts of America and sits on the board of directors for its Garden State Council.
MARLENE Z. ASSELTA
Title: President, Southern New Jersey Development Council (SNJDC). Of note: For more than 35 years, Asselta has led the nonprofit organization charged with promoting the responsible economic growth for the southern eight counties of New Jersey. She has helped significantly grow its influence and membership, which now includes more than 300 organizations among 30 broad business types and industries in the tri-state area. Off the clock: Asselta enjoys spending her spare time with family, tending to her rose garden and cheering on her grandson Jimmy, a standout student and baseball player at St. Augustine Prep.
CATHY BENNETT
Title: President and CEO, New Jersey Hospital Association (NJHA). Of note: Bennett has guided the state's oldest and largest health care trade association during the greatest public health crisis in more than a century. NJHA's nearly 400 members span the continuum of health care, including hospitals, health systems, nursing homes, home health, hospice, assisted living and PACE sites (Program for All-inclusive Care for the Elderly.) A helping hand: A frequent volunteer for Habitat for Humanity, Bennett learned the hard way that she is much more adept wielding a paintbrush over a hammer.
MARY ANN BOCCOLINI
Title: President and CEO, Samaritan. Of note: Boccolini leads Samaritan's community-based, not-for-profit mission of providing advanced clinical expertise and extraordinary compassion for the South Jersey community for over 40 years. Samaritan provides care for more than 11,000 patients, and thousands more of their family members, annually through a growing family of services. Samaritan's continuum of care includes primary care at home, palliative medicine, hospice care and grief support. A great host: Boccolini is a very creative party planner and her family loves their annual vacations to Ocean City when she plans themed celebrations each night, complete with food, costumes and decorations.
TOM BRACKEN
Title: President and CEO, New Jersey Chamber of Commerce. Of note: Bracken is a strong and respected voice in the New Jersey business community and a critical advocate in Trenton for the N.J. Chamber's 1,500 member companies. His solid relationships with the governor's office and legislative leaders help him promote legislation and policy that lead to economic growth and job creation in New Jersey. Well-connected: Bracken is known to have one of the deepest Rolodexes in Trenton and he enjoys participating in professional activities when he's not spending time with his grandchildren.
JAMES BUCCI
Title: Partner, Genova Burns. Of note: Bucci has represented business of all sizes, including Fortune 500 companies, in employment matters. He has taken numerous cases to trial involving employment law and commercial disputes and in one case won a jury verdict of more than $1 million on behalf of plaintiffs in a complex commercial litigation in Camden County. Time to relax: If he's not down the Shore with his family riding bikes or taking walks on the beach, you can likely find Bucci on the golf course trying to improve his game.
LOUIS CAPPELLI
Title: Director, Camden County Board of Commissioners. Of note: A practicing attorney since 1987, Cappelli was elected to the Camden County Board of Commissioners in 2003 and has served as director since 2006. During that time, he has led the way on several economic development initiatives and helped build the Camden County Police Department. He's also played a vital role in the use of Naloxone as a life-saving anti-opioid strategy. Off the clock: If Cappelli isn't enjoying time with his family, you're likely to find him on the golf course or casting a fishing rod.
JOSEPH CHIRICHELLA
Title: President and CEO, Deborah Heart and Lung Center. Of note: Chirichella has been with Deborah for over 40 years and has had a direct hand in helping advance the hospital's cardiac program to national excellence while also growing its regional footprint as well as its level of care. As he leads Deborah toward its 100th anniversary, Chirichella will oversee a planned groundbreaking this year for a $100 million hospital expansion project. Pedal pusher: Chirichella is an avid cyclist, often seen on weekends riding Burlington County's back roads with his cycling group.
KEVIN CORBETT
Title: President CEO, NJ Transit. Of note: Responsible for the country's largest statewide public transportation system, Corbett also currently serves as the co-chair of the Northeast Corridor Commission and is a founding member of the Commuter Rail Coalition. In 2019, he was appointed as North American representative to the policy board of UITP, the International Association of Public Transport. Looking back: Corbett says his greatest regret is having missed the chance to join the Tuareg in crossing the Sahara from Nigeria to Sudan to transport kola nuts while he was working in Africa.
MARK A. CLOUSE
Title: President and CEO, Campbell Soup Company. Of note: The 14th leader in Campbell's 150-year history, Clouse has more than two decades of experience in the food industry and previously spent time in senior management roles with the likes of Kraft Foods Inc., Pinnacle Foods and Mondelez International. Clouse's expertise in corporate strategy and global marketing and sales has proven to be integral for the Camden-based multi-national food company. Off the dribble: Clouse is a huge basketball fan and played Division 1 hoops at the United States Military Academy West Point.
ROB CURLEY
Title: South Jersey/Coastal New Jersey Market President, TD Bank. Of note: Curley started with TD Bank in 1989 as a seasonal teller while attending Penn State and worked his way up through the ranks, eventually landing in his current role in 2008. He leads all commercial and industrial, real estate and small business lending teams and also manages donations to the TD Charitable Foundation across the South Jersey market. Ready to rock: Curley provided the beat as the drummer in his high school band.
VINCENT D'ALESSANDRO
Title: Southern Region President, OceanFirst Bank. Of note: Beginning his career in 1989, D'Alessandro held leadership roles at several financial institutions before joining OceanFirst in 2008. His experiences have ranged from roles in commercial credit and administration, commercial lending, commercial team leadership, private bank management and currently overseeing OceanFirst Bank in all revenue producing lines. Hitting the links: A highly-competitive golfer who played for his alma mater Rutgers University, D'Alessandro once shared a round with stuntman Evil Knievel.
DENISE DAVIS
Title: President, NAWBO South Jersey. Of note: In addition to recently being named the newly elected president of NAWBO's South Jersey chapter, Davis is a financial services professional with Davis and Memmo Financial Group and is a licensed agent of New York Life based in Mount Laurel. Giving back: In addition to enjoying spending time with her family, Davis is passionate about volunteering with her family foundation, which focuses on providing funds to organizations that work with children with illnesses and disability.
MATT DOHERTY
Title: Executive Director, Casino Reinvestment Development Authority (CRDA). Of note: Doherty is responsible for the day-to-day operations of the CRDA, an authority with assets exceeding $850 million, an annual budget of $48 million and 110 employees. He sits on several boards and is the chairman of the governor's Atlantic City Restart and Recovery Working Group. In addition to serving on the Atlantic City Executive Council, Doherty is also a member of the city's NAACP chapter. A proud Hoya: Doherty earned both his bachelor's and master's degrees from Georgetown University where he was also a scholarship athlete in track and field.
ALBERTO GARAFALO
Title: Chief CRA Officer and Community Banking and Development Executive/New Jersey Market President, Bank of America. Of note: Garofalo keys his approach to the job on creating initiatives that deploy capital, create jobs, develop communities and foster economic mobility by addressing society's biggest challenges. In his role as New Jersey's market president, he is responsible for connecting banking and investment resources to companies, families and individuals to address socioeconomic concerns and strengthen communities. Around the world: Born and raised in Cuba, Garofalo has lived in five different countries throughout his life.
CHRISTOPHER GIBSON
Title: President, Archer. Of note: Gibson is also chairman of Archer's litigation department and over the course of his more than three decades in practice, he has successfully tried multiple cases involving hundreds of millions of dollars and is regarded as one of New Jersey's top environmental litigators representing a mix of large corporations and several governmental clients. Soccer fanatic: Gibson not only roots hard for Liverpool FC of the English Premier League, but he is on the committee that's trying to bring the 2026 World Cup to Philadelphia.
JARROD GRASSO
Title: CEO, New Jersey Realtors. Of note: Grasso has been serving New Jersey Realtors' 60,000 members as a fierce advocate for private property rights and home ownership for more than two decades. In 2020, he was recognized with the National Association of Realtors William R. Magel Award for Excellence for his efforts in the industry. Hitting the slopes: In the winter months, Grasso volunteers his time working on a ski mountain.
JOHN T. HANSON
Title: CEO, Delaware River Port Authority (DRPA); President, PATCO. Of note: As CEO, Hanson emphasizes stewardship and public service, saying, "We are stewards of the important transportation assets and other resources. We hold them in trust for their owners: the public." Funny guy: Hanson has a great sense of humor and loves to show it off by performing improv and he has also closely studied the art of stand-up comedy.
LORI HERNDON
Title: President and CEO, AtlantiCare. Of note: Herndon leads more than 6,000 AtlantiCare staff, providers and volunteers who serve the community across five southern New Jersey counties. A one-time critical care staff nurse with the health care system, she is passionate about helping staff members grow and enjoys mentoring local college students. Staying active: A believer in physical fitness, Herndon enjoys swimming, bicycling and golfing in her free time in addition to spending time in Brigantine with her family.
GARY D. ST. HILAIRE
Title: President and CEO of Horizon Blue Cross Blue Shield of New Jersey. Of note: Horizon's 3.7 million members have made it No. 1 in the J.D. Power Survey for Member Satisfaction among Commercial Health Plans in the state, giving New Jersey's largest health insurer the top spot for four out of the last five years. Leisure time: When he isn't working, St. Hilaire heads into the great outdoors to enjoy a hike or time on the lake with his wife, their six children and two grandchildren.
VERNON W. HILL II
Title: CEO and Chairman, Republic Bank. Of note: The former Commerce Bank founder joined Republic in 2008, became chairman in 2016 and then CEO earlier this year. All the while he has been a driving force as the bank has grown from $700 million in assets to $5 billion and increased its number of retail branches from eight to 32. Art appreciation: Hill and his wife, Shirley, are passionate about the art of Italian glass making and thanks to his ongoing contributions to the preservation of country's art and culture, Hill earned Italian knighthood in 2020.
ALI HOUSHMAND, PH.D
Title: President, Rowan University. Of note: Dr. Houshmand has overseen the transformation of Rowan into a top 100 public research university in the country and the fourth fastest growing research university in the nation. Enrollment has almost doubled in that time, and is now at 19,700 students. Turning up the heat: Dr. Houshmand raises scholarship funds for students through the production and sales of his very own Houshmand's Hazardous Hot Sauce.
DIANNA HOUENOU
Title: Chair of the New Jersey Cannabis Regulatory Commission. Of note: In charge with helping oversee the newly formed marketplace for legalized adult use marijuana, Houenou is playing a major role in shaping the future of the industry in New Jersey. Prior to this, she served as senior policy advisor and associate counsel in the governor's office, working closely with Gov. Phil Murphy on various policy and legislative issues. Carolina blue: A star athlete, Houenou played rugby for the University of North Carolina at Chapel Hill.
THOMAS KEMLY
Title: President and CEO, Columbia Bank. Of note: Kemly began his career with Columbia Bank 40 years ago and was both CFO and COO before becoming president. He has implemented several programs to expand employment opportunities and his leadership efforts have helped the bank grow consistently with assets totaling $9 billion. Making a difference: Kemly has had a direct hand in growing the Columbia Bank Foundation, now one of the largest private giving foundations in the state. He also created "Team Columbia," where employees volunteer to participate in community and charitable endeavors.
KRIS KOLLURI
Title: President and CEO, Camden County Partnership. Of note: Kolluri took over as CEO of Cooper's Ferry Partnership (recently rebranded as Camden County Partnership this past June) in January 2018. Since then his expertise in economic development, infrastructure management and operations along with his experience running multibillion-dollar public transportation/economic development agencies has only strengthened his reputation as a champion for the South Jersey business community. Global recognition: One of only 25 business graduates from around the world, Kolluri was named to membership in the 2021 Class of Influential Leaders by AACSB International earlier this year.
GREG LALEVEE
Title: IUOE General Vice President and Business Manager, Local 825. Of note: Lalevee leads an organization of nearly 8,000 heavy equipment operators throughout New Jersey and five counties of New York State. While union membership has declined nationally, Lalevee has seen a 20% growth in membership during his tenure. Checkmate: This former crane operator is an avid chess player, which he credits with sharpening his ability to think strategically when issues arise.
WALTER LYNCH
Title: President and CEO, American Water. Of note: Lynch is the head of the largest publicly traded U.S. water and wastewater utility. He leads a team of 7,000 dedicated professionals who provide service to 15 million people in 46 states and has more than 25 years of experience in both the regulated and market-based water and wastewater industry. Salute to service: Lynch is a graduate of the U.S. Military Academy at West Point, he holds a bachelor's degree in general engineering and attained the rank of captain before his departure from the U.S. Army in 1990.
KEVIN B. MAHONEY
Title: CEO, University of Pennsylvania Health System. Of note: Recently, Mahoney has been busy directing the development and construction of the new $1.5 billion hospital, The Pavilion, on Penn Medicine's West Philadelphia campus. The facility, which will be the largest capital project in Penn's history, will house inpatient care for the Abramson Cancer Center, heart and vascular medicine and surgery, neurology and neurosurgery and a new emergency department. All in the family: When talking about building negotiation and listening skills, Mahoney credits his upbringing in a tight-knit family—a group of 10 sharing one bathroom—for learning how to work with a group of people to get something done.
AMY MANSUE
Title: President and CEO, Inspira Health. Of note: Mansue has three decades of experience in the health care industry and prior to taking over the reins at Inspira in 2020, she spent the previous four-plus years as executive vice president and chief experience officer with RWJBarnabas, the state's largest integrated health care system. Since coming to South Jersey, she has not only helped spearhead Inspira's COVID-19 response, but has seen the health care system continue its recent growth and expansion. Well-traveled: Mansue has visited 46 of the 50 states with only Arkansas, Nebraska, Oklahoma and Iowa left on her list.
ANTHONY J. MAZZARELLI, MD, JD, MBE
Title: Co-President and CEO, Cooper University Health Care. Of note: As a physician, attorney and medical ethicist, Mazzarelli provides unique leadership at Cooper, South Jersey's only Level 1 Trauma Center and one of the busiest in the region with more than 4,000 cases annually. On the case: Mazzarelli is a member of the Vidocq Society—a group of professionals across several disciplines who use their experience to provide new insights for investigations, typically unsolved murder cases, that have gone cold.
SCOTT MERTZ NEW PHOTO
Title: President, NAI Mertz. Of note: Scott commenced his career at NAI Mertz in 2001 and has since completed more than 1,250 transactions valued in excess of $1.5 billion and representing over 36 million square feet of space. So far this year, he has already leased 3,650,000 square feet, including the largest lease in the market for 2021—768,750 square feet—to Aukey Technology in Bordentown. Off shore: An ardent boater, Mertz enjoys spending time with loved ones on the scenic waters of New Jersey's coast.
DR. WILLIAM F. MUHR JR.
Title: CEO, South Jersey Radiology (SJRA). Of note: Muhr is known for possessing a wealth of knowledge in MRI and diagnostic radiology and has played a vital role in SJRA's advancements, including its Women's Center in Voorhees, the first of its kind in the state to offer 3D mammography. Currently, SJRA is helping improve patient outcomes with the use of CT lung cancer screening. Fun fact: Muhr's path toward medicine was sparked by the strong interest in science he developed as a child when the space program was off and running.
MIKE MUNOZ
Title: Market President, AmeriHealth New Jersey. Of note: After spending a decade leading the company's sales and marketing organization, Munoz took over as market president in 2017 and is responsible for profit-and-loss management and business operations. His leadership is credited with increasing brand awareness and he's been recognized as an Executive of the Year by both South Jersey Biz and the New Jersey Business and Industry Association. In the mix: Before beginning his career in health care, Munoz deejayed at some of New York City's most popular nightclubs in the '80s.
PHIL MURPHY
Title: Governor of the state of New Jersey. Of note: Gov. Murphy is heading into his re-election campaign with fairly strong approval ratings based largely on his handling of the COVID-19 pandemic. Though certainly not without his detractors, Murphy can also tout several other accomplishments such as the legalization of marijuana for adult use, a major $14 billion corporate tax incentive program and the passage of the hotly-contested millionaire's tax. And his securing of billions in federal funding has helped the cash-strapped state remain afloat during the financial fallout of the pandemic. A love story: Seven years after first meeting his wife Tammy, Murphy asked her out on a date. Eighteen days later they were engaged.
GEORGE E. NORCROSS III
Title: Executive Chairman, Conner Strong & Buckalew; Chairman of the Board of Trustees of the Cooper Health System, Cooper University Hospital and MD Anderson Cancer Center at Cooper. Of note: Norcross founded Conner Strong in a basement office in Camden and has grown it into one of the nation's largest insurance, risk management and employee benefits brokerage and consulting firms that now does business in all 50 states and internationally. He's also a political powerbroker with reach up and down the state. Historically speaking: Norcross is quite the history buff and has visited every presidential museum.
PHILIP NORCROSS
Title: Managing Shareholder and CEO, Parker McCay. Of note: Norcross practices public finance and transactional law, with an emphasis on municipal, economic development, redevelopment and other specialized financings. He represents governmental and private entities in finance, real estate, private equity and development matters throughout New Jersey and devotes a substantial amount of time to governmental and administrative affairs. Off the clock: In his down time Norcross likes to stay active and enjoys golfing and skiing.

KEVIN O'DOWD
Title: Co-President and CEO, Cooper University Health Care. Of note: O'Dowd is co-leader of the region's leading academic health system with more than 1.6 million patient visits annually including active patients from all 50 states and more than 35 countries. Before his time at Cooper, O'Dowd served as former Gov. Chris Christie's chief of staff from 2012 to 2014. A role model: As the father of three young boys, O'Dowd spends many nights and weekends serving as a youth basketball and baseball coach.
SHEILA OLIVER
Title: Lieutenant Governor. Of note: Oliver is the first woman of color to serve in a statewide elected office in New Jersey, but breaking barriers is nothing new to her. She was previously speaker of the General Assembly, making her the first African-American woman in state history and second in the country to serve in that capacity. She cites the raising of the minimum wage, the passing of one of the country's toughest wage-theft bills and the restoration of the Affordable Housing Trust Fund as some of the administration's most notable accomplishments. Time to escape: Oliver is an avid traveler and her favorite destination to unwind is the Caribbean.
DENNIS W. PULLIN, FACHE
Title: President and CEO of Virtua Health. Of note: Despite the stressors of the COVID-19 pandemic, Pullin launched the Eat Well Mobile Grocery Store in 2020, a supermarket-on-wheels that improves food access in underserved communities. It's efforts like these that earned him the Distinguished Healthcare Leadership Award from the National Association of Health Services Executives in 2018. The mixologist: Pullin enjoys making and serving craft cocktails to friends and family and is often asked to share his recipes.
ANNETTE C. REBOLI, M.D.
Title: Dean, Cooper Medical School of Rowan University (CMSRU). Of note: As chief academic officer, Reboli's fingerprints are all over CMSRU. Having previously been the founding vice dean, she was responsible for oversight of the Liaison Committee on Medical Education accreditation process, undergraduate and graduate medical education, faculty affairs and developing affiliations for the medical school. A board-certified epidemiologist, she has been a consultant for several pharmaceutical companies including Pfizer and Merck. In the saddle: In her free time, Reboli enjoys riding her horse, Casey, in the Pinelands.
CHRISTINA RENNA
Title: President and CEO, Chamber of Commerce Southern New Jersey (CCSNJ). Of note: Renna leads a 10-person, all-female team whose goal is to provide connections, resources, events and services for their 1,100 members consisting of businesses and nonprofits throughout the South Jersey community. Let's ride: If Renna had a side job, she says it would be as a Peloton salesperson. She has had a Peloton bike since 2017 and has convinced lots of friends and family to invest in the exercise equipment for its mental and physical health benefits.
MICHAEL RENNA
Title: President and CEO, South Jersey Industries (SJI). Of note: Renna oversees an energy services holding company with more than 1,100 employees that includes two of New Jersey's gas utilities, South Jersey Gas and Elizabethtown Gas. SJI announced plans this year to achieve carbon neutral operations by 2040 and expand investments in clean and renewable energy sources including renewable natural gas, fuel cells and green hydrogen. Away from the job: Renna is passionate about family, college football and exercising.
MICHELE SIEKERKA
Title: President and CEO, New Jersey Business and Industry Association (NJBIA). Of note: NJBIA is the largest employer association in the state, with member businesses comprising of nearly one million jobs, while its government affairs team provides some of the strongest and most impactful business advocacy in the state. Light on her feet: Siekerka once trained and won a ballroom dancing competition to help raise money for Young Audiences, an organization which helps children prepare for success in school and life through participation in the arts.
GARY STOCKBRIDGE
Title: Region President, Atlantic City Electric and Delmarva Power. Of note: Stockbridge is responsible for engaging in stakeholder relations with state and local officials, community leaders, and business, consumer and nonprofit organizations within the companies' service areas. He has more than three decades of experience in the energy industry, all with the Exelon family of companies. Easy rider: Stockbridge spends much of his free time riding his Harley Davidson motorcycle and enjoys cruising the back roads along the East Coast with his wife.
TIM SULLIVAN
Title: Chief Executive Officer, New Jersey Economic Development Authority (NJEDA). Of note: During his tenure as CEO, Sullivan has led the NJEDA's transformation into a comprehensive economic development organization. Under his leadership, the NJEDA has led the development of more than 15 programs created under the Economic Recovery Act of 2020, facilitated the growth of a robust offshore wind industry, collaborated with partners in the private sector to grow New Jersey's innovation ecosystem and helped municipalities revitalize brownfields and other underused spaces into valuable community assets. Ready to assist: To date, the NJEDA has provided COVID-19 relief to more than 70,000 businesses.
BRIAN SWEENEY, RN, MBA, FACHE
Title: President and Chief Operating Officer, Jefferson Health New Jersey. Of note: Sweeney's first day on the job was quite the introduction as it also happened to be the same day the very first COVID-19 patient in South Jersey was identified, at Jefferson – Cherry Hill Hospital. All told, he has been with the health system for 24 years and formerly led daily hospital operations across all Jefferson campuses in Philadelphia. Other passions: In addition to being a licensed private pilot, Sweeney is also an avid equestrian and lives on a horse farm.
STEVE SWEENEY
Title: President, New Jersey Senate. Of note: Considered among the most powerful political figures in the state, Sweeney is a staunch representative of South Jersey in Trenton. A Camden native and ironworker by trade, Sweeney was chosen to lead the state Senate a record six terms and has made it his priority to tackle the state's largest fiscal problems, working with both sides of the aisle to enact legislation. Driven to serve: Sweeney first entered into public service after his daughter Lauren was born with Down syndrome and he remains passionate about improving opportunities for those with developmental disabilities.
CHRIS WARREN
Title: Senior Vice President, Investors Bank. Of note: Investors Bank recruited Warren in 2019 and he is known as a collegial professional who gets things done, whether closing a commercial deal or as a proponent for individuals and families in need. Giving back: A trustee for several organizations, Warren and his wife are active volunteers in the community and his efforts working with area children earned him the honor of being named a "Citizen Champion" by the Boys & Girls Club of Camden County.
FRED C. WASIAK
Title: President and CEO, Food Bank of South Jersey. Of note: Wasiak is in charge of the largest hunger-relief organization serving South Jersey, which during 2020 distributed more than 22 million pounds of food—the equivalent of over 18 million meals, including one million children's meals. The Food Bank of South Jersey serves Burlington, Camden, Gloucester and Salem counties. A calming force: Wasiak's colleagues appreciate that he is always ready with a smile, even on rainy days, which he calls liquid sunshine.
JASON WOLF
Title: Founder and Managing Principal, Wolf Commercial Real Estate (WCRE). Of note: With over 26 years of experience and leadership in the greater Philadelphia and Southern New Jersey regions, Wolf's vision and values are the foundation on which WCRE is built. These include integrity, responsiveness, a passion for the community, attention to detail and open communication with clients even after the deal is done. Inspiring others: Wolf says he's had an entrepreneurial spirit since he was a child and as a result, he enjoys being a mentor of all sorts to those in his life.
Click here to subscribe to the free digital editions of South Jersey Biz.

To read the digital edition of South Jersey Biz, click here.

Published (and copyrighted) in South Jersey Biz, Volume 11, Issue 7 (July 2021).

For more info on South Jersey Biz, click here.
To subscribe to South Jersey Biz, click here.
To advertise in South Jersey Biz, click here.