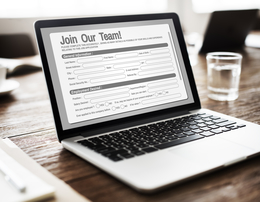 Help Wanted
Among the lingering impacts of COVID is a widespread worker shortage, which has brought unique challenges to the region.
One of the earliest and most prevailing lessons of the pandemic was the interconnectivity of not only local communities but also worldwide ones. It wasn't just embodied in how a virus circled the globe with deadly speed: It was demonstrated in food banks' uptick in donations to meet increased demand, how communities connected immunocompromised or immobilized residents with neighbors eager to safely lend a hand, and in municipalities organizing drives to benefit international communities still besieged by high infection rates.
But for the good that emerges in times of trouble, an international crisis is going to have ramifications that play out in waves and on an intimately personal scale. Soon, the human toll spiraled beyond heartbreaking stories of loved ones lost to COVID or survivors' compromised quality of life and included those thrust into financial chaos, food insecurity and the very real threat of losing their homes.
Among those touched by COVID's secondhand ruination were local business owners, whose livelihoods and companies often followed a reluctant path that began with temporary closures and ended with shutting their doors for good. Those who were spared a permanent end to their operations soon faced a new hurdle: a shortage of workers.
When National Federation of Independent Business Chief Economist William C. Dunkelberg released his May 2021 job report, he noted a record-high 48% of small business owners said their companies have unfilled job openings. He added that May is the fourth consecutive month of record highs in that regard, and stands 26 points higher than the previous 48-year historical high of 22%.
"Small business owners are struggling at record levels trying to get workers back in open positions," Dunkelberg said in his report.
A number of voices offer commingling opinions and evidence supporting their explanations why businesses across the country and New Jersey are suddenly hemorrhaging employees. But, like any other complex issue, this one has myriad factors at play.
Some of the most persistent explanations are: continued unemployment and stimulus payments encouraging people to decline work opportunities; remote education and a lack of child care options mean that many
parents never returned to work; and 2020's ban on J1 Visa applicants for summer jobs is
still affecting this year's seasonal employers
at the Shore—an additional concern because tourism season is a significant contributor when it comes to directing tax dollars back into the state.
Most recently, the reality of a worker shortage struck South Jersey anew as recycling and trash collections have been any combination of interrupted, rescheduled and reallocated. In Burlington County, for example, county commissioners announced a mid-June initiative specifically addressing how a nationwide lack of truck drivers is hitting home. Division of Roads and Bridges drivers are being trained to assist contracted recycling provider Occupational Training Center's (OTC's) staff
with collection, while commissioners and the Bridge Commission entered into a shared-service agreement allowing the latter's licensed truck drivers to also work in a collections capacity.
The announcement came after trash cans sat outside homes for days and amid residents' begrudging grumbles about being advised to haul their own recycling to local centers themselves with no local tax reductions reflecting their efforts.
"We understand and share the frustrations of our residents about the delays, but the truck driver shortage has created a lot of challenges beyond our control," said Commissioner Tom Pullion in a countywide press release. "These additional drivers are not a permanent fix and they won't necessarily get us back to our regular recycling schedule overnight, but they should help us bridge the gap while we continue to work with OTC to help them hire and train permanent drivers."
But the shortage of workers started playing out much earlier in the pandemic, reports Dan Morton, president of the Marlton Business Association, with restaurants being among the first to feel the pains of a retracting workforce.
"As restaurants reopened, they had a lot of servers just being honest and say like, 'Hey, I'm getting the extra help and there's no reason to come to work, see you in September,' when federal payments are supposed to naturally run out," Morton says.
No matter the industry or job, being so short-staffed means those who do show up are overwhelmed and doing more with less. That compromises the quality of the product, service or business they deliver, which, in turn, becomes a community problem—and a quality-of-life problem for workers left picking up more than their fair share.
"It makes everybody a little more on edge because the people who are working are doing more to keep up with the work of five people when they only have two," says Craig Dennin, vice president of the Moorestown Business Association.
Dennin says that the issue is compounded by a lack of qualified applicants, or applicants at all. He cites his own difficulty filling the open positions left by two employees who moved out of state toward the end of 2020.
"I have not been able to replace either one of them. I've put out ads and I am lucky if I get one response in three months," says Dennin.
Dennin also owns an auto body shop and uses his experiences as an example of how worker-shortage problems can interfere with one industry's entire chain of demand, from
delaying projects to reducing a car dealership's inventory to four cars on the entire lot. "There aren't enough people and processors to make the entire product … just the other day, we called our paint vendor for a special toner, and they have been out of it for a month with no ETA on when more will come. We can't finish painting this car without it."
From the perspective of the Marlton Business Association, Morton says that some industries are having no trouble attracting work or workers. His wife is a realtor whose industry is booming with long-timers and newcomers alike benefiting from the pandemic driving people from the city to South Jersey in droves; however, the pandemic's effect on something like the travel sector means other employers are just trying to keep their doors open.
"I've got a long-term member of ours that ran a travel agency, he and his wife, for about 26 years. And they've shut down. He's like, 'Where's anybody going? Even if I could book a trip, when you get there, you can't do anything because you got to quarantine.'"
It's not all doom and gloom, though. Morton says that businesses like restaurants were able to stay afloat and retain workers by shifting to a takeout model and tap into the digital delivery services that grew exponentially in a homebound world, a trend that dining establishments are pivoting toward beyond the pandemic that would relieve the strains of a server shortage.
Dennin agrees that, if nothing else, the pandemic has taught surviving companies how to get creative and flexible with limited resources and staff.
"It is making businesses think outside the box to maintain functionality and cut down on costs," he says. "An insurance agent I know put his building up for sale because they learned to function without an office building. They're learning how to be a little more frugal so they can accomplish as much with less people."
Morton also notes that many companies actually reported increased productivity throughout the pandemic, which suggests that a shift toward working from home might be a veritable win-win situation—especially for organizations looking for possible ways to minimize employee shortages.
"A lot of these companies actually got more efficient with people staying at home because they didn't have these half-hour, 45-minute commutes on the front and back of every day, they're not coming into the office already agitated or dreading that," he says. "There's people willing to work, but they're saying they want at least a hybrid model, if not working fully remote. I think that's an interesting thing that wasn't intuitive but it makes perfect sense."
Click here to subscribe to the free digital editions of South Jersey Biz.

To read the digital edition of South Jersey Biz, click here.

Published (and copyrighted) in South Jersey Biz, Volume 11, Issue 6 (June 2021).

For more info on South Jersey Biz, click here.
To subscribe to South Jersey Biz, click here.
To advertise in South Jersey Biz, click here.