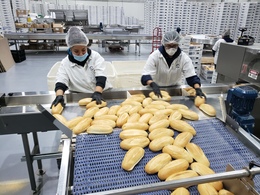 Growing Together
With a dedicated team approach, TD Bank has helped Liscio's Bakery reach new heights.
Whether you're partial to hoagies, cheesesteaks or roast pork, there's no denying that our area is home to some of the best sandwiches in the country. And whether you're ordering from your favorite local shop or constructing one in your own kitchen, the foundation for any superb sandwich is the bread. No one understands this better than the folks at Liscio's Bakery, whose trademarked tagline emphasizes, "It all starts with the bread!"
When Liscio's Bakery first opened its doors in 1994 on the Black Horse Pike in Sicklerville, it was a small, family-owned operation looking to establish recognition in a crowded marketplace. Fast forward to today and Liscio's name has become synonymous with quality and consistency and the company has grown significantly from its humble beginnings.
For owner James Liscio, the opportunity to open up his own bakery after spending more than a decade in the business was a dream come true. Over the years, as word of mouth spread and the demand for his product grew, Liscio turned to Chad Vilotti, his good friend and business-minded supplier, to help the company realize its full potential.
Vilotti, who has his own family ties to the baking industry and had recently sold his food ingredient business, initially stepped in to help a friend he saw "at his wit's end" trying to run a growing business as the sole proprietor. "[James] was doing a great job; I just knew I could help," says Vilotti. In 2001, the two would become partners and map out the bakery's future with eyes toward expansion.
Helping the two along the way was TD Bank, a financial institution that fully embraced the business partners' vision for the future. In fact, Liscio's has worked with TD Bank since its inception and the relationship has proven to be quite beneficial.
What started as a singular location for Liscio's has blossomed to now include three retail storefronts, a major state-of-the-art production facility in Glassboro and a client base of several thousand customers ranging from local pizzerias and supermarkets to familiar sandwich makers like Tony Luke's and Primo Hoagies.
"We get a lot of personal satisfaction seeing how their family business has evolved,"
says Gregory Carlisle, TD's Southern New Jersey regional vice president. "There's definitely a friendship that has grown from it."
Carlisle also credits his colleagues Rob Curley, South Jersey market president; Mike Carbone, metro Pa./N.J. regional president; Greg Cieslik, senior relationship manager; and Michelle Warfel, treasury management sales officer, for being instrumental in providing the high level of service customers have come to expect from TD Bank.
"To have a relationship with a bank that hasn't changed since day one, I think that says a lot," Vilotti says. "If we didn't have a bank we could depend on, we wouldn't have been able to grow."
That working relationship was crucial during the onset of the pandemic as TD Bank helped Liscio's navigate federal and state government assistance programs and kept the business moving forward with weekly conversations to fully grasp the challenges they faced.
"First and foremost, communication is everything, especially during this past pandemic," Carlisle says. "Staying in touch with your customers is paramount and understanding what is going on with the business—the good and the bad. Even though they are no longer the small corner bakery, [Liscio's] is still a multi-generational family-run business and just as susceptible to the economic environment that is out of their control."
Despite some initial layoffs, the company has since refilled most of those positions and added more staff with business booming of late. In fact, in recent weeks Liscio's Bakery has set new sales records and is currently in the process of working with TD Bank to add 30,000 square feet to the production facility the bank helped them open almost exactly five years ago.
For Vilotti, the whole journey has been "mind boggling," but he takes pride in knowing the business model and approach has never wavered and the success is truly based on having the best product.
"We've exceeded our expectations, but it was not about the numbers. It was about maximizing the quality. We are never going to sacrifice quality for dollars," he says.
Vilotti also credits the company's nearly 400 employees who have helped Liscio's Bakery solidify its place in the South Jersey region and beyond. "To get this product out the door every day and to see us doing as well as we've ever done is really a testament to our employees and my partner."
From Carlisle's perspective, he finds it extremely rewarding knowing that TD Bank played a role in helping a local business become a success story. "I feel that our job as bankers is not just to lend money and help deposits, we are building the infrastructure to support our communities and ultimately creating jobs, which has a major trickle-down effect," he says. "I've been doing this for over 20 years, and I get a certain sense of pride every time I drive by Liscio's Bakery."
TD Bank
Gregory Carlisle, Senior Vice President, Regional Vice President Commercial Banking, Metro Pa./N.J.
(856) 397-6659
TDBank.com