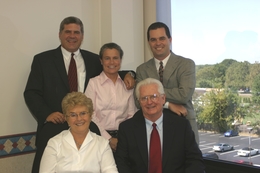 A Pillar in the South Jersey Community
For the past 50 years, Emerson Group has been impacting the local business scene as a highly respected staffing and recruiting firm.
Back in the early 1970s, Skip and Annette Emerson had a dream of establishing a successful business the right way—with honesty, integrity and respect for the people they were serving as the cornerstones. When they chose to do so as the local franchise owners of a national employment agency, many around them questioned whether they could accomplish that goal.
Half a century later, it's safe to say they proved all of the doubters wrong.
"The reputation at that point for employment agencies was not a good one," says Bill Emerson, the youngest of Skip and Annette's four sons. "People told them it was difficult to be successful in this business and remain honest. They thought that was the most ridiculous comment and they actually used it as motivation. They decided they were always going to do the right thing and they were confident they could build a good business doing that. And they sure did."
Emerson Group, now with Bill Emerson as the second-generation owner and president, is celebrating its 50th year in business in 2021. It continues to have a major impact on the South Jersey workforce, whether partnering with the leading companies in the area to fill important roles with the right candidates, or helping the candidates themselves find the perfect fit to further their careers.
From the pandemic to the Great Recession in 2008, Emerson Group has certainly experienced firsthand the ebbs and flows of the job market. It also underwent a name change
after breaking from the national employment agency in the late 1990s. But through it all the organization has remained true to its values.
"We have a fantastic team here and that's really what keeps us going," Emerson says. "One of our employees, Denise Tocco, has been with us for almost 30 years. We have others who have celebrated 15 years, 10 years. The clients get to know the people here and they know what to expect from Emerson. Our core purpose is to help others become more successful and that's what drives every team member."
Even if Emerson is unable to place candidates in a certain position, its staff will share helpful tips on how to interview better or find other ways to advance their careers. On the other side of the equation, Emerson works with companies to find candidates for temporary or direct-hire positions in a wide range of fields, including office personnel, administrative staff, customer service, accounting and human resources.
Rather than just reviewing resumes and trying to match them up with the job description, Emerson goes above and beyond by getting to know the culture of the companies it partners with, ensuring not only qualified candidates for the positions but those whose goals and objectives align with the organization. Take Virtua Health's Access Center, for example, which has been a client for 10 years and has received assistance in filling critical, non-clinical positions for its patient care team.
"We have about 2.3 or 2.4 million patient interactions in a normal year, and obviously since COVID-19 we have been even busier," says Malik Bahar, director of operations at the Access Center. "Bill's team has been integral to helping us meet that demand. … We have ultimately built a culture that is very similar to theirs, so it's been an effortless relationship and we appreciate the synergy between our two organizations. I'm a big fan of what they do at Emerson Group and a big fan of Bill. He's a gracious leader."
For multiple reasons, there is a shortage of top-notch candidates in the current job market, so Emerson encourages clients to strike quickly when they find the right person for the job. "You still want to do your due diligence; you don't want to make a hasty decision by any means," he says. "But there are a lot of different opportunities out there for these candidates, so the quicker you can make that decision, make that offer and snatch up that candidate, the better."
A 50th anniversary party is in the works for later this year as pandemic restrictions continue to ease, but even as Emerson marks a significant milestone, it is not resting on its laurels. The company continues to grow and recently launched a human resources division to address a growing segment. "HR is such an important part of any company and it seems every time
you turn around there's more employment laws and regulations being put into place," Emerson says. "Part of HR is also recruitment and talent management. The people make the company, so the strength you have in the HR division to be able to identify talent is critical."
Bahar has no doubt that Emerson will continue to help clients of all types address whatever challenges arise, just as it has for the past 50 years.
"They have an incredibly high functioning team that is made up of a group of dynamic individuals," he says. "Bill is an innovative leader … and has always had an environment where his team is his greatest resource. He has truly built something special there."
Emerson Group
304 Harper Drive, Suite 100 | Moorestown
(856) 667-9180
EmersonGroupInc.com
"Bill's team has been integral to helping us meet that demand. … We have ultimately built a culture that is very similar to theirs, so it's been an effortless relationship and we appreciate the synergy between our two organizations."
—Malik Bahar, director of operations at Virtua Health's Access Center