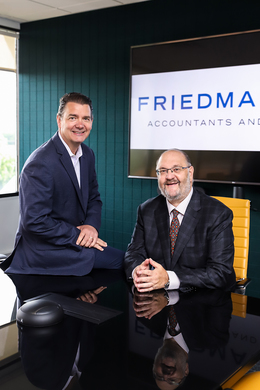 Financial Frontrunners
Friedman LLP, a top accounting and advisory firm, continues its reign as an industry leader providing outstanding service to companies both public and private.
With locations throughout the Northeast, and in California, Florida and China, Friedman has been dedicated to serving the South Jersey region for more than 30 years. In January, Neil Levine and Lee Sheilds became co-managing partners of the firm's South Jersey offices. Both bring a wealth of knowledge and unique strengths
to the table in their new roles. With those strengths, they are looking to drive the firm forward and build upon the growth that Friedman has experienced over the past decade.
Friedman has more than 600 employees worldwide and ample resources to call upon in service to clients. With sophisticated technology and a workforce full of standout financial professionals, Friedman offers clients all of the advantages of a large firm with the responsiveness, care and trust of a much smaller one. Sheilds explains, "Oftentimes, clients of larger firms feel like a small fish in a big pond whereas our model provides for personalized, hands-on service for each client. We pride ourselves on working shoulder to shoulder with our clients and making them feel as though they are our only client. Our clients have our cell phone numbers and they know they can contact us whenever they need. Clients call with an array of questions and concerns as we truly become their trusted advisor and, in most cases, good friends as well. Without a doubt, the key to our success is our passion for what we do and the relationships we create."
That passion for connecting with others spreads beyond Friedman LLP's client base to the broader community. Sheilds notes, "Many of the partners, as well as staff, serve on local nonprofit boards, giving their time and talent to various organizations." Levine agrees saying, "A lot of clients and companies are drawn to us initially because of our deep involvement within the community. Friedman LLP believes in always giving back and I think that resonates throughout the firm and throughout the community."
Unlike many competitors with a national headquarters and small regional presence, Friedman has strong ties to the business community it serves. With nearly 90 employees, the South Jersey office is second only to the New York office in
size, and its commitment to
the region shows. Levine notes, "We are really entrepreneurial in that, myself, Lee and a few other partners can do our due diligence, and then make the best, most informed decisions based on risk and reward." Sheilds adds, "If an opportunity presents itself and it involves something I haven't dealt with previously, I can easily walk down the hall and I am guaranteed to find someone who has some level of expertise on the matter. It's that bandwidth and experience that really sets us apart from our competition."
With its reputation for hands-on service, community involvement and broad capabilities, it's no surprise that the Friedman LLP office in Marlton is among the region's most respected. Levine says, "The reason we are the premier firm in the area is because we offer services that the local firms cannot or do not offer. We have a prosperous public SEC practice as well as an international practice with a particular strength in the Asian market. In fact, we are ranked fourth worldwide in bringing clients from China to trade on NYSE and Nasdaq."
No industry was untouched by COVID-19 and its transition to a remote workforce. However, Friedman LLP had the foresight to upgrade all of its computers and technology back in February 2020. Levine says, "We spent a considerable amount on technical upgrades to streamline work and client communications. Because of this, we have actually been able to grow our business and clientele during this time." Sheilds adds, "We devoted a lot of additional focus and expertise on the pandemic relief early on. There was so much information about the numerous stimulus packages available so we identified and educated a group of team members that were very well-versed and able to help communicate to our clients and prospects. We started setting up live webinars back in early April of 2020 and these proved to be valuable to existing clients, bankers, attorneys and prospects."
Even with the numerous new technological developments that allowed completely remote work, it wasn't long before the staff started to get impatient to return to the office. Sheilds notes, "Our staff actually didn't want to stay at home. They were eager to get back to working together, in person, with safety precautions in place
of course, and I think that really speaks to the
culture we have here. The energy and sense of community is very strong within the team. As a newly appointed leader, it made me extremely proud to know that Friedman inspired such a strong sense of work culture."
Friedman LLP
601 Route 73 North
Suite 400
Marlton
(856) 830-1600
FriedmanLLP.com