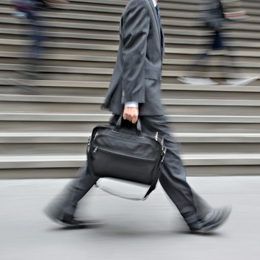 On the Move
Openings, closings, hirings and retirings in our region, and more.
Parker McCay has recently welcomed Matthew Oorbeek and Young Yoon to the firm. Oorbeek will join the litigation department, bringing broad legal experience with research and drafting, pre-trial discovery, oral arguments, trials and negotiating settlements. Yoon is the newest member of the construction department and his prior experience includes work in construction, general commercial and insurance litigation.
Rutgers University-Camden has chosen Antonio D. Tillis, Ph.D. as its next chancellor, replacing Margaret Marsh, Ph.D. Tillis recently served as interim president of the University of Houston-Downtown and he will step into his new role July 1.
Peter Kaprielyan has been appointed as the new chief development officer for the Inspira Health Foundation. Kaprielyan, a veteran of the health care industry, will continue in his role as vice president of government and external relations at Inspira. He also currently is a board member of the Greater Vineland Chamber of Commerce and the Gloucester County Workforce Development Board.
Janet Bennett is the new vice president of cardiology services at Deborah Heart and Lung Center. Bennett joins the provider after serving as director of the heart and vascular program at AtlanticCare Regional Medical Center where she also spent time as the business manager of the cardiovascular service line.
Every Kid Sports, a national nonprofit organization focused on providing low-income children with the opportunity to play recreational sports, has named Michael Wakatama as regional director-business development and partnerships. Wakatama will oversee the relationships with individuals, corporate donors and sports franchises and professional athletes.
Anthony M. Imbesi and Greg Guido are the newest members of Cooper Levenson's defense litigation practice group. Imbesi will practice out of the Cherry Hill office and the concentration of his practice will be in the area of medical malpractice. Guido brings extensive experience litigating complex insurance defense matters and conducting insurance fraud investigations.
M&T Bank has announced that John D'Angelo has been appointed as director of its Environmental, Social and Governance office. This newly created role and division will allow D'Angelo to advance bank-wide corporate responsibility and environmentally sustainable practices. D'Angelo has been with M&T since 1987 and most recently served in the role of executive vice president and chief risk officer.
DULY NOTED
BCA Insurance Group has launched BCA Risk Management to help clients manage and mitigate business risks. The new department will be led by Monica Siciliano, who has nearly three decades of expertise in the area.
Nikitas Moustakas and Kathleen Schultes have been elected to the board of trustees for Inspira Health Foundation, the fundraising entity of Inspira Health. Moustakas, an area attorney, is the managing partner of Moustakas Nelson and serves on Mount Laurel's town council. Schultes has served on the board of the United Way of Gloucester County for more than two decades and her affiliation with Inspira dates back to 1976. She is currently the chair of the Inspira Health Auxiliary-Gloucester County.
Brenda Ross-Dulan has been elected to the board of directors of NJM Insurance Group. Dulan is the president and CEO of The Ross-Dulan Group, which she founded in 2017.
Pennsauken's J&J Snack Foods has promoted Dan Fachner from president to CEO. Fachner, who became the company's president in May 2020, takes over the role from Gerald B. Schreiber.
Patricia Teffenhart is the new senior vice president for strategic initiatives with the New Jersey Chamber of Commerce. Teffenhart spent the past seven years as executive director with the New Jersey Coalition Against Sexual Assault.
U.S. Magistrate Judge Karen Williams has been nominated by President Joe Biden to the US. District Court. Williams would become the first Black judge to serve on the federal court in Camden if confirmed. The former attorney who also teaches at Rowan University has been a magistrate judge since 2009.

Click here to subscribe to the free digital editions of South Jersey Biz.
To read the digital edition of South Jersey Biz, click here.
Published (and copyrighted) in South Jersey Biz, Volume 11, Issue 5 (May 2021).

For more info on South Jersey Biz, click here.
To subscribe to South Jersey Biz, click here.
To advertise in South Jersey Biz, click here.