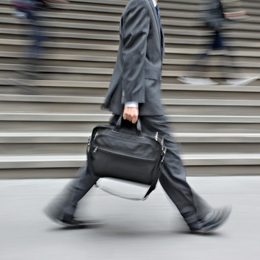 On the Move
Openings, closings, hirings and retirings in our region, and more.
ON THE MOVE
Resorts Casino Hotel President and CEO Mark Giannantonio was named the new chair of the Advisory Board of the Lloyd D. Levenson Institute of Gaming Hospitality and Tourism (LIGHT) in the School of Business at Stockton University. The casino executive has been an active member of the LIGHT board since it was formed in 2010.
Friedman LLP has hired a new member of its international tax practice. Ulises Ruiz has more than 24 years of experience assisting large multinationals, small and medium-sized businesses and individuals navigate tax planning and compliance issues spanning multiple international jurisdictions.
Dana Lancellotti has joined the New Jersey Restaurant & Hospitality Association as its new president and CEO. Lancellotti was formerly the director of business development and tourism for Ocean County and will replace the outgoing Marilou Halvorsen. Halvorsen is moving on to become the vice president of state relations and government affairs with the American Hotel & Lodging Association.
Oded Kraus has been named executive director of the Katz JCC in Cherry Hill, bringing more than 15 years of experience in the fields of higher education, hospitality and event management to the job. Kraus takes over for Les Cohen, who recently retired after filling the role for the past three decades.
Deborah Specialty Physicians has announced Dr. Navinder Jassil as its director of endocrinology and diabetes services, focusing on diabetes management and endocrinology care. Jassil is board-certified in endocrinology, obesity medicine and internal medicine and is a member of the Endocrine Society, the American Thyroid Association and the Tristate Obesity Society. She also serves on the board of the N.J. Association of Endocrinologists.
DULY NOTED
The South Asian Bar Association of New Jersey has chosen two attorneys from Stark & Stark to join its executive board. Bhaveen R. Jani was named president and Chinsu Shajan was named co-secretary of the board. Additionally, shareholder Thomas Onder will now serve on the board of directors for the Bayard Rustin Center for Social Justice.
St. Clair CPAs, P.C. has joined professional services firm EisnerAmper LLP. The transition will add five partners and 58 staff members to Eisner's team of professionals.
Ken Richardson and Corinne Giletto of Vantage Commercial were honored as Power Brokers for Q4 2020 by CoStar, a commercial real estate information company. Richardson serves as Vantage's executive director and Giletto is currently a senior advisor with the company.

The Inspira Health Network Board of Trustees has welcomed Dawn Filcraft, Robert L. Hickok, Toni Pergolin and Virna Alexander Rhodes as new members. The volunteer board focuses on strategic planning and growth, patient safety and clinical excellence, fiscal responsibility and assessing and meeting the needs of the communities served by Inspira.

Rutgers University-Camden has welcomed three regional leaders to serve on the Dean's Leadership Council for the School of Business.

Veronica Hawkins, vice president of talent strategies and solutions for NFI Industries; Chaya Pamula, president, CEO and co-founder of PamTen, and founder and president of SheTek; and Toni Pergolin, president and CEO of Bancroft, have joined the 35-member advisory board.

Peter J. Boyer, partner with Hyland Levin Shapiro LLP, has been reappointed to serve a new three-year term as a member of the Disciplinary Review Board of the New Jersey Supreme Court. Boyer has previously served as member, vice chair and chair of the District IV Ethics Committee.

Kris Kolluri, president and CEO of Cooper's Ferry Partnership in Camden, was chosen as one of the 25 business school graduates around the world to join the 2021 Class of Influential Leaders by AACSB International. Kolluri graduated from the Rutgers School of Business-Camden in 1991, earning his bachelor's degree in management.

Betsy G. Ramos, Esq., a shareholder with Capehart Scatchard, recently completed the required 40-hour Civil Mediation Training program led by the New Jersey Association of Professional Mediators. Ramos is expanding her practice area to include serving as a mediator in civil cases in both New Jersey and Pennsylvania.

Camden nonprofit Hopeworks has announced the appointment of Mark Sarvary and Melissa Smith to its board of directors. Sarvary is the executive chairman at Icynene-Lapolla while Smith is a strategy consultant at Holman Enterprises.

Lt. Gov. Sheila Oliver was recognized as the 2021 recipient of the National Lieutenant Governors Association Improving Lives and Communities Award. Award winners are chosen for their impactful contributions to better the lives of constituents.

Click here to subscribe to the free digital editions of South Jersey Biz.

To read the digital edition of South Jersey Biz, click here.

Published (and copyrighted) in South Jersey Biz, Volume 11, Issue 4 (April 2021).

For more info on South Jersey Biz, click here.
To subscribe to South Jersey Biz, click here.
To advertise in South Jersey Biz, click here.