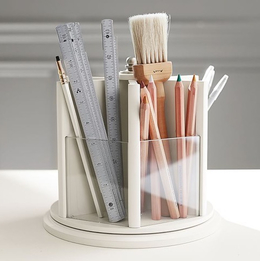 Office Space
April 2021
Supplies in Demand
Sidetrak Swivel Portable Monitor
This portable monitor saves the day whenever working in tight quarters is required. It's a portable monitor that is compatible with all laptop sizes and attaches to the back of the device, allowing the user to rotate 270 degrees or swivel 360 degrees. (Sidetrak.com, $329.99)
Bedford Lazy Susan
A functional piece of office décor, this desktop Lazy Susan features a clean white aesthetic and clear plastic dividers to keep you organized while easily being able to view its contents. (Potterybarn.com, $49)
Quartet Glass Dry-Erase Desktop Computer Pad
This dry-erase board is designed to perfectly fit in between your keyboard and monitor and its
sturdy non-absorbent glass lets you write, clean and rewrite with ease while being resistant to scratches and dents. The hidden pullout drawer underneath also allows you to store extra supplies. (Quartet.com, $27)
Q&A:
What has been the toughest lesson you've learned in your career and how has it made you better?
Amanda Buckley
Associate Executive Director, Penn Medicine Cherry Hill
"I've learned that creating space for and supporting people in their individuality is an amazing tool as a leader. Early in my career, I had a vision of what a successful leader and team looked like and I spent my 'people development' energy mentoring and encouraging to that vision. It took a couple special people along the way for me to realize that I could have a whole team of special people, if I just let them be special. Diversity in every way brings excitement, creative decision making, empathy and an awareness and perspective [that] allows us to take better care of our patients. Hopefully, the lesson also taught me how to take better care of my team."
Daniel J. Caldwell
Chief Marketing Officer/Member, Stout & Caldwell Engineers
"To listen more and understand the difference between 'listening' and 'hearing' what is being said. Recognizing the difference was the first step to becoming a better listener. Taking a pause before responding, avoiding talking over others and paying close attention has improved my
ability to better provide more accurate answers, tailored proposals and meet clients' unique needs. It may have been a hard lesson at first but has had a 'voluminous' impact both professionally and personally."
The Breakdown
The 21st Century Redevelopment Program reopens
What happened: The New Jersey Economic Development Authority (NJEDA) has reopened the grant program that was halted in April 2020 in response to the COVID-19 pandemic.
What it means: Suburban communities can receive up to $50,000 in funding to be used to repurpose underutilized properties.
Gov. Murphy signs legislation aid to small businesses and nonprofits
What happened: Gov. Phil Murphy has signed a new law which provides $15 million in federal CARES funding to assist small businesses and nonprofit organizations that were adversely affected by COVID-19.
Why it's important: The money is part of a $100 million statewide relief effort that is designed to spur economic recovery. To date, the NJEDA has distributed more than $250 million in aid to over 50,000 New Jersey businesses.
Crunching Numbers
$1,048
The cost of lumber per thousand board feet, a record high price. For the past five years, the average price has hovered around $380 for the same size and a year ago the cost was $348.
20,800
The number of jobs that New Jersey added in the month of March according to the Bureau of Labor Statistics.
$28.6 billion
The amount in funding in the form of grants that is part of the Restaurant Revitalization Fund. The Small Business Administration is expected to have the program operational this month.
2
The number of colleges in New Jersey currently requiring students to get vaccinated. Both Rutgers University and Fairleigh Dickinson University are mandating students receive the COVID-19 vaccination before returning to campus for the fall semester.
64
The number of current judicial vacancies on the New Jersey Superior Court, which has 463 seats. Three more vacancies are expected in the near future while the state grapples with a backlog of cases due to the pandemic.

Click here to subscribe to the free digital editions of South Jersey Biz.

To read the digital edition of South Jersey Biz, click here.

Published (and copyrighted) in South Jersey Biz, Volume 11, Issue 4 (April 2021).

For more info on South Jersey Biz, click here.
To subscribe to South Jersey Biz, click here.
To advertise in South Jersey Biz, click here.