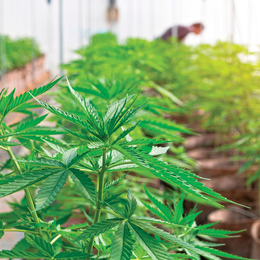 A Budding Business
With recreational marijuana for adult use now signed into law, the economic potential of the industry is garnering plenty of attention.
Since voters approved a constitutional amendment last November to legalize recreational marijuana for adult use, the buzz behind the buds has been steadily growing. It took some time for things to take shape as lawmakers battled over the language and specificities of the bill with Gov. Phil Murphy also weighing in with his own demands. But now that the legislation has become law, many who are interested in the industry from a business standpoint are eager to find out what comes next.

State Sen. Nicholas Scutari was the lead sponsor of the marijuana legalization bills and has been vocal about the economic benefits tied to tax revenue generated by this new marketplace. "This could generate tens of millions of dollars and the industry could create thousands of jobs in sales, production and related services," he says.

And with nearby Delaware, Pennsylvania and New York still behind New Jersey in legalization, the belief is that the industry will not only flourish and give the cash-strapped state a much-needed boost, but also create a blueprint for its neighboring states to follow.
So when will someone be able to actually walk through the doors of a brick-and-mortar storefront and purchase legal marijuana? According to Dianna Houenou, chair of the newly formed Cannabis Regulatory Commission, that time will likely not come until next year while the group irons out the details of just exactly how the industry will be governed.
Currently, the 12 licensed medical marijuana operators in the state and the dozen or so awaiting approval will have the first crack at pivoting to also be able to sell to recreational users. However, before that could happen, they must get approval from the towns in which they are located as well as the regulatory commission. Operators must also have an adequate supply in order to be able to still meet the demand of the patient population, which has grown significantly in recent years.
While these larger medical operators are well-positioned to hit the ground running, others are left to navigate the process of applying for a license. Despite special dispensation being given for minority, female and veteran owners, getting approved remains an uphill battle for several reasons, most notably cost and the sheer volume of interested applicants. With a limited number of licenses available, New Jersey's cannabis market is shaping up to be highly competitive and costly. That, of course, could mean many mom-and-pop operators will be on the outside looking in.
Scott Rudder, founder of the New Jersey Cannabusiness Association, says he'd prefer to see the state adopt more of a criteria-based model rather than see applicants have to compete for a license.
"If we adopt a smarter process, we'd see a more robust industry and the economic impact would be significant," says Rudder. "We would be creating tens of thousands of jobs and hundreds of millions of dollars in additional revenue and that's just in plant touching side of the industry.
"With the ancillary market you'll see an as big or even greater impact than the plant touching side. We are talking security companies, marketing companies, delivery vehicles, accountants and attorneys, all those people will also be working within the industry. The plant touching side and the ancillary side combined would have a $6 billion economic impact for the state of New Jersey each and every year if we adopt the more robust model."
One company hoping to become a player in the marketplace is Cova, a software company that has created a point-of-sale (POS) and inventory management system specifically for the cannabis market. Based in Denver, Colorado, where recreational marijuana was legalized in 2012, the company's technology can be found in 12 states and in roughly 2/3 of all private cannabis stores in Canada. They now have their eyes on New Jersey.
Cova CEO Gary Cohen says the system goes beyond the traditional POS you may see in other retail stores because its automated compliance tools can be critical assets. Features like ID-scanning and purchase limit alerts along with tracking and reporting capabilities are designed to help prevent staff from sidestepping government regulations or making other missteps that could result in fines or a loss of license.
"All the bells and whistles are ultimately meant to work quietly, behind the scenes, to free up the time and build the confidence owners and staff need to focus on what matters: their customers. Intuitive sales tools, accurate product information, fast processing, backup offline mode that shrugs off any internet hiccups—it all empowers budtenders to deliver a top-notch, on-brand customer experience," Cohen says.
But as companies like Cova see opportunities in New Jersey and await regulatory guidelines, so too are many municipalities. While each of the state's 21 counties overwhelmingly supported legalization, towns were given 180 days from when Murphy put pen to paper to decide whether to welcome the industry into town or opt out and bar operators from setting up shop (though a municipal ban would not stop the legality and prevent residents from bringing cannabis in from other towns). As an incentive, towns would be able to levy a 2 percent tax on operators, whether that's a retail store, grow house, processor or otherwise.
So far, many towns in South Jersey are using the allotted timeframe to weigh the risk versus reward. The money may be attractive, but they must also factor in increased car and foot traffic, educational resources for the youth, legal responsibilities and more.
In Cherry Hill, the township is "in the process of carefully evaluating the new state law regarding recreational cannabis in order to determine the best course of action for our community moving forward."
Similarly, Moorestown is gathering as much information as possible before making a final decision. Residents voted in favor of legalization by a manner of 2:1, but Mayor Nicole Gillespie says the discussion is ongoing. "I've had conversations with individual council members but we have not had any conversations as a governing body or with the public yet," she says.
In Mount Laurel, Mayor Stephen Steglik is intrigued by the possibilities brought on by the adult use market. He says he could envision a retail operation, a distribution hub in an industrial park or perhaps the best of both worlds. At the end of the day, Steglik is most excited by the opportunity for rapid job growth.
"That's the great thing about this, there are advantages that we can really look into. The revenue will be great, we know that, but the job creation is even better. That's something I'd like to focus on," says Steglik. "I think we have an opportunity and five-to-10 years from now I hope Mount Laurel has at least some stake in the industry and we make sure we take advantage of the [bill's] passing."
Michael Di Croce, Shamong's deputy mayor, has made his feelings on the economic benefits well-known for years and he hopes that his town can use its agricultural history to transition toward a new future. The Shamong Cannabis Growers Association recently surveyed residents and the initial returns, albeit a small sample size, showed 87% of respondents were in favor cannabis cultivation in town.
"All we would be doing is putting a crop that has a greater value than tomatoes and corn and allowing farmers to make an investment in the long-term ownership of the land as we'd like to see those farmers stay here," he says.
Di Croce says this could be a mix of residents becoming micro-growers and a few big producers who would lease farmland and prioritize hiring locals. He also thinks that an established cannabis industry coupled with other attractions in the Pinelands could make the town a real tourist destination.
"Maybe we attract people to come to Shamong and spend a couple days here over the weekend horseback riding, bike riding … we've got hundreds of trails in Wharton State Park. So we make this a destination town for people who want to get out[doors] and also be able to enjoy a glass of wine and a cannabis brownie."

Click here
to subscribe to the free digital editions of South Jersey Biz.
To read the digital edition of South Jersey Biz,
click
here.
Published (and copyrighted) in South Jersey Biz, Volume 11, Issue 3 (March 2021).

For more info on South Jersey Biz,
click
here.
To subscribe to South Jersey Biz,
click
here.
To advertise in South Jersey Biz,
click
here.