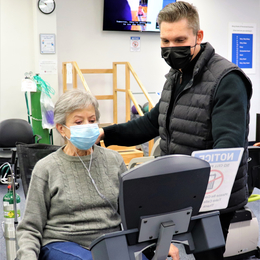 Tackling Covid Long Hauler Symptoms
Advantage Therapy Centers help COVID Long-Haulers return to daily life
You don't realize how precious each breath is until you're struggling to catch just one. Living with debilitating COVID symptoms like shortness of breath and fatigue can seem like a life sentence of immobility, but there is help out there to get back to a life of deep breaths and new adventures.
As we continue to battle the invasive COVID-19 virus, many survivors are now facing new and lasting symptoms and respiratory issues. Known as COVID long-haulers, these people are still experiencing COVID effects months after testing positive, including shortness of breath, brain fog, fatigue, body aches, headaches, weakened muscles and difficulty sleeping. Advantage outpatient rehabilitation is uniquely qualified to help these patients because of the specific makeup of their multi-disciplinary clinical staff and independent connection to the area's medical providers.
"When we saw these symptoms become so prevalent, we knew we had the responsibility to help," says Brett Mosgowsky, founder and CEO of Advantage Therapy Centers. "If you're no longer contagious and still looking for a solution to your ongoing symptoms, call Advantage for help. Many people are not aware there is an option to treat ongoing COVID-19 symptoms, but all you have to do is call Advantage. We will work with your existing physician to get you started, making the process easy on you and your physician."
If you've recovered from COVID-19 but are still struggling with symptoms of shortness of breath, fatigue and deconditioning, it's time to act. COVID-19 has taken up so much time already; it doesn't have to keep affecting you after recovery. Advantage is able to reduce symptoms, cut down on hospital readmissions, help people get back to work and improve overall quality of life.
A Wide Approach
Advantage credits their success to their incredibly high level of patient care, as well as their equally high level of service to referring physicians and their office staff. The Advantage staff includes a wide range of clinical professionals focused on providing individualized treatment for each patient's needs.
The team of clinicians at Advantage each bring unique skillsets essential to the care of their patients. The team includes respiratory therapists who monitor lung function and provide patients with techniques for breathing management. Physical therapists assist patients with building the strength and endurance necessary to conserve energy and oxygen. Occupational therapists on staff help patients regain functional independence, learning each patient's activity goals and building therapy around them.
Advantage also employs a social services team that provides another layer of support in managing the emotional impact of these ailments on their patients as well as providing education and community resources.
"Many patients struggle to walk from their cars to our front office for their first visit," says Mosgowsky. "When these patients are discharged, they're able to resume activities of daily living that they never dreamed they could do again."
A Breath of Fresh Air
For over 20 years Advantage's multidisciplinary team of clinicians has been treating patients suffering from breathing disorders. Because of this, their team understands the challenges around the multitude of breathing disorders that exist, some including COPD, asthma, cystic fibrosis, pulmonary hypertension, emphysema, interstitial lung disease and now COVID-19. Advantage clinicians also understand the importance of assessing patients' personal goals when beginning treatment in order to form an individualized plan of care.
Advantage Therapy Centers are Comprehensive Outpatient Rehabilitation Facilities. They are the only facilities in South Jersey authorized by Medicare to provide respiratory services, including pulmonary rehab, on an outpatient basis. With three facilities in Cherry Hill, Mount Laurel and Washington Township, and 20 years of experience, Advantage has worked with almost every pulmonologist in Burlington, Gloucester and Camden counties. Even many physicians in Philadelphia choose to work with Advantage.
The outcomes continue to make Advantage Therapy Centers a unique and special place. "We get to change lives every day," says Mosgowsky. "We are able to see people get their lives back. COVID-19 patients return to their daily activities with reduced symptoms. Patients with breathing disorders can play golf again, chase around their grandkids, plan trips. It's a really special experience to come into work every day."
Advantage Therapy & Sleep Centers
1998 Route 70 E. | Cherry Hill | (856) 424-2000
1001 Briggs Rd. Suite 270 | Mount Laurel | (856) 840-0700
100 Kings Way E. Suite B-4 | Sewell | (856) 256-0007