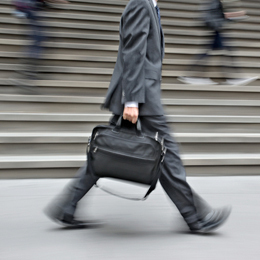 On the Move
Openings, closings, hirings and retirings in our region.
PCH Technologies has hired Amy Ferris as IT account manager and Devin Bender as chief relationship manager.
The Michaels Organization has hired Kunai Chothani as vice president of acquisitions.
Eisenberg, Gold & Agrawal recently made the following announcements:

Douglas J. Ferguson

and Andrew L. Unterlack were recently named partners of the firm, Rishi K. Desai was named Of Counsel, and Bernadette Irace, William Rodio, Adam Rosengard and Scott Shectman were added to the firm.
Corcentric has appointed Sunil Padiyar as its chief technology officer.
Pennsylvania-based bank Bryn Mawr Trust is expanding into South Jersey and has hired George Robostello as senior vice president and managing director of commercial banking, Southern New Jersey.
Sandra L. Foley
is the New Jersey State Nurses Association's new president-elect.

She will also serve as chair of the board of trustees for the association's foundation, the Institute for Nursing, which funds innovative programs, including scholarships and a research grant, to advance the practice of nursing.
Morgananne Dudzinski
has been named associate director of the New Jersey Association of State Colleges and Universities.
Brian Berkoff, Esq
., Francisco Guzmán, Esq., Bryan Horen, Esq. and Kelsey Knish, Esq. recently joined Capehart Scatchard.
Bill Sasso
is stepping down as chairman of Stradley Ronan after 27 years. Financial partner Kevin Boyle and managing partner Jeffrey Lutsky have been named co-chairs of the firm.
Former NBA star Grant Hill has been named to Campbell Soup Company's board of directors.
Douglas A. Struyk
was recently installed as chair of the board of the New Jersey Hospital Association.
PSEG's general counsel Tamara Linde has been named chair of the board of trustees at the Community Foundation of New Jersey.
Kenneth Morgan
of Morgan Law LLC has joined the board of the Katz Jewish Community Center.
Franklin Bank's board of directors recognized the 40th work anniversary of Mark Edwards, president and CEO.
Michael Campbell
, senior vice president, community development officer with Columbia Bank, has been awarded with the bank's Community Service Lifetime Achievement Award.
Yasmeen S. Khaleel
of Capehart Scatchard was presented with the 2020 Founder's Award by the Estate and Financial Planning Council of Southern New Jersey. Established in 2001, the founder's award is presented to an individual who has provided distinguished service to the estate and financial planning profession.
NFP
has acquired the P&C brokerage client accounts of A.D. Martin Commercial Insurance Services.

The Deptford Township Board of Education has awarded a $25 million contract for construction at its middle school and high school to Ogren Construction. The project, designed by Garrison Architects, will be managed by New Road Construction Management.
Click here
to subscribe to the free digital editions of South Jersey Biz.
To read the digital edition of South Jersey Biz,
click
here.
Published (and copyrighted) in South Jersey Biz, Volume 11, Issue 2 (February 2021).

For more info on South Jersey Biz,
click
here.
To subscribe to South Jersey Biz,
click
here.
To advertise in South Jersey Biz,
click
here.