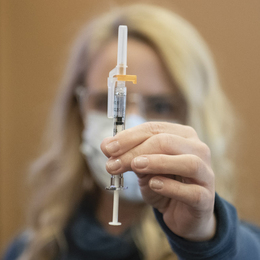 Hope on the Horizon
Although the fight against COVID-19 is far from over, health care officials are feeling more confident thanks to vaccine rollouts.
For the majority of the past year, every news story surrounding the COVID-19 pandemic seemed to be even gloomier than the one before. From the rising number of fatalities in the United States and the strain on health care systems to the negative impact on the economy and high unemployment rates, it was hard to have a positive outlook, even for eternal optimists. Finally, a glimmer of hope arrived in November with the announcement of effective and safe vaccines developed by Pfizer and Moderna.
The vaccines were eventually authorized for use in the U.S. and New Jersey began its rollout with a phased approach in December. Health care networks, including those in South Jersey, took the lead and started administering the vaccines to people grouped in Phase 1A, such as their own doctors, nurses, pharmacists and other staff. Although there have been hiccups along the way—and the state has certainly received its share of criticism—officials at local hospitals are pleased with the results so far and are seeing confidence grow within their organizations.
"We're very happy to be a part of it," says Deborah Sadowski, RPh, director of pharmacy services at Deborah Heart and Lung Center. "It has really given people a boost. I'm not going to call it a party atmosphere, but the day we started the vaccinations we had stations set up in our auditorium and we had Christmas music on. There was such an energy in the room and I think people were just so excited to have that light at the end of the tunnel turned back on so we can get to a positive place. It has been hard for everyone and just to have that energy going again is really nice."
Virtua Health is South Jersey's largest health system and contains five hospitals in the area. In December it established a vaccine center at a site in Voorhees, and since then the process has been "incredibly flawless," according to Dr. Reg Blaber, Virtua's executive vice president and chief clinical officer. By mid-January Virtua was vaccinating approximately 1,000 to 1,200 individuals per day.
"I can't tell you enough about how much emotion I've seen," Blaber says. "People are literally crying tears of happiness and relief. Each has their own story. [Some are] worried about bringing the virus that they can catch at work home to their mother or father or children or spouse; others are just focused on getting back to normal and being able to get together again with family and friends. Regardless, I've seen incredibly little apprehension and an overwhelming amount of joy."
Both the Pfizer and Moderna vaccines require two doses to be administered several weeks apart; the time period is 21 days for the former and 28 days for the latter. Deborah and Virtua recently started with the second doses while continuing the first round for employees who were hesitant to receive the vaccine at first.
According to Sadowski, some Deborah employees chose to hold off on the vaccine until after the holidays. Others wanted to do more research on the vaccine's safety or were reluctant because they have a fear of needles. Regardless, the organization is confident most of the staff will eventually see the upside.
"Our CEO last week said he would like to see us get to 80-85%," Sadowski says. "It's not mandatory … but we think that we can get close to that. By educating and reaffirming with the staff and answering questions the best we can, we think we'll get pretty close to where we want to be.
"We will be offering one more round of vaccinations within our facility for those folks who opted out in the first round and then beyond that we're looking to then open up to help out with other vaccinations within the general public through the phases. We're letting our employees know that now they have an opportunity to get it; if they pass on this, that's their prerogative but then they will basically get in line with the rest of the public. So we're hoping people take advantage of that."
Vita Miller, a nurse at Inspira Medical Center Mullica Hill, admits she was nervous about getting the vaccine when it was first offered to her. But she quickly reversed course and has since received both doses of the Pfizer vaccine.
"I would say out of the people I work with it was about 60-40 [in favor] of definitely getting the vaccine," she says. "The others just wanted to wait and see how everyone [was affected] by it. Initially I was going to wait because I was scared but I changed my mind that same day and ended up getting it the next day. I spoke to enough doctors and nurses and realized I didn't even know why I was waiting. I felt relieved after I got it and I wasn't worried at all."
Blaber reports that in a survey given to Virtua employees leading up to the vaccine rollout, about 62% said they would be interested in getting it, similar to Miller's estimation. However, among doctors and medical staff who have been treating COVID-19 patients since the pandemic began, the number shoots up to 98%.
"I think that's a very strong comment," he says. "All of these folks have taken the time to research the vaccine and also understand the damage that COVID can wreak on the human body. They've decided to take the vaccine, and frankly will do anything they can to get to the front of the line."
Virtua has launched an aggressive campaign to educate not only its employees but the general public about the safety and success rates of the vaccines. Blaber notes one segment of the population in particular that has needed convincing.
"What we're seeing is there is some resistance and a lot of the resistance is from people of color, and for good reason," he says. "They haven't always been treated with transparency from the government as it pertains to health care; think of the Tuskegee [Study]. So there is some distrust in the community about that.
"Our CEO, Dennis Pullin, is African-American. Dennis has made it his mission to go out and personally meet with as many of the individuals who are resistant to the vaccine as possible. He and I have been traveling all around the hospitals in Virtua where he has been engaging folks like this and telling them his story and why he has decided to take the vaccine. I think he has changed more minds about this than anyone could because as Dennis likes to say, people want to hear from people who look like them, who know what they're talking about."
Blaber says part of the education effort is letting people know that both vaccines are mRNA vaccines, meaning a live virus is not put into the body. Rather, they give instructions to the cells to make a harmless piece of the spike proteins found on the surface of the coronavirus, helping the body to formulate an immune response to the virus.
It is also important to let people know about the potential side effects of getting vaccinated and that many of those are a good sign that the vaccine is working. These can include flu-like symptoms, headaches and body aches, and in most cases last for less than 24 hours. Blaber personally experienced only mild symptoms when he received the vaccine, while Sadowski and Miller both consider themselves lucky to have very few problems at all.
The thinking is that as more health care workers are vaccinated, more people will want to follow their lead.
"I think it's important for us as health care providers to set that example," Sadowski says. "That doesn't mean compromising your own values. … But we live by science and data in health care so having had the opportunity to see the studies and listen to the experts and evaluate it for ourselves, I'm quite comfortable at this point in time getting the vaccine.
"It's very humbling that someone respects my opinion enough that it will help weigh into their decision. I'm certainly obligated to be honest with them and tell them why I got it and help guide them on the path and hopefully have them choose getting the vaccine as well."
Miller has similarly had many friends and family members seeking her thoughts on whether to get the vaccine.
"Obviously, I would never push someone to get something they're not comfortable with," she says. "I made an appointment for my dad and he's 100% on board. My mom is scared and wants to wait; I'm not pushing her because if she gets it and has side effects, I don't want to be responsible for that. But when people ask me, I tell them I would totally get it again. Even if I had horrible symptoms I would get it again.
"We had a lot of employees out with the virus before the vaccine. Our departments have been so low on staff because one person gets sick, and the next thing you know there are 10 nurses out. But there's hope now. Anyone I've talked to has felt pretty confident and I feel confident now working with COVID patients because I have the vaccine. It's a relief. It was a horrible feeling going to work before; you were dreading it and thinking, 'Is this the day I get it? Will I come home and give it to my family?' So I'm relieved that I don't have to feel that way anymore."
The demand in New Jersey seems to be growing and Gov. Phil Murphy recently expanded eligibility for the vaccine. Phase 1B members such as law enforcement, firefighters and first responders are now on the list along with residents 65 and older, smokers and those with chronic health conditions. Four of the state's six planned mega-sites for vaccinations are open, including two in South Jersey at the Moorestown Mall and Rowan College of South Jersey's Gloucester County campus.
The question now is whether there are enough vaccines to go around to those who want one. In mid-January, State Health Commissioner Judith Persichilli said New Jersey expected to receive only 100,000 vaccine doses per week for the next month from the federal government even though it had the capacity to administer 470,000 doses per week. President Joe Biden has made it a focus of his early days in office to ramp up distribution and it is his administration's goal to vaccinate 100 million Americans in 100 days, so the hope is that New Jersey will be able to benefit.
Virtua has partnered with the state and Burlington County government along with the National Guard to be part of the Moorestown mega-site, an effort that started in mid-January. "They've asked us to be able to deliver about 2,400 vaccines per day," Blaber says. "In our first week of operation they're only giving us 1,000 doses and they haven't told us yet when we're going to get enough doses to run at 2,400 doses a day. But we at Virtua who are going to be running the clinical end of this, we're ready now. We're going to be dependent on the receipt of the vaccine."
Deborah will also be vaccinating members of the general public in the near future, to a lesser degree. "We're not a mega-site; we're not going to be taking hundreds and hundreds of people a day," Sadowski says. "But we certainly feel that we can do our part to help out in our area. We're very community oriented and this is such an important task that we're putting the resources into this really worthwhile project."
It is yet to be seen if New Jersey can accomplish its ambitious goal of vaccinating 70% of its residents—approximately 4.7 million people—by the end of May. Still, even with the expected bumps on the road, the fight against COVID-19 is looking up at last.

"I'm an optimist by nature and I do feel that the vaccine gives us hope," Blaber says. "I do see that light at the end of the tunnel, but boy we have some hard times to go through before we get there. In the first half of January, our COVID numbers that are hospitalized continue to rise and I think they're going to continue to rise for another couple of weeks. That's going to put incredible stress on all the health care systems of New Jersey, so we've got to all keep wearing our masks, we've got to socially distance ourselves no matter how much we're yearning to get together with friends and family, and then all of us [should] get vaccinated. If half of us get vaccinated and half don't, then COVID is not going to be going away as quickly as we like. The only way we can get back to normal is if nearly all of us decide to take the vaccine."
Click here
to subscribe to the free digital editions of South Jersey Biz.
To read the digital edition of South Jersey Biz,
click
here.
Published (and copyrighted) in South Jersey Biz, Volume 11, Issue 1 (January 2021).

For more info on South Jersey Biz,
click
here.
To subscribe to South Jersey Biz,
click
here.
To advertise in South Jersey Biz,
click
here.