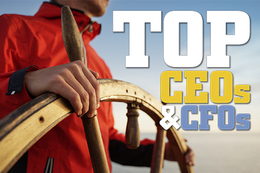 Steering the Ship: Top CEOs/CFOs 2021
South Jersey's top executives who have charted a course for success in their organizations.
In uncertain times, we instinctively look to leaders to provide stability. The past year presented challenges that hadn't been experienced in generations, and the CEOs and CFOs of South Jersey's businesses were faced with difficult decisions. Not only did they need to draw on their corporate acumen, but their empathy too, as they successfully fostered their company's workforce through an unprecedented time. The men and women recognized on this list show that it takes more than a degree to manage a business—it also takes resilience and humanity. We proudly present the 2021 Top CEOs/CFOs.
LeAnne Stewart | CFO, Women's Axia Health
Stewart has more than three decades of experience as a chief financial officer across various industries. Her career began at Ernst & Young, followed by CFO roles at Nash Finch Company, a publicly traded grocer, and Granite Construction, a civil construction and materials company. Stewart moved into the health care industry as CFO of CRC Health Group where she played an integral role in its successful sale to Acadia Healthcare for $1.2 billion. She was also CFO of 21st Century Oncology, which provides integrated cancer care across the globe, and joined Axia in 2018. Stewart holds an MBA from the Wharton School at the University of Pennsylvania and is a certified public accountant and certified management accountant.
"While profitable growth has always and will always be a cornerstone, business leaders today have a responsibility to matters beyond those that are purely financial. Our teams need leaders who are empathetic, build resiliency and create community through communication. Uncertainty surrounds us—arguably now more than ever before—and to be effective managers we must anticipate and plan for the unexpected, empower agility in our teams and transform our operations to drive better results."
Stanley Middleman | President and CEO, Freedom Mortgage Corporation
Since founding Freedom Mortgage in 1990, Middleman has grown the company into one of the largest U.S. originators and servicers, with more than 10,000 employees and contractors across 100 locations. Middleman is an active member of the Mortgage Bankers Association, where he serves on both the board of directors and the residential board of governors. In 2019 he received the Ernst & Young Entrepreneur of the Year Greater Philadelphia Award in the financial services category. A strong supporter of U.S. servicemen and women and veterans, he received the 2018 Liberty USO Chairman's Award, and last year the company and its employees donated over $2.6 million to support several organizations including Feeding America, Salvation Army and Toys for Tots. Middleman also serves on several nonprofit boards, including Philadelphia's Kimmel Center for the Performing Arts.
"The hardest decision ever made in my career was letting go of running many of the day-to-day operations of my business. Having built Freedom Mortgage from the ground up, I was involved in every aspect of the business for years. I made the tough decision to delegate authority, responsibility and accountability to many of my skilled teammates. … The silver lining to this tough decision was that it offered career growth opportunities to others, which provided more fuel to grow the business."
Cesare joined NEST in 2018 as CFO and oversees the company's financial planning and reporting, accounting, sourcing, investment strategies, mergers and acquisitions, tax and treasury functions. Cesare joined NEST from Sneaker Villa, Inc. where he served as VP finance, planning and analysis and helped build profitability by an over 80% run rate. Cesare has also held various positions in financial management with Charming Shoppes and Robinson Luggage. He also spent 10 years at A.C. Moore, growing into the senior vice president finance of the company and assisted in its growth from $87 million to $650 million. Cesare has a bachelor's in accounting from West Chester University.
"

Signing off on closing a division was the toughest decision I've had to make in my career, knowing that this would affect many families. Even though it was the right business decision, there's the human factor that can't be ignored. Knowing how difficult this was, I was able to provide outplacement services to ensure we provided assistance for their transition to new opportunities. In this experience, and in days like today with COVID, empathy must be top of mind."
Alice Gens | Chief Operating Officer/CFO, New Jersey Business & Industry Association
Gens joined the NJBIA, one of the nation's largest statewide employer associations, as its CFO in 2015. Her responsibilities included overseeing the controller, human resources and information technology departments. Within two years, Gens assumed the newly created chief operating officer position at NJBIA, while maintaining the role of CFO. Gens has over two decades' experience in fiscal operations, which began at AT&T and progressed to nonprofit and association management. She obtained an MBA from La Salle University and bachelor's from Rutgers University.
"The biggest challenge today, especially during a pandemic, is the speed in which you need to make critical decisions. Because information is moving so quickly, oftentimes it doesn't afford the necessary amount of time to study data or consumer behavior to best inform those decisions. When that happens, you need to be able to rely on experience, instinct and your team. I'm very fortunate to have a smart and collaborative team at NJBIA to help with those decisions."
Susan Manzi | CPA, MHA, CFO, Samaritan
As chief financial officer, Manzi oversees all of the organization's financial operations including strategic financial planning, budgeting, forecasting, accounting and revenue cycle. Manzi has more than 18 years of accounting and operations experience in health care. She previously served as vice president of accounting and revenue cycle at Regional Women's Health Management, and most recently as CFO at Axia Women's Health. She earned a master's degree in health care administration from Ohio University and a bachelor's degree in accounting from Rider University. Manzi is a certified public accountant and a member of the American Institute of Certified Public Accountants.
"The most difficult decision in my career turned out to be the best decision I ever made. After leaving my prior position after 20 years to join the Samaritan team, I am very proud to serve on the Samaritan senior leadership team where meeting the needs of our patients is the highest priority. … As the region's preferred provider of life-enhancing care, we work to ensure that Samaritan is financially sound and lead the advancement of hospice, palliative medicine and primary care with extraordinary compassion and expertise."
Mick Beekhuizen | Executive Vice President, CFO, Campbell Soup Co.
Beekhuizen was appointed to his current position in September 2019, which includes responsibility for leading Campbell's tax, treasury, audit, investor relations, external development, corporate financial planning and analysis, and financial systems, as well as the company's information technology group. He previously held a similar role at Chobani for three years and before that, Education Management Corporation. Beekhuizen, who spent 13 years with Goldman Sachs, earned his master's in industrial engineering and management from The University of Twente in the Netherlands.
"Making difficult decisions is a major part of the role of a CFO. By leveraging both my engineering and private equity background, I am very fact-based when it comes to decision making. Whether the situation has been capital allocation, value creation or leaving colleagues behind for a new career opportunity, the difficulty is not the decision itself since I know it will be supported by fact, but knowing the impact the decision will have on employees, customers and other stakeholders."

Jake Jones | CEO, The Arc of Gloucester
Jones is an Army veteran who served in military intelligence at bases in Massachusetts and New Jersey. His post-military education focused on music, with plans to become a teacher. He obtained a master of arts from Rutgers University-Camden and it was there he gravitated toward working with people who had intellectual and developmental disabilities. In January 2020, Jones became the CEO of The Arc Gloucester just as COVID-19 was about to change the economy, however, the opportunity generated new pathways to currency, recruitment, program development, quality of care and staff appreciation initiatives. Jones serves on boards throughout New Jersey, including as officer of the veteran alumni chapter of Rutgers University and the Gloucester County Human Services Advisory Council.
"These times call for transformative leadership that is intuitive, informed, collaborative and bold. The pandemic has exacerbated the burden on leaders to meet the demands of ever-changing compliance/regulatory standards, as well as retaining and recruiting staff. Communication across the organization can be very challenging too. Leaders have to balance all this while continuing to recognize trends and leverage opportunities as they present themselves. We always have to see the big picture."
Tim Sullivan | CEO, New Jersey Economic Development Authority
A graduate of Georgetown University, Sullivan began his career as a health care banker at Lehman Brothers in 2003, followed by chief of staff to the head of global investment banking at Barclays Capital. He transitioned to city government in 2010, which included positions in the New York City deputy mayor's office and as deputy commissioner of the Connecticut Department of Economic and Community Development. Sullivan became CEO of the NJEDA in February 2018, leading its transformation into a comprehensive economic development organization. He has overseen the creation of several new offices and initiatives aimed at implementing Gov. Phil Murphy's vision for a stronger and fairer economy, making New Jersey a national model for inclusive and sustainable economic development.
"Just like many other businesses across New Jersey and around the world, the NJEDA has had to quickly adapt to the unexpected challenges of the COVID-19 pandemic. For us, this meant shifting to remote work literally overnight and rapidly adjusting to what this meant for work and management. … It was also a valuable learning experience that helped us empathize with the business owners who needed our help. … To help business owners overcome these challenges, the NJEDA distributed more than $230 million of relief resources to nearly 55,000 businesses throughout 2020."
Steve Cocchi | senior vice president, CFO, South Jersey Industries
Since joining SJI in 2009, Cocchi has played a key role in growing SJI's business and driving cultural transformation. An alumnus of Rutgers University, he earned his undergraduate degree in political science and history and holds a juris doctor from Rutgers School of Law. In his dual role, Cocchi is responsible for maintaining SJI's fiscal strength, enabling profitable operation through effective strategic planning and oversight of financial activities. Cocchi is a member of the public utility law section of the New Jersey State Bar Association, the state affairs committee of the American Gas Association and the board of trustees at the Boys and Girls Club of Atlantic City.
"Early in my career at SJI, I was asked to assume oversight of the company's rates and regulatory affairs function. Until that time, my professional experience had been entirely in the legal field, and I had always envisioned my career progressing through various levels in the company's legal department. After receiving advice from colleagues and deliberating with my family, I decided to take the chance and try something new. That decision made a huge impact on my career, was the beginning of my education on utility finance and connected me with people who will be lifelong friends."
Violet A. Koehler | CPA, CGMA, CFO, Senior Vice President, Treasurer, T&M Associates
Koehler joined T&M in April 2019, serving as a strategic business partner to the executive team leading the planning and management of the financial performance of the organization. In addition, she manages finance, information technology, facilities and administrative services. Her 20-plus years in finance have taught her the importance of having an adaptable business contingency plan, which allowed T&M to face the pandemic head on. In 2020, Koehler managed to drive T&M's growth and overall success by closely monitoring and managing overhead expenses which provided significant cost-savings to the company and an overall improvement to the bottom-line profitability. In addition to holding a CPA license, she also has a chartered global management accountant certificate with the American Institute of Certified Public Accountants.
"I feel the biggest challenge facing managers today is navigating the tremendous uncertainty. For businesses to survive and succeed in today's business climate, it is vital for managers to be transformational thinkers on a macro strategic level. … The key to success requires a continuous review of plan goals, contingencies should the company be required to change paths and quickly pivot, good instinct and great judgment to ensure the best possible decisions to continue progressing."
Judy Ward, CEO, Advanced Enviro Systems
Ward founded Advanced Enviro Systems in 1996, following nine years at the helm of the largest privately owned solid waste hauling, transfer and recycling firm in the Greater Philadelphia region. Her goal was to build a company with the mission of supporting organizations in reducing waste and increasing their rates of recycling. Advanced Enviro Systems, a certified B Corporation since 2017, has been recognized by the organization as a Best for the World and Best for the Environment business, and has received the Top 100 Real Leaders distinction for the past two years. Ward holds a bachelor's in accounting from Rutgers University and MBA from Saint Joseph's University. She has been recognized as a 'Woman of Distinction' by the Philadelphia Business Journal as well as a 'Top Woman' in Environmental Leadership by Waste and Recycling News.
"In my opinion, the biggest challenge facing managers in today's business climate is remaining flexible while demonstrating strength of conviction. The current world environment is much like the derecho weather events we've seen in recent years—extremely unpredictable, coming on fast and unrelentingly all at once. In business, it's more important than ever to remain nimble and able to make major decisions with little preparation or information."
Robert DiNunzio | CEO, Germ-Nix LLC
DiNunzio has spent the better part of his career working as the director of environmental services in various hospitals around the country. In 2011 he formed his own company, Legion Building Services, dedicated to the professional cleaning of operating rooms, surgical suites and other health care facilities. Seeing a demand for reducing dangerous bacteria, germs and diseases in the commercial and residential arenas, he founded Germ-Nix in 2019, never imagining how crucial these services would be a year later at the onset of the pandemic.
"The hardest decision I've had to make in my career would probably have to be trusting my instincts to grow my business. Growing a business takes a lot of courage and a lot of risk. I treat my employees like my family and it is my main goal to keep them employed and successful. Growth brings on many new risks, such as bank loans, equipment expenses, higher insurance costs, more staff, and this is just a very small percentage of the high risks in business but more importantly, my promise must be kept to my staff that makes all this possible."
Click here to subscribe to the free digital editions of South Jersey Biz.

To read the digital edition of South Jersey Biz, click here.

Published (and copyrighted) in South Jersey Biz, Volume 11, Issue 1 (January 2021).

For more info on South Jersey Biz, click here.
To subscribe to South Jersey Biz, click here.
To advertise in South Jersey Biz, click here.