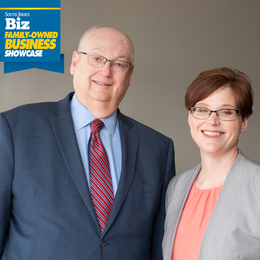 Montecino & Ciaccia: Family-Owned Business Showcase
Charles Montecino had big goals when he graduated from Rutgers University-Camden.
"Ever since I was in college I wanted to have my own accounting firm, and after having nine years of experience working for other people, I made the move," says Montecino. "I have not regretted it one day. [I've] never had a day I didn't like what I did."
Years later his daughter, Meggan Ciaccia, decided to switch careers as a social worker and go back to school for an accounting degree, joining Montecino's firm shortly after, becoming a partner alongside him in 2013. Together as Montecino & Ciaccia, they focus on small to medium-sized businesses with individual tax returns, and tax preparation and planning to name a few, and enjoy working side-by-side helping clients with their business needs.
"A lot of our business clients are family-owned businesses themselves; husband and wife or much like us, two generations," Ciaccia says. "Their kids are working for them and they take over a multi-generational, family-run business. We know what they are going through."
"Our clients get personal attention," Montecino says. "They know when they call us they are always dealing with Meggan or me, and if one isn't available, chances are the other can help."
Ciaccia says the close-knit family feel is extended to its employees as well.
"We've seen family businesses that don't have a good foundation, and they aren't successful. We have a solid foundation," she says. "One of our core values is family, and I hope my employees feel as though they are a part of that family business, and that floats toward our clients as well."
Montecino & Ciaccia
429 Woodbury Glassboro Road | Sewell
856-256-1490 |
MontecinoCPA.com
Click here
to subscribe to the free digital editions of South Jersey Biz.
To read the digital edition of South Jersey Biz,
click
here.
Published (and copyrighted) in South Jersey Biz, Volume 10, Issue 12 (December 2020).

For more info on South Jersey Biz,
click
here.
To subscribe to South Jersey Biz,
click
here.
To advertise in South Jersey Biz,
click
here.