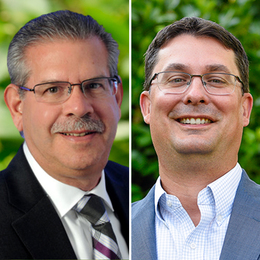 Sponsored Content: Growing in Tough Times
Baratz & Associates, P.A., has expanded its footprint and commitment to service by merging with Pennsylvania firm Robin, Kramer & Green, LLP.
Accounting and consultingfirm Baratz & Associates, P.A. has proudly and successfully been serving clients in South Jersey and the surrounding areas for over 40 years. Looking to expand, Baratz & Associates recently merged with Fort Washington, Pa.-based firm Robin, Kramer & Green, LLP. While the firm has clients all over the nation, most of them are concentrated in the Delaware Valley region.
Baratz & Associates partner John Fekete says one of the biggest issues in the accounting industry is scarce resources, as the competition gets stiffer each day. It's an issue for firms who want to continue to deliver personal service to clients and be responsive in this on-demand society. The firm has steadily grown over the years, now named as one of only 14 NJ-headquartered firms on the prestigious Inside Public Accounting list.
"One of the reasons we wanted to do this merger was to have more ability to attract from a broader base of accounting graduates," he says. "Having a presence [in Pennsylvania] and having a quality firm is going to help us attract young andgood experienced talent to provide service needed to our existing clients and give an opportunity for growth."
"We did our due diligence and didn't want to go to a firm where our talent got lost in the shuffle," says David Kramer, partner with Robin, Kramer & Green, LLP (RKG). "Baratz & Associates is big enough where it gives us a deeper bench and we can offer more services. We liked that all our staff could come with us, and it was a perfect situation. RKG was a smaller firm. We always wanted to be able to serve clients on a broader scale, but we wouldn't take on the engagement if we didn't have enough staff, and now we do. It's terrific."
Baratz & Associates is adding six CPAs, all with at least 12 years of experience in addition to other staff. "Acquiring that talent base is definitely going to work to our advantage for the client service experience," Fekete says. "Most of our clients are small and mid-sized business owners, and their needs have been many during the pandemic. "
Additionally, Kramer is a licensed Pennsylvania attorney as well as an accountant, which is not just an added bonus—it's a resource that is especially important during the pandemic when clients are looking for documents and estate plans.
"Having David as an attorney is a great benefit," Fekete says. "It gives us an extension of service we can offer our clients, whether it's start-up businesses and entity choice or individuals looking to have wills written or estates planned. Just having him as a member of our partner group enables the staff to consult with him about a question first, rather than rely on an expert outside our firm."
"My legal work really ties the clients to the firm, whether it's for corporations, partnerships or limited liability companies, but especially when I do estate planning," Kramer says. "I get to know the family, and it really cements the relationships with the client."
Baratz & Associates, PA has recognized that in a way, this pandemic has made them more valuable to clients. The partner group has done everything they can to ensure clients are up to date on all the new laws that have come into effect since COVID-19 started. They are here to help them sustain their business, and many new relationships have started.
"Cash flow is always an issue with small businesses. Between the CARES Act, the Paycheck Protection Program and the Small Business Association loans and state grants, our clients don't necessarily have the time or expertise to dig into what these programs entail," Fekete says. "It's given us an opportunity with some of our clients to really dive into this process and help them through this critical time. Whenever anything comes out of Congress, it's not easy to understand if it's not something you read every day. We have a lot of people on staff who take the time to carefully study the laws and documents, and then meet together to share ideas on how we can best help our clients through the pandemic."
Taking the time and caring for each and every client, as well as building trusting relationships is what sets Baratz & Associates apart.
"We care about our clients, and we try to give them the best service we can," Fekete says. "We are always picking up the phone, returning phone calls. Clients need immediate answers, and we understand that. We do our utmost to advise as quickly as we can. We really do care about the well-being of our clients. We have a lot of long-standing relationships with clients which speaks volumes."
As the year closes, the firm is committed to its continued growth as the CPAs advise their clients through recovery, resurgence and revitalization after COVID-19.
Baratz & Associates, P.A.
7 Eves Drive, Suite 100 | Marlton

Click here
to subscribe to the free digital editions of South Jersey Biz.
To read the digital edition of South Jersey Biz,
click
here.
Published (and copyrighted) in South Jersey Biz, Volume 10, Issue 12 (December 2020).

For more info on South Jersey Biz,
click
here.
To subscribe to South Jersey Biz,
click
here.
To advertise in South Jersey Biz,
click
here.