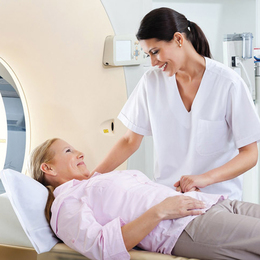 Innovations in Health Care
A look at the latest treatments, programs and technology in South Jersey.
Every year when we put together this feature we are amazed at the new innovations created by doctors, medical students and researchers, among others. As technology advances, so do the treatments and the way hospitals and doctors' offices are built. Health care specialists have come up with innovative approaches to advance patient care and improve and save lives, and it's never been more important with COVID-19 changing the health care landscape. We present to you 13 innovations transforming health care.
Inspira Health offers an immersive virtual experience to make MRI studies more relaxing and comfortable. With customizable video projection, sound and lighting, the Philips Ambient MRI system provides a pleasant distraction for patients undergoing an MRI study. The experience can be particularly beneficial for children and people who become uncomfortable in enclosed spaces.
Patients can choose from several environments, including the beach, mountains and an underwater vista, to view while in the magnet of the MRI machine. With the help of a special viewing aid, the patient's field of view fills with breathtaking video of the chosen theme. This creates a relaxing environment and helps patients remain still during long studies, resulting in better images and less need for re-scans. A virtual countdown timer can also be projected to inform patients of how long they need to remain still or hold their breath.
Criticall Connections
This past spring, when medical students were sidelined from clinical experiences due to COVID-19, a group of senior medical students from Cooper Medical School of Rowan University created Criticall Connections to assist busy critical care teams and provide an important connection for families of hospitalized patients.
Student Criticall volunteers were assigned a few patients to follow. They listened via cell phones to doctors' morning rounds, in which patients' status and care plans were discussed. Students then reached out to families with updates until physicians could call later that day.
Criticall Connections provided families with key information and input into their loved ones' care. It enabled busy ICU doctors to spend more time on direct patient care, it gave students invaluable experience

—

and the ability to help while unable to physically be in the hospital.
Coriell Institute's Jian Huang, MD, PhD, studies the ways that hematopoietic stem cells (HSC), or stem cells that give rise to various blood cells, are regulated when it comes to self-renewal and differentiation, as well as drug-resistance of different blood cancers. Dr. Huang is focused on the roles of key proteins in regulating HSC self-renewal and the development of leukemia. Additionally, his lab is looking for new targets in leukemia therapy using a genome-editing CRISPR screening platform. Dr. Huang and team are also investigating the role epigenetic regulation plays in HSC function.
His work has shined a light on what controls the fate and transformation of HSCs, providing new insights to the mechanisms underlying this regulation, and it promises to improve therapies for a variety of disorders.
Patient Pavilion at Jefferson - Health Cherry Hill Hospital
The new Patient Pavilion at Jefferson Cherry Hill Hospital opened this month, capping a multi-year, $250 million campus transformation. Technology aimed at improving patients' comfort and convenience is part of the Patient Pavilion's design elements. There are 90 all-private rooms featuring a remote that not only includes a nurse call bell, but also allows patient control of room temperature, overhead lighting, window blinds and shades, as well as a television. Each room also includes a specialized adjustable bed with built-in safety features, and a USB port for easy charging of personal electronic devices. Patient rooms also have an electronic touch screen information "whiteboard" with daily updates and messaging ability, along with an iPad tablet to access educational materials and a patient portal.
The REAL™ Immersive System
In early 2020, Cooper University Health Care became the first hospital in the world to use The REAL™ Immersive System, a new virtual reality system for patient rehabilitation following a stroke. A team of physicians and therapists at the Cooper Neurological Institute (CNI) worked closely with California-based medical device producer, Penumbra, in the research and development phase for the new system. Field tests at Cooper were instrumental in refining the technology for patient use.
The REAL™ Immersive System is a fully immersive virtual reality system that displays and tracks upper-extremity rehabilitation in interactive exercises for adult patients using a combination of virtual environments and full presence tracked avatars for visual feedback as part of the rehabilitative process.
Voorhees-based NeurAbilities Healthcare is the only autism provider in the South Jersey and Philadelphia region that offers medical and psychological diagnostic and behavioral treatment services. This innovative model enables better coordination of care and therefore better results. NeurAbilities provides scientifically evidence-based autism treatment—applied behavior analysis (ABA)—and related services. NeurAbilities' coordinated care model leads to more accurate diagnoses, more effective care, fewer hospitalizations and more precise use of medication, according to its founder, Dr. Mark Mintz Many people on the autism spectrum also have one or more additional diagnoses, which may be developmental, behavioral, neurologic and/or genetic. NeurAbilities can address all of these issues with its team of physicians and therapists.
Cancer Treatment Centers of America Risk Management Tool
Studies have shown that approximately 42% of cancer cases in the United States are preventable through lifestyle changes and screening adherence. Despite this fact, many individuals do not participate in recommended testing

—

a trend that has been further impacted during the COVID-19 pandemic.
Creating access to pre-screening services can have substantial health and financial benefits. With 12 short questions, the Cancer Treatment Centers of America Risk Management Tool provides an insight to oncology-specific risk factors and how to provide support to individual employees, including helping them make more informed decisions and decrease cancer incidence. This education empowers employees so they can take control of their health with definitive calls to action.
Penn Medicine's Cancer Care at Home
When needed most, the Penn Medicine Cancer Care at Home (CC@H) program demonstrated that, for appropriate patients and drugs, cancer treatment could be delivered safely in the comfort of a patient's home. The Penn Center for Cancer Care Innovation (PC3I) and its partners launched CC@H in February 2020, referring patients with breast cancer, prostate cancer and lymphoma for administration of seven different cancer drugs at home. As the COVID-19 pandemic mounted in March, CC@H scaled rapidly to ensure continued cancer treatment for immunocompromised patients while keeping them out of health care facilities. Referrals to CC@H increased 700% over seven weeks. By June, nearly 500 patients had been referred to receive 13 different cancer drugs at home instead of in the hospital or clinic setting.
Ultra-low Dose Chest CT Scans
South Jersey Radiology (SJRA) is leading the way to curing lung cancer

—the

cause of death for approximately 158,000 people per year

—

and aims to help diminish lung cancer fatalities.
SJRA, accredited by the American College of Radiology, offers ultra-low dose chest CT scans to look for early cancers and potentially precancerous nodules. These scans have about five times less radiation than conventional CT scans. In addition, SJRA has a long history of using the most technologically advanced imaging equipment. Combining cutting-edge technology with highly trained radiologists, the dedicated CT specialists at SJRA can identify abnormalities anywhere in the body.
Remote Patient Monitoring
Medicare did a five-year study that demonstrated that Remote Patient Monitoring (RPM) reduced hospital admissions by 38%, reduced readmissions by 25%, reduced ER visits by 25%, reduced costs by 17% and improved medication compliance by 13%. Last spring, Relievus Pain Management implemented RPM where patients are able to monitor their vital signs from home, such as blood pressure, oximetry, blood glucose levels and weight. Monitoring patients' vital signs daily produced better patient outcomes, reduced overall health care costs and significantly improved the patients' compliance in their health care. Over 2,100 patients have signed up and it's been so successful, Relievus started another program, DocuVitals, so it can offer this service to its physician colleagues. Relievus believes this innovation will change the way primary care doctors, specialists and hospitals will treat and monitor patients' health going forward.
Bell Pharmacy's PrEP Clinic
When Gov. Phil Murphy launched New Jersey's "HIV Free by 2025" initiative in 2018, Anthony Minniti, owner and pharmacist in charge of Camden's Bell Pharmacy, developed and implemented a practice model making them leaders of this fight. Through a partnership with Camden Area Health Education Center (AHEC), Minniti has created a first-of-its-kind "Pharmacy Based PrEP Clinic." The practice provides testing, counseling and treatment for HIV, STIs and HEP-C among others in a single setting. Most importantly, patients can leave their visit with their prescription treatment in hand. Minniti has created a model that removes barriers to access and streamlines delivery of care to those who are most "at risk." This groundbreaking public-private partnership has been celebrated by the state's front-line PrEP professionals as the new standard in New Jersey's fight to eradicate HIV.
Virtua Our Lady of Lourdes Hospital is using a new, more effective tool to treat pulmonary embolism, a life-threatening blood clot in the lungs. The FlowTriever® uses a catheter to remove clots from the lungs and body, immediately restoring blood flow and a patient's ability to breathe. The device avoids the need for open-chest surgery, long intensive-care unit stays, and drugs that can increase bleeding. Virtua's Camden hospital has the most experience using the FlowTriever of any hospital in South Jersey. The FlowTriever can also save the lives of COVID-19 patients, as the illness raises their risk of developing blood clots. Virtua recently used the FlowTriever to successfully remove a pulmonary embolism in a patient hospitalized with COVID-19.
Abbott's Gallant™ devices
The Abbott's Gallant™

implantable cardioverter defibrillator (ICD) and cardiac resynchronization therapy defibrillator (CRT-D) devices offered at Deborah Heart and Lung Center are for patients with abnormal heart rhythms and heart failure. The high-voltage devices offer a smartphone app and Bluetooth® communication for improved remote monitoring and streamlined communications to help doctors tailor therapy to a patient's unique clinical needs.

The new Gallant system pairs with Abbott's secure myMerlinPulse™, an intuitive mobile smartphone application designed to help streamline communication between doctors and their patients. The app provides access to data, device performance and transmission history, which helps people take an active role in their health care. Through the myMerlinPulse app, physicians can continuously monitor their patients remotely allowing for identification of asymptomatic episodes as well as patient-triggered transmissions, which can lead to earlier intervention.
Click here
to subscribe to the free digital editions of South Jersey Biz.
To read the digital edition of South Jersey Biz,
click
here.
Published (and copyrighted) in South Jersey Biz, Volume 10, Issue 12 (December 2020).

For more info on South Jersey Biz,
click
here.
To subscribe to South Jersey Biz,
click
here.
To advertise in South Jersey Biz,
click
here.