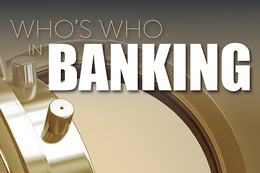 Who's Who in Banking
A look at 23 of the region's top senior executives putting their stamp on the industry.
For our first-ever Who's Who in Banking list we wanted to make a strong impression by featuring the men and women who are helping to drive the industry in our region. This group stands out not only for their many accomplishments, but also their unwavering desire to stay ahead of the curve and move their institutions into the future. With banking being one of our local economy's biggest contributors, South Jersey appears to be in solid hands with these experienced leaders at the helm.
JAMES ANDREACCI, market president for New Jersey, Truist Bank
Andreacci was appointed as the BB&T Bank (now Truist) market president for New Jersey in 2017. He has more than 20 years of banking experience and is a graduate of Pennsylvania State University who grew up in northern New Jersey. Truist was created through the merger of equals between BB&T and SunTrust, and is the sixth largest bank in the U.S. with $499 billion in assets. Andreacci is charged with leading the bank in the New Jersey market delivering the full spectrum of solutions available through the bank's platform. He is very involved in the New Jersey community and serves on multiple nonprofit boards.
ROBERT R. BENDER, senior vice president/chief lending officer, The First National Bank of Elmer
Bender first joined The First National Bank of Elmer in 2015 as a member of its senior management team and has more than 24 years of experience as a community banker. As chief lending officer, Bender oversees the bank's lending staff, loan portfolio and loan operations, and has a strong belief in offering personalized service and support to the business community. A graduate of Stockton University as well as the American Banker's Association (ABA) Stonier Graduate School of Banking, Bender has also served as president of the Risk Management Association's Southern New Jersey Chapter and is a member of both the ABA and the Independent Community Bankers of America.
JENNA M. BURETTA, senior vice president/market executive for Central and Southern New Jersey, Investors Bank
Buretta was appointed to her current position in August she has become part of Investors' expansion of its business and government banking units. In her role, Buretta is responsible for serving small- and medium-sized businesses across Burlington, Camden, Gloucester, Mercer, Monmouth and Ocean counties. A lifelong Gloucester County resident, Buretta began her banking career as a part-time teller while attending Pitman High School and she now has 20 years of experience in retail and business banking in the Southern New Jersey/Philadelphia market. She is known for being adept at leading small business lending teams, and building and maintaining client relationships in an effort to meet their needs while also helping them grow.
GREGORY CARLISLE, South Jersey regional vice president, TD Bank
Carlisle began his banking career in 2000 originating home mortgages for a small mortgage banking firm and has worked his way up to hold various producer and leadership roles for large financial institutions in both retail and commercial banking. In his current role, he leads commercial and small business banking teams throughout Cumberland, Gloucester and Salem counties. Carlisle also oversees all corporate sponsorship and charitable foundation giving in those regions, a cause near and dear to him as he is involved with several charity and nonprofit organizations, including the World Trade Center of Greater Philadelphia and the Gloucester County YMCA where he is the former chief volunteer officer and remains active on their financial committee.
SHANNON L. CROLL, senior vice president/chief financial officer, Franklin Bank
Croll was introduced to a career in banking as a high school senior through a school-to-work program. After earning bachelor's and master's degrees from West Chester University, Croll worked in public accounting for seven years auditing financial institutions before transitioning to working at community banks as a chief financial officer and in 2019 she joined Franklin Bank as its senior vice president and chief financial officer. She is both a certified public accountant as well as a certified community bank compliance officer and she serves as president of the Financial Managers Society of Philadelphia. Croll is looking forward to helping the bank celebrate its 160th anniversary in 2021.
VINCENT D'ALESSANDRO, first senior vice president/regional president, OceanFirst Bank
As president of OceanFirst's Southern region, D'Alessandro oversees branches and administrative offices located throughout Atlantic, Burlington, Camden, Cape May, Cumberland and Gloucester counties. He began his career in 1989 after graduating from Rutgers University with a degree in business administration, political science and education. He would go on to receive his master's degree at the Stonier School of Banking at University of Pennsylvania with a leadership certificate from the Wharton School of Business. D'Alessandro has held numerous commercial, credit and leadership roles at several banks before joining OceanFirst in 2008. He is heavily involved with various nonprofits and works with several organizations including the South Jersey CEO Group, the HERO Campaign and the Chamber of Commerce Southern New Jersey.
RICHARD DECAPRIO, vice president-consumer market manager, Columbia Bank
A 20-year veteran of the banking industry, DeCaprio leads Columbia Bank's South Jersey market comprised of Burlington, Camden and Gloucester counties. He is tasked with ensuring bank branches continue to provide exceptional customer service, grow core deposits, consumer and commercial lending, and wealth management, while remaining community-centric. DeCaprio says one of the most rewarding aspects of the job is being able to witness the impact of the charitable giving and philanthropic events that he and his team engage in. "Everything from building a new home to serving warm meals to a grant for education—we do it all and it all makes a difference," he says.
ANGEL DENIS, executive vice president/chief financial officer, South Jersey Federal Credit Union
A Cuban immigrant who came to the United States at the age of 7, Denis is unbelievably proud of what's he's accomplished in both his professional and personal life. He has more than 37 years of financial services experience, spending 27 of those working at Provident Bank in Jersey City, and has worked as chief financial officer for three other banks and a credit union. In 2006, he was named one of the most influential Hispanic bankers in the U.S. and he has been a treasurer for the statewide Hispanic Chamber of Commerce for five years. Denis has also served as a board member for nine different nonprofit organizations, from hospital boards to homeless shelters.
ALBERTO GAROFALO, chief CRA officer and community banking & development executive/New Jersey market president, Bank of America
Garofalo keys his approach to the job on creating initiatives that deploy capital, create jobs, develop communities and foster economic mobility by addressing society's biggest challenges. And he is leading efforts focused on driving growth in the Hispanic and Latino communities by devising multi-year strategies across consumer and small business. Garofalo also is in charge of all of Bank of America's readiness and response leading business continuity efforts for consumer and small business. In his role as New Jersey's market president, he is responsible for connecting banking and investment resources to companies, families and individuals to address socioeconomic concerns and strengthen communities.
JACK HALL, vice president business banking, Citizens Bank
Hall has been serving Southern New Jersey business banking clients with credit, treasury and depository needs since 1987. As he's grown throughout his career, he's seen the key to success as being able to leverage his more than three decades of industry experience to tailor banking solutions in unique ways to better meet an individual client's banking profile. A graduate of Rutgers University-Camden with a bachelor's degree in business administration and management with a minor in accounting, Hall worked for Wachovia, Susquehanna, Cornerstone and Republic banks before joining Citizens Bank at the beginning of 2019.
DAVID J. HEMPLE, president and CEO, Century Savings Bank
Though he briefly pursued a career in wildlife biology, banking was always in Hemple's blood as his late father, Clarence, managed the Bridgeton Onized Federal Credit Union for several years. Hemple first started with Century in 1983 as a teller and during the following years he rose through the ranks before ultimately being named president and CEO in 2005. Some of his may personal community and business activities include being the former chairman of the board for the Inspira Health Network Cumberland/Salem Foundation; former director and treasurer of the South Jersey Hospital Foundation; member and former director of the New Jersey Bankers Association and New Jersey League of Community Bankers.
KATHLEEN HILTNER, senior vice president - business development/branch administration, Liberty Bell Bank
Hiltner has spent more than 30 years in the industry, beginning as a teller and working her way up to her current position where she has oversight and drives growth of the branch system. Her banking premise is developing relationships with new customers to service their needs while also maintaining the existing customer base. Volunteer work has always played an important part in Hiltner's professional career and some of her community involvement includes work with the Moorestown Rotary Club, Rotary District 7505, Moorestown Business Association and CONTACT of Burlington County.
ARNOLD JOHNSON JR., market director of banking for South Jersey and Delaware, Chase Bank
Johnson is leading the branch expansion of Chase and currently manages the operations of 11 branches across New Jersey and Delaware. That number will grow to 13 by the end of 2020, meaning that Johnson will have successfully managed to open 10 new branches in the region in 12 months—most of it during the COVID-19 pandemic. Known as a highly motivated executive, his strengths include coaching, inspiring associates, developing new organizational structures, creating strategic plans, budget and expense control management, and building strong leaders. Johnson previously served as the vice president of annuity operations and has also worked as market director for Prudential Financial Services and as senior executive for Southern New Jersey for Bank of America.
RODGER LEVENSON, chairman, president and CEO, WSFS Financial Corporation and WSFS Bank
Levenson has been part of WSFS' executive management team since joining the company back in 2006. During that time, he's held several leadership roles with WSFS including executive vice president, COO, chief corporate development officer, CFO and chief commercial banking officer. Prior to his WSFS tenure, Levenson was the senior vice president at Citizens Bank and a key member of its regional senior leadership team. He was also the chairman of the Delaware Bankers Association from 2014 to 2016 and was a board member from 2011 to 2016. His banking career began in 1986 at CoreStates Financial where he was responsible for leading several business units over the course his 17 years with the company.
ANDREW J. LOGUE, president and COO, Republic Bank
Logue is an experienced banker who served in multiple executive-level roles over the course of a 17-year tenure at Commerce Bank under the leadership of Vernon W. Hill II. In 2008, he came to Republic where he oversees all bank operations and information systems and is responsible for the bank's strategic growth across South Jersey, Pennsylvania and New York City. His efforts to expand Republic's small business lending team has resulted in the bank being named one of the top small business lenders in the tri-state region for several years running. Recently, Logue has also led the strategy behind the bank's residential mortgage division, Oak Mortgage, which has originated more than $600 million in mortgage loans over the past year.
JOSEPH G. METERCHICK, regional president for Philadelphia, Delaware and Southern New Jersey, PNC Bank
Meterchick brings almost four decades of banking experience with PNC to its clients and prospects. Among his numerous responsibilities, he has led the corporate banking team in the Delaware Valley as well as Florida. Additionally, he has served as managing director of PNC Capital Markets, group manager in PNC Business Credit and regional president for PNC's West and Central Florid market. A Penn State University graduate, Meterchick is a board and executive committee member of the Greater Philadelphia Chamber of Commerce, serves on the Corporate Council of Children's Hospital of Philadelphia and the board of the Philadelphia Convention and Visitors Bureau.
VITO S. PANTILIONE, president/CEO/director, ParkeBank
Pantilione was one of ParkeBank's founders and has been the president, CEO and a director since the bank opened in January 1999. The company became profitable in its 13 month of operation and seen that continue for every quarter since and the company has grown to over $2 billion in assets with seven full-service branches that are located in South Jersey and Philadelphia. For three years in a row, ParkeBank has been recognized as one of the top 30 community banks in the country. Pantilione and his team are also active in the community, with a specific focus on supporting veterans, helping to feed the poor and assisting with area Boys and Girls Clubs.
JILL M. ROSS, executive vice president/chief retail and commercial officer, William Penn Bank
Ross became William Penn Bank's chief retail officer in March 2019 and it wasn't long before the seasoned banking professional was promoted to her current executive management position. In 2020 alone, William Penn completed the simultaneous acquisitions of Fidelity Savings and Loan Association of Bucks County and Washington Savings Bank, increasing the company's assets to $736.5 million—a more than $320 million jump from the prior year. Ross has also been instrumental in helping grow deposits over $100 million and open the company's 12th branch office in Collingswood this past June. Ross is a board member with the Virtua Foundation and serves on the finance committee of the Girl Scouts of Southern and Central New Jersey.
PATRICK L. RYAN, president and CEO, First Bank
Ryan has a direct hand managing all area of the bank from strategy, operations, marketing and finance to information technology, retail administration and lending departments. Previously recognized as a New Leader in Banking by the New Jersey Bankers Association, Ryan was also formerly an investment banker at Goldman Sachs, a management consultant for Bain and Company in Boston and a senior executive at Yardville National Bank. He graduated Summa Cum Laude from Hamilton College with a bachelor's in government and received his master's of business administration from Dartmouth University's Tuck School of Business, where he graduated with distinction.
GEORGE ROBOSTELLO, regional president, Fulton Bank
Robostello has been with Fulton since 2001 and has worked in the financial services industry for more than 30 years. As the bank's principal representative of the region, he is responsible for Fulton's strategic direction and overall growth, profitability and operational management in New Jersey. A well-known and respected advisor who has gained the trust of the business community, Robostello was fundamental in the successful consolidation of Fulton NJ into Fulton Bank. In 2020, he used his vast experience an in-depth understanding of the local market to help customers navigate the challenges businesses faced as a result of the coronavirus shutdowns. Seeing the importance of building an interactive culture with his employees, Robostello recently became a Heidrick & Struggles Certified Learning Facilitator.
BRIAN SCHMITT, CFO, American Heritage Credit Union
Schmitt has served as chief financial officer at American Heritage Credit Union since 2006. At that time, the credit union stood at $568 million in assets. Today, the credit union has grown to over $3 billion in assets and over 200,000 members during his tenure. With both bachelor's degree and MBA from Rutgers University, Schmitt has been instrumental in the credit union's expansion into New Jersey. He also serves as a board member of First Heritage Mortgage Services, which provides mortgage services to credit unions nationwide, as well as treasurer and director of the Kids-N-Hope Foundation.
BERNIE SHIELDS, regional president, M&T Bank
Shields' career with M&T began in 2002 and he became the regional president for the Philadelphia and Southern New Jersey region in 2019. Thanks to his leadership, in 2020 M&T became the top U.S. Small Business Administration lender in the Philadelphia district by total number of loans (118 loans for $15.9 million). Shields

earned his bachelor's degree at
Saint Joseph's University
and holds a Juris Doctor degree from
Temple University
. Outside of his role at M&T, he is involved in the board of Mission Kids Child Advocacy Center and has also worked with the Philadelphia Chapter of Risk Management Association, Business Leaders Organized for Catholic Schools and the Brent Celek Take Flight Foundation.
ROBERT B. WHITE, president and CEO, 1st Colonial Community Bank
White became part of 1st Colonial's executive team in February of this year after most recently. serving as chief risk officer at Customers Bank—an $11.5 billion asset bank—headquartered in Wyomissing, Pa. During his nine-and-a-half years at Customers Bank, White also held positions as president of special assets and director of corporate development. All told, White has spent 33 years in the banking and commercial finance industry and he currently serves on the advisory board of the Fischer-Shain Center for Financial Services at Temple University's Fox School of Business.
Click here to subscribe to the free digital editions of South Jersey Biz.

To read the digital edition of South Jersey Biz, click here.

Published (and copyrighted) in South Jersey Biz, Volume 10, Issue 12 (December 2020).

For more info on South Jersey Biz, click here.
To subscribe to South Jersey Biz, click here.
To advertise in South Jersey Biz, click here.