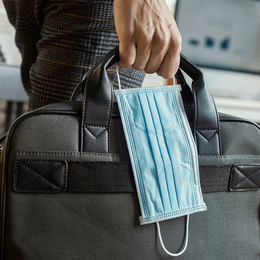 Meeting the Moment


Executives have been forced to face many challenges since the pandemic started and operate business in an uncertain climate, and they have stepped up and made adjustments along the way. We spoke with six South Jersey professionals and asked them how they are meeting the moment. Here's what they had to say:

Daniel Sulpizio, executive vice president
South Jersey Federal Credit Union
"We were concerned about our members financial and mental well-being. We put a lot of emphasis in allowing members to take advantage of our skip-a-pay loan option while waving the fee, and waving a number of other fees as well as a way of helping them get through this. When our members were waiting in line at a drive-through lane, we had employees voluntarily trying to help them while they were in their cars, all with personal protective equipment on."

Brian Sweeney, president and CEO
Jefferson Health - New Jersey
"My first day at Jefferson Health – New Jersey was March 6, which was also the first day of a confirmed, hospital-admitted COVID-19 patient in the region at our Cherry Hill hospital. Because of this, I was able to see our team in action right away. I was so impressed with their focus and how they opened up an incident command center and immediately prepared for a surge of other patients. I went directly into the core of our COVID response, and this resulted in immediate building of relationships, and working collaboratively with our clinical and operational teams.

Janet Garraty, president and CEO
Gloucester County Chamber of Commerce
"The impact of the pandemic has been profound on every aspect of our organization. It continues to challenge us, as one of our primary services to our members is hosting events that help members build relationships that result in more opportunities. We have since introduced other services that improve our members' visibility in the marketplace. The response has been overwhelmingly positive, as our members appreciate our cautious approach while still providing opportunities for them to connect with other business leaders.

Frank Plum, president
Workplace HCM
"We had to learn how to work from home remotely and how to continue to grow our business in a pandemic. However, we were in a unique position to rise to the challenge and help our customers with PPP and EIDL loans, as well as find other small business loans to keep their business moving forward. We were very fortunate to have this opportunity to help others and because of that Workplace has grown during the pandemic."

Christina Renna, president and CEO
Chamber of Commerce Southern New Jersey (CCSNJ)
"We're proud to say that we have transformed the CCSNJ into a virtual event powerhouse, producing more than 170 online events, bringing 15,000 people together online since March to stay connected and gain resources to assist in dealing with the challenges of the pandemic. We are anxious to get back to normal, but are proud of the CCSNJ's ability to reinvent itself during this most difficult time."

Michael Renna, president and CEO
South Jersey Industries
"The challenges of the pandemic have shifted over time. From moving our workforce to a work-from-home posture in just three days, to quickly obtaining and effectively using protective personal equipment in the field with essential employees, we have successfully navigated these challenges by staying rooted in our long-held commitment to protect the collective well-being of our communities. This commitment helps us to make decisions that ensure the delivery of safe, reliable, affordable, clean energy to the more than 700,000 customers that depend on us."

Click here to subscribe to the free digital editions of South Jersey Biz.

To read the digital edition of South Jersey Biz, click here.

Published (and copyrighted) in South Jersey Biz, Volume 10, Issue 10 (October 2020).

For more info on South Jersey Biz, click here.
To subscribe to South Jersey Biz, click here.
To advertise in South Jersey Biz, click here.