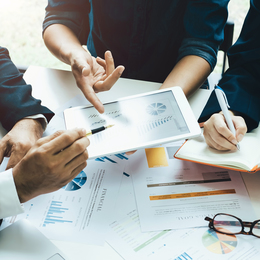 The Cost of Doing Business
With the pandemic still a threat, financial experts see continued recovery heading into 2021.
Aside from the upcoming presidential election, the economy's performance is one of the most important things on people's minds here in South Jersey and across the country. It was ravaged by COVID-19 in the spring and there are still many hurdles to get through to get back to the booming economy it once was in the beginning of 2020. We're taking a close look at the area's current economic climate and projections for what lies ahead.
High unemployment is a big contributor to the economy, along with small businesses struggling to get foot traffic and most importantly, funding to help stay afloat.
"From an economic standpoint, job creations help grow the economy. There are plenty of people unemployed and needing help. Small businesses' PPP are running out and the current dilemma is negotiations regarding the next round of stimulus," says Nick Pantle, vice president, financial planning services, Masso Torrence Wealth Management.
One sector that has surprisingly picked up and doesn't look like it's losing any steam is the residential real estate market. With interest rates at record lows, houses are being swept up, some not even staying on the market for a few days and receiving multiple offers well over asking price.
"I think the real estate market has been amazingly resilient, probably better than anyone expected giving all the stress related to the pandemic," says John Herring, New Jersey market president of Liberty Bell Bank, a division of Bank of Delmarva.
Low interest rates are an obvious draw, but Pantle says it's a combination of things, including having the ability to work from anywhere.
"When you look at jobs in the future with a more remote workforce, it opens up the idea of you not having to live around the corner from work," Pantle says. "We've also seen the uptick in private school education where kids go to school versus virtual schooling or a hybrid model. Relocating to different districts has been a common theme this year. It's good for someone selling a house. It's a crazy market and interest rates are lower. Buying homes and refinancing mortgages is going to be a very big item on this year's agenda."
Bruce Foulke, president and CEO of American Heritage Federal Credit Union, says he is seeing a growth in demand of larger-scale purchases driven by low rates, such as homes, cars, home improvement projects and appliances, but not nearly as much on retail and going out to eat.
"Many families are reducing their discretionary spending at restaurants and malls which is hurting service industries across South Jersey. While some families are able to use this time to build up their savings, many others are struggling, so it's hard to say that consumer confidence has recovered in a meaningful way," Foulke says. "As a member-owned credit union, our duty is to help and support all of those families."
A potential coronavirus vaccine in 2021 is also set to play a huge factor in the economy.
"It has a tremendous impact, in particular for things like air travel and people taking vacations. I think the impact of potential vaccines is huge and will make people feel tremendously more comfortable in resuming their normal lives," Pantle says. "If there is a vaccine in place, the economy will pick up. A vaccine is huge for the overall economy both locally and nationally."
But the biggest factor to how the economy will play out for the remainder of 2020 and even more so at the start of 2021 is the presidential election.
"I do think regarding the broader economy, it depends on the election," Herring adds. "Once we know who the next president will be, there will be a little more certainty in what people can expect from the government next year and I think that will enable people to better plan for how they are going to approach business.
"Our former chairman BIll Dunkberg, chief economist for the National Federation of Independent Business, always says uncertainty is the biggest enemy of the business sector. Once they know who will be in power and what their policies will be, they can plan accordingly."
With many people still working from home for the foreseeable future, some have become accustomed to daily virtual meetings and the new normal, which means more vacant office building spaces.
"I think the office market based on what I've seen is probably also in for its share of struggles over the next few years," Herring says. "One of the things the pandemic seemed to reveal is people are comfortable working from home and customers don't mind when people they are dealing with are doing virtual appointments and Zoom meetings to get business done. I don't think it is a temporary situation or fad, I think it's a sign of things to come."
When it comes to making investments, even in the middle of a pandemic, Pantle says more clients are making moves.
"There will be more rounds of stimulus, interest rates are at an all-time low and the federal government has agreed to keep them low for the next three years. As far as investing goes, we've taken the more long-term approach from an investing standpoint and wouldn't make rash decisions," he says. "People who might have gotten scared around the markets are slowly setting up a time frame and continuing to get back into the market. We're big believers in staying invested."
Just as with every year coming to an end, it's important to review every document, but even more so given the current situation and taking steps to make sure you and your family are protected.
"Review everything and make sure all I's are dotted and all T's are crossed, and make sure things are taken care of for your family in case something happens," Pantle says. "Be diligent in protecting yourself."
There is no right or wrong prediction over what the economy will look like the next few months. We can expect clarity after the presidential election, but the key to building back a strong economy, Foulke says, is at the heart of the community.

"As much as South Jersey has become a hub for large-scale retail and logistics, we believe that small businesses are still the lifeblood of South Jersey's communities. Our small business members are ready, willing and able to reopen in a safe and sound manner, and American Heritage stands with them to give them the support they need when they have the opportunity to reopen," he says. "Our economy cannot fully recover until small businesses are back in business."


Click here

to subscribe to the free digital editions of South Jersey Biz.

To read the digital edition of South Jersey Biz,

click

here.



Published (and copyrighted) in South Jersey Biz, Volume 10, Issue 10 (October 2020).

For more info on South Jersey Biz,

click

here.


To subscribe to South Jersey Biz,

click

here.


To advertise in South Jersey Biz,

click

here.