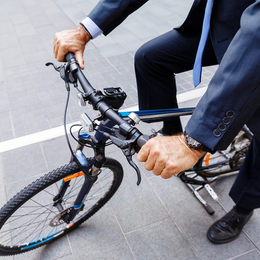 Close of Biz: Time Well Spent
From picking up a new hobby to catching up on television shows, many executives are not letting the time pass by during quarantine. We talked to them to see what new things they have been doing recently and what's the best and worst part of working from home.
What is your favorite television show?
Darren Crane
President, DLC Technology
While I've watched some really good series like Bosch and Billions, I've recently started watching some good clean fun—The Goldbergs! It always brings a smile and reflection to the fun times of childhood.
Executive Vice President, Chamber of Commerce Southern New Jersey (CCSNJ)
I'm a latecomer to Netflix, so I am playing catch up and binge watching the shows I've heard everyone talk about for years now. Some of my favorites are Dead to Me, Ozark and Schitt's Creek.
Senior Project Manager, Bohler
I don't watch a lot of TV, but the last thing I enjoyed was the sci-fi drama Dark on Netflix.
President, Katz JCC

The Larry Sanders Show
. It's still funny no matter how many times I watch.
Sales Engineer, DelRen HVAC
It's a tie between Live PD and Shark Tank.
Have you picked up a new hobby since the pandemic started?
Darren Crane

Actually I've resumed an old one
—
cycling. I dusted off my bike, tuned it up and I'm back to a daily morning ride. It lowers stress and makes me feel so much better.
Meredith Lorrilliere

Since the pandemic started I have been putting my bike to a lot more use. My kids and I have been taking many long bike rides exploring our neighborhood and town.
Brad Thompson, P.E.

Woodworking, which helps me relax. I've built a few things related to some of my other hobbies. Going through the process of designing, building and ultimately using something I created is extremely rewarding.
Early morning running. Until the Katz JCC fitness center reopens, you can see me in the neighborhood most days.
Not really. Just spending more time with my family has been the best outcome of this whole ordeal.
What is a pro and con of working from home?
Darren Crane

An absolute pro of working from home is not having to wear long pants in the summer! The con however is that my team is missing the camaraderie that comes from casual conversations. Daily huddles on Teams or Zoom helps but are no real substitute for actually being there.
Meredith Lorrilliere

Pro: the short commute! I don't miss the rush in the morning to get myself, three other people and all the needed items for the day out of the house by 7:30 a.m. Con: I miss seeing all the people I get to see on a daily basis. CCSNJ is truly like a family and I look forward to being reunited with them in person!
A pro is not having a commute anymore! I've been using the extra time to make breakfast for my kids or walk the dogs. A con is missing out on making more personal connections with people. Though it's hard to build relationships virtually, I'm doing my best to stay connected with staff and clients through video chats.
Pro: more family time. My wife and I have five kids and a dog; there is always someone around to hang out with. Con: more distractions from working—too much Larry Sanders and running!
The best part about working from home is that I can be more efficient and productive. The downside is that I miss seeing my friends in the office.

Click here
to subscribe to the free digital editions of South Jersey Biz.
To read the digital edition of South Jersey Biz,
click
here.


Published (and copyrighted) in South Jersey Biz, Volume 10, Issue 9 (September 2020).

For more info on South Jersey Biz,
click
here.
To subscribe to South Jersey Biz,
click
here.
To advertise in South Jersey Biz,
click
here.