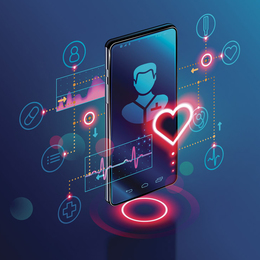 Making a Full Recovery
How South Jersey's health care systems are bouncing back from the COVID-19 pandemic.
The South Jersey health care industry has certainly had its share of hurdles to jump over since last spring. When COVID-19 hit our area, hospitals immediately went into overdrive, taking care of coronavirus patients flooding their emergency rooms and dealing with the country-wide shortage of PPE and tests.
Doctors had to lean on technology as their primary source of interacting with patients since in-person visits were halted. Health care systems had to figure out different ways of taking care of their most vulnerable patients. And quite possibly health care providers' biggest challenge right now is preparing for a potential second wave.
"The issues for all hospitals were similar, just in different magnitudes. We had to have the ability to ramp up very quickly when the governor put his executive order in place and be able to meet the commissioner's mandate," says Amy Mansue, president and CEO, Inspira Health. "We had to make sure we had the capability to service any patients who walked in [our] doors with COVID and anticipate every one of [our] beds might need to be ICU level beds, which was a huge undertaking. We had to restructure rooms—they had to become negative pressure rooms to deal with ventilator patients—and get all the PPE we needed. Each of those things could have taken months or years, if you will. It was up to each of us in the hospital industry to do that in short order and it was an unbelievable undertaking."
"The last seven months have felt like seven years," says John Matsinger, executive vice president, chief operating officer, Virtua, and president of Virtua Medical Group. "We were dealing with the uncertainty of a pandemic from the get-go. In the beginning it was testing and PPE, then it was the shutdown of elective surgeries, then the anticipation of a surge, now it's preparing for flu and COVID at the same time and looking at vaccination. Will that come to the forefront? Everything's been uncertain and it's unchartered water. No one can ever say they've been through this."
But health care providers have always faced challenges from an evolving health system, even before COVID-19, and they rose to the occasion. They have pushed through, adapting to new information that is constantly changing, implementing new protocols, doing whatever it takes to keep patients safe and healthy, and have embraced the new technology while coming up with innovative ways to take care of their most vulnerable patients.
The South Jersey health care industry plays an important role in the state's economy, as it contributes $37 billion to New Jersey's economy annually. So when COVID-19 shut everything down, it was a major blow to the economy and the entire health care sector.
Hospitals were still open of course as they treated thousands of coronavirus patients, but elective surgeries and other non-life threatening procedures were put on hold and they started to lose money, quickly. Earlier this year, the New Jersey Hospital Association reported the state's hospitals lost more than $1.7 billion which was mainly due to the pause of elective surgeries.
The economic implications from COVID-19 were devastating.
"It's massive because health care is a volume-based business and high-touch business," says Brian Sweeney, president and CEO, Jefferson Health - New Jersey. "We're very dependent on people in all different specialties, including physicians like primary care, cardiology, social workers and dietitians. Our staffing is tied to volumes, and we haven't had a situation before where the volume was turned off immediately."
Sweeney says with elective surgeries, each day operating rooms are filled with appropriate staffing such as anesthesiologists and equipment such as surgical trays that are based on a certain number of patients. And in a blink of an eye, "it went away because of the governor's order."
"As an organization, we're carrying the cost of all of that. Surgery stopped overnight, but we're still paying salaries and benefits and all the overhead for things like surgery centers. It was a challenge for everyone and a trend across the country. The reason why it's so challenging is because it's all income-based business with a high overhead cost. We have to be able to flex staffing to what our patient demand is."
"I believe at its worst, we were 50 percent below what we budgeted," says Joseph Chirichella, president and CEO, Deborah Heart and Lung Center. "It costs just north of $4 million a week to keep the lights on, and April 25 we were just slightly over $2 million."
At the same time, hospitals have experienced increased expenses due to new cleaning protocols and even more so because of PPE. The demand for PPE drew up the cost significantly.
"What used to cost $.50 went to $5.50," Matsinger says. "We experienced a $30 million expense that can be directly attributed to COVID. … In the beginning it was insane, we were spending 24 hours a day acquiring PPE from around the world. We've never seen anything like it."
"We were fortunate to be in system leveraging pricing with all other hospitals," Sweeney says. "There are 14 [Jefferson Health] hospitals between New Jersey and Pennsylvania and we have a sophisticated supply chain team and national contacts, paying whatever it was because of the supply and demand. There was way more demand than supply around the world. … We spared no expense."
On top of that, people were afraid to go to hospitals' emergency rooms for fear of getting COVID-19 among other things.
"Statewide ERs are down about 20 percent, which is the No. 1 source of admissions for us and probably in most other hospitals, too," Chirichella says.
While Deborah Heart and Lung Center was not a primary COVID hospital, it had a fair share of COVID patients whose primary diagnosis was heart, lung or vascular problems with COVID as a secondary diagnosis and followed the same protocols That being said, it went through all the exact same protocols for negative pressure isolation rooms and proper PPE.
"We had several patients come in that had symptoms and they'd be considered a person of investigation, or a PUI," Chirichella says. "That means they are a person present in the ER and/or at the front door with what you presume are symptoms that are suspicious of COVID. You treat them like they are positive, you manage them as a PUI with full COVID protocol until their test results come back."
Chirichella says the average age of patients at Deborah is in the low 70s, which makes them more vulnerable—especially with heart, lung or vascular problems—but he says because they knew they were at a higher risk than the rest of the population, they themselves took more precautions and Deborah also had strict protocols in place to help them and employees, such as wearing face masks, social distancing, limiting visiting hours, only having one door designated as an entrance and everyone getting their temperature checked.
"Seniors have been less prone to bad behavior and have more willingly to stay in quarantine themselves," he says.
The Centers for Disease Control and Prevention experts have warned about a potential second wave of COVID-19, and with flu season upon us, it could wreak havoc on health care systems. They insist, however, after being through it once already and learning through those trials and errors, they are prepared if there is a surge.
"We are taking a data-driven approach," Sweeney says. "We have a surge team that is constantly looking at real time data that comes from physician offices and multiple testing sites."
"People have talked about the phrase, twindemic—an opportunity of a second wave of COVID as well as having the flu. The good news is all these measures we have put in place to help prevent COVID from spreading will help us from a flu perspective in terms of aggressive hand washing, physical distancing and temperature taking," says Alki Kohli, chief population officer and clinical officer for Inspira Health. "And we've always been very robust with our flu vaccination program. We encourage everyone in the community to get a flu shot—the flu vaccine does help in terms of that prevention."
Matsinger implores the community to continue to practice good hygiene and do its part.
"We put a lot of things in place and from a facility standpoint, we are well-positioned to take care of a second round of COVID," he says. "The biggest thing to help us not have a second wave is for everyone to do their part—wash your hands and social distance."
Although telemedicine isn't new, just about every health care system had growing pains getting accustomed to the digital platform when in-person visits weren't allowed. But physicians have found telehealth appointments to be more efficient for certain visits, such as counseling, Kohli says.
"Say for example someone had a bone scan and was newly diagnosed with bone loss and has osteoporosis," she explains. "There is a whole slew of counseling they could do about bone loss—the different ways to tackle it, diet, exercise, supplements, etc. Providers have to spend a fair amount of time walking through the components not only so they understand the disease process, so they understand all the different modules available to them and help them make the best decision that fits. The advantage of telemedicine is it's still done face to face and patients never need to leave home for that counseling."
Virtua utilized telemedicine in its emergency rooms using remote monitoring.
"When patients were coming to the ER and they tested positive for COVID, some had a cough or shortness of breath but they didn't need to be hospitalized. We gave them a pulse oximeter so they could be monitored at home through telehealth," Matsinger says. "We'd call and check in on them, make sure the pulse oximetry was good. If there was any change in that patient, we could bring them right back to the hospital and admit them if necessary. When we were planning for the surge, we were concerned we weren't going to have enough beds so we thought of creative ways to take care of those who did not need hospitalization."
Virtua also has an app called MyChart that stores patients' medical records and allows patients to check in to appointments digitally from the parking lot.
"When you arrive at the primary care office, you can hit a button that says, 'I'm here.' It notifies us you are in the parking lot; we check you in and message you saying to walk in, quickly check in and go right into the exam room," Matsinger says. "We eliminate the need for waiting rooms and people to cohort and allow for social distancing."
Telemedicine wasn't exactly a platform every doctor or household used until COVID-19. Now, it is here to stay.
"It's becoming a mainstay," Kohli says. "We're exploring new and innovative ways through telemedicine and to deliver care."
While Samaritan faced some of the same challenges hospitals did when it came to securing PPE and having to launch a telemedicine platform at a moment's notice, it also faced the challenge of taking care of some of the most vulnerable patients: hospice patients.
"One very significant example stands out among the many ways that COVID affected our Samaritan operations. Through the extraordinary compassion of our staff, we were able to transition all 12 rooms at our Mount Holly inpatient center to care for COVID-positive hospice patients exclusively," says Mary Ann Boccolini, president and CEO. "Our staff made it possible to care for more than 120 hospice patients and developed innovative and resourceful ways for families to safely visit their loved ones, sometimes after having gone months without seeing one another.
"I am proud to say that we succeeded at our biggest challenge and provided uninterrupted services in the comfort of home for our hospice, palliative medicine and primary care patients and their families."
Bell Pharmacy, a family-owned and -operated pharmacy in Camden since 1931, had its own set of challenges. "Our biggest challenge from a practice standard is maintaining the patient pharmacist's contact and working to be able to ensure the commodity and compliance with the patient's prescription regime," says owner Tony Minniti. "A lot of doctors' offices weren't open and patients ran out of refills and some of the conditions people get every day, like the common cold or allergies, were left untreated."
South Jersey Radiology Association CEO William Muhr says their volume was down 25 percent between mid-March and mid-June but they have bounced back nicely and have bumped up their cleaning procedures.
"We have always cleaned machines between each patient and we'll continue to do that, along with everyone wearing masks and doing social distancing in each office, having people move through the waiting room faster," he says.
All types of surgeries are up at Jefferson and patients are returning, but Sweeney notes people are still putting off important procedures such as colonoscopies, mammograms and other screenings.
"The first phase of this pandemic was COVID and preparing for COVID patients, and the second phase is all those individuals who understandably delayed care. Those preventive screenings can't be put on hold forever."
"We've seen non-emergency surgeries and hip and knee replacements back to pre-pandemic levels through late May to mid-August. We performed 700 orthopedic surgeries and 340 joint replacement surgeries," Matsinger says. "We're back to what we were doing in the beginning of the year and we've seen outpatient offices go back to pre-pandemic levels starting to get care they need.
"Somehow, we did five years of innovation in five weeks and many of us collaborated. Virtua and Cooper worked together setting up test sites and spent a lot of time working together making sure the communities we care for get what they need. We are proud we worked together with all the South Jersey hospitals from Burlington County to Cape May and Salem counties. The collaboration was great and the best practices were shared."
Which may be the best thing to come out of this, how the health care systems who compete against one another came together to help the community in the greatest time of need.
"We are fierce competitors all over the state, but for this effort, I think all of us are in agreement about cooperation and partnership—all those things were in lockstep," Kohli says. "Everyone was focused on how to make sure we have everything we need for all communities. The biggest takeaway from me is giving people a sense of real comfort that everyone was committed to making sure every community had what they needed to move forward."



Click here

to subscribe to the free digital editions of South Jersey Biz.

To read the digital edition of South Jersey Biz,

click

here.



Published (and copyrighted) in South Jersey Biz, Volume 10, Issue 9 (September 2020).

For more info on South Jersey Biz,

click

here.


To subscribe to South Jersey Biz,

click

here.


To advertise in South Jersey Biz,

click

here.