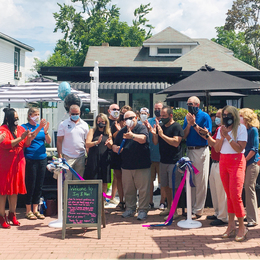 Weathering the Storm
Washington Township and its neighboring communities are pushing forward with economic development during the pandemic.
"Jersey Strong" had a nice ring to it when the slogan was adopted back in 2012 to describe our state's recovery from Hurricane Sandy. Now businesses across the area find themselves in a similar situation as they deal with the ramifications of the pandemic, and it will require the same kind of strength—not to mention creativity, collaboration and government assistance—to come out on the other side again.

Fortunately, municipalities like Washington Township and its surrounding communities, from Winslow to Monroe and Glassboro to Mantua, are seeing signs of life in the economy and remain confident that their businesses will find ways to not only survive but thrive.

"We're kind of pivoting and seeing where certain businesses can flourish," says Katherine Falcone, a councilwoman in Monroe Township. "A lot of businesses have been very creative as far as what they have done during this period of time. … I'm a business owner myself and I feel like things are moving forward. I think people realize things are not going to be normal; this is what we have to deal with and we're just making the best of it."



Sticking together


The largest municipality in Gloucester County with about 50,000 residents, Washington Township has a small-town feel at the same time and is a place where community pride still goes a long way. That has been clear throughout the pandemic as government leaders have been quick to support local businesses and even competitors have banded together.

"We all got together when this began and said, 'How can we be proactive in trying to help our businesses?'" says Nancy Mozzachio, economic development consultant for Washington Township. "So we created virtual business town halls where we pulled together a group of merchants, and the businesses—instead of competing—were partnering up to help each other. They in turn formed their own groups of support. For example, there was a salon group that included just about every salon in Washington Township so they could share best practices and information they were getting within their industry. … Everyone locked arms and was able to work together, and that's still going on today."

A former longtime pizzeria owner in Washington Township, Joann Gattinelli has put an emphasis on making the town more business-friendly since becoming mayor in 2017. From active recruitment to tax incentives, measures are paying off as development continues even during the pandemic. The latest news comes on the heavily traveled Black Horse Pike, where a shuttered Denny's has just been sold for a new project that has yet to be announced, while across the street a ModWash car wash is replacing Burger King.

Gattinelli also points to certain projects that come with infrastructure improvements, like a new Super Wawa being built near the Five Points intersection at Delsea Drive and Egg Harbor Road. Car accidents have long been an issue where Blackwood-Barnsboro Road connects to Egg Harbor, but with the Wawa project comes a realignment that will push the connection farther away from Five Points, add a light and improve traffic flow.

The town's third Dollar Tree opened just a few weeks ago, and chain restaurants Chipotle, First Watch, Panda Express and Jersey Mike's Subs are all coming soon. The food industry has certainly been hit hard by the pandemic, but established restaurants are adapting with the times as well. Luna Rossa Biagio Lamberti, a staple on the Black Horse Pike for decades, purchased a liquor license last year and is moving forward with a 4,000-square-foot expansion that will include a bar. Right around the corner, House of Brews has added outdoor dining for the first time during the pandemic and the concept has been such a success that it could remain permanent.

"We waived the fees [for outdoor dining permits] and we also waived the business license fees that we charge every year to each business," Gattinelli says. "How can we go and ask for these fees to be paid when some of these businesses are unable to sustain or are barely making it? We felt it was necessary to do that. We are absolutely on board to help our businesses and support them."

Of course, the most noticeable project in town is at Jefferson Hospital, where a $222 million expansion is underway. Phase 1 is already complete with the opening of an eight-level parking garage with more than 835 spots. Phase 2 is the seven-floor Silvestri Tower, which will include 90 private patient rooms, a new main hospital entrance, a new cafeteria with outdoor dining and plenty of amenities centered on technology and convenience.

Jefferson's infectious disease team worked with the various trades to ensure the construction never skipped a beat even in the early days of the pandemic.

"We've been providing support to them and it's been going really well," says Brian Sweeney, president and chief operating officer for Jefferson Health New Jersey. "They've had a few challenges with supplies, especially supplies from abroad, but we've caught up there and the project is still on budget and on schedule. I don't see any reason why we wouldn't be able to hit our July [2021] opening date, which is amazing in the middle of a pandemic."

Sweeney has more than 20 years of experience at Jefferson but just moved to his current role in New Jersey in June and has been adapting well to his new surroundings. He calls Washington Township the "flagship" location in this area and he believes the expansion is resulting in more of a campus feel. Jefferson's continued emergence will allow local residents to receive the highest quality of care without traveling over the bridge.

"People don't want to go real far, especially these days," he says. "One of the things we're trying to do is commit to providing all of those advanced programs. For example, with our cancer center being a national cancer institute, we're able to bring clinical trials. So as new clinical care comes out, people can do that in Washington Township versus having to go to Center City. It's much better for the patients and their families."

Sweeney feels that a leading hospital like Jefferson can not only attract residents but also new businesses to an area, and Gattinelli and Mozzachio are in agreement. They point to the important factor of "daytime population," which continues to rise with Jefferson's growth, as a draw for business owners. "Having a hospital hub in our town draws a lot of businesses that want to come in because they know there's a lot more traffic," Gattinelli says. "We are reaching out to folks who may have tried to come in in the past and felt the demographics weren't right for their business model but now they see there has been a change and they're willing to reconsider."

"As a town we're laser focused on building our business community to be the best in South Jersey, and that's evident with what you see today with all of the activity," Mozzachio adds.

Two firms already in town have prospered throughout the pandemic because their mission is to assist other businesses. PCH Technologies provides IT and cyber security for clients in a wide range of industries—such as financial services, dental and medical, engineering and construction—and has been crucial in setting up remote working operations as offices closed.

"I talk to a lot of different owners and many of our main clients have been through different financial downturns. This is kind of a different one," says Tim Guim, president and CEO of PCH. "Construction was down a little bit but is still continuing on; manufacturing is getting back to normal. The financial companies are still functioning, they're just working remotely, and the same thing with the insurance companies. We also serve some local governments and we have facilitated Zoom meetings in lieu of in-person meetings. All of our businesses are doing very well with the exception of the travel and hospitality industries, which have been impacted by not having indoor dining and things like that."

CLM Advisors has close to 60 clients in a variety of fields and supports them through accounting and sound fiscal advice. It has remained busy throughout the pandemic, especially in the early days, as businesses adapted to the new reality. Although Payment Protection Program (PPP) loans have garnered a lot of attention, Nick Dellarova, director of consulting at CLM, stresses that they don't work for every company, and therefore other federal or state programs may be better suited for certain businesses.

It is CLM's hope that by guiding local clients through the pandemic, they will be able to endure and get back on track to reaching their goals.

"Our passion is educating our clients about their business model and their business strategy, all from an accounting and finance lens," Dellarova says. "We're very much all about educating and coaching our clients to become stronger businesses. By doing that, we help build the local economy and strengthen it, and that's what we want to do. We want to see as many healthy small businesses on the Main Streets of the local towns and cities as we possibly can."



Open for business


One of the bordering towns of Washington Township is Winslow Township, the largest municipality in Camden County by area at 58.6 square miles. Barry Wright, a lifelong resident, spent 27 years as a police officer in Winslow, has owned businesses there and has been mayor for nine years. He is most proud of the town's diversity.

"We have Sicklerville, which is more of an urban area, or you can come down to the lower end where our fourth winery is under construction now," he says. "We have areas with a lot of homes and townhouses and other areas with farmland that are more rural. I think we have everything."

Businesses are attracted to Winslow's easy access to major highways like the Atlantic City Expressway, Route 73 and the White Horse Pike, along with its proximity to both Philadelphia and the Jersey Shore. Tax incentives and PILOT programs are also beneficial and the population is young and growing.

Not surprisingly, local and national companies have taken notice. Aldi and Royal Farms both opened within the last year and Dunkin Donuts just broke ground in the Cedar Brook section of town. Craft chain Michaels bought the former A.C. Moore headquarters and is renovating the facility, and Curaleaf—a medical marijuana manufacturing plant—will be opening on Route 73. Residential communities are also on the rise, including Braycen Pines, a Ryan Homes community of 75 homes that are almost all sold.

"Things are booming," Wright says. "Winslow Township is on an upswing and we're open for business. Our bond rating is fantastic and we were able to keep a cap on our taxes this year. … When you have all these positives, I think that's what attracts development."



A unique situation


Monroe Township, including Williamstown, is another attractive destination for businesses. It is different from other South Jersey municipalities in that it boasts two centers of town; not only the Black Horse Pike but Main Street and its vast potential.

The most ambitious current development is Monroe Mansions on the Pike, which is a $328 million project consisting of assisted living, over-55 housing and commercial pads. It is expected to bring about 400 jobs to Monroe.

Main Street has bounced back in a big way lately with businesses like 13th Child Brewery and Grindstone, a restaurant across the street that often shares customers with the brewery. In the same area is Ivy & Main, which recently held its grand opening and offers gelato, coffee and more.

"That one little hub is buzzing," Falcone says. "We're hoping it will keep expanding down Main Street because people are excited and they like to go there. … It's great that we have both of those areas. [Monroe Mansions] liked the idea of having the bus routes on the Black Horse Pike that go right to the Shore. Then just a few blocks parallel to that we have our Main Street and we always have all kinds of programs going on when we're allowed to."

In addition to being a councilwoman and the owner of SOS Group—which provides medical equipment and ADA-compliant home modifications—Falcone is also the founder of the Williamstown Chamber of Commerce. The organization will be collaborating with the Gloucester County Chamber of Commerce to host an in-person event on Sept. 23 at Blue Cork Winery.

"We want to make sure the businesses here are getting their networking out as far as possible—into all the towns, not just the town they live in," Falcone says. "A lot of businesses, when they want to locate into your town, they ask if there's a Chamber of Commerce, if there's a Rotary Club, and what the town has to offer their business. When they find out we have a local chamber of commerce as well as the county chamber of commerce, they're happy."



Continuing to help others


Although there may not be an abundance of office parks in Mantua, Frank Lauletta could not be happier with the location. His firm, Lauletta Birnbaum Attorneys at Law, moved into a building it owns on Mantua Boulevard about five years ago, and he appreciates the ability to easily travel to other parts of the Delaware Valley, the peaceful surroundings and the support from the town.

"We can get to Philadelphia in 15 to 20 minutes, but I can also look out my back window and see a bunch of deer. It's a cool combination," he says. "We deal with the town quite frequently and we have a great relationship. Obviously, we maintain our property very well and it's a mutually beneficial relationship, because they welcome us as business owners and we respect the town and make appropriate improvements to make the town a better place. I think a lot of businesses that operate in Mantua have the same feeling and it's a pretty close-knit community from a business perspective."

Lauletta Birnbaum also gives back to one of its neighbors in the office park—the child-based charity An Opportunity's Knockin'—with its annual ping-pong tournament, which has been held for six straight years and continues to get bigger.

"It started off as an internal tournament, but clients started coming in and saying they loved ping-pong, so it just snowballed," Lauletta says. "A lot of people wanted to be a part of it and now we have a 64-person bracket and we have a waiting list. It's a fun event and we have a good time and raise money."

An Opportunity's Knockin', or A O.K., is a nonprofit started by college friends Pete Mauro and Pete Eobbi that focuses on the positive development of children. The founders frequently host events at local high schools and stress to those students that it's not just important what you become—i.e. a lawyer or doctor—but who you become.

"Instead of preaching to them we talk about commonsense things like the importance of relationships, the importance of honesty and integrity and the importance of a balance in life," Mauro says. "Having a 4.0 [GPA] and no friends and making a lot of money is just as bad as having a 1.0 and failing out and spending all your money. You need a balance in life."

A O.K. also serves younger children between the ages of 5 and 13 with its annual Holiday Gifts for Giving events, held on the first two weekends of December. With the help of donors, sponsors and volunteers, kids from 10 lower-income areas in South Jersey and Philadelphia are taken to lunch and then go shopping, as they each receive $100 to buy presents for their families.

"It's a great day and it empowers them to give to others," Mauro says. "We raise $25,000 to $30,000 a year to do that, because it costs about $2,500 to $3,000 per event. We're really hurting for donors, as you can imagine during this time, and we can use some help from businesses that are doing well. It's a little scary this year but hopefully we can get through it. I wouldn't say these families count on the event for [everyday] life but they do count on it to make their holiday a little nicer."



WHAT BUSINESSES ARE SAYING


"Land Dimensions Engineering relocated our offices to downtown Glassboro in 2002 at the very beginning of the redevelopment movement of downtown. As a land use design consulting firm, as well as having a working relationship with Rowan University, we understood the changing trends of smart growth principles, redevelopment and movement away from sprawl. We wanted a home for our company, and the opportunity to be part of a downtown, walkable community was very appealing. In conclusion, after 18 years we are part of the community and have gained the ability to integrate with the future vision of both the borough and Rowan University."
Larry DiVietro Jr., President | Land Dimensions University

"We moved into a great facility on Enterprise Court in Washington Township in 2015 and from our perspective the town has always been supportive of business and economic development. … We've never had any issues with the township; our sign was put up with no problems when we moved in. The administration is doing well in Washington Township and trying to promote businesses the best they can."
Tim Guim, President and CEO | PCH Technologies

"What we need is for our clients to be healthy, to stay in business and be able to make the investment in a service like ours that helps them get a greater return on the investment through better profitability and good, responsible business growth. So we like to see the local government and local chambers support our business community in any way they can, because that in turn makes them able to make the kind of investment they want to make in a service like ours."
Nick Dellarova, Director of Consulting | CLM Advisors

"Part of my goal has been to get to know the community and the community organizations, and our own organization. I've been out doing rounds in our physician offices and certainly our in-patient units, checking on the staff in the ICU and getting a good understanding of who's on our team. I've also talked to community organizations like the Chamber of Commerce, meeting with their leadership to see how we can partner on different initiatives, and all the other businesses in the community as well. It's a long process because there's such a connection between us as a health care organization and the community."
Brian Sweeney, President and COO | Jefferson Washington Township Hospital

"I can see a lot of movement. Folks are still entrusting our town to be able to survive during the pandemic. There's an awful lot of building and people are even coming in with new projects now. … We've made contact with each and every [existing] business in this town, letting them know we are here to help in any way we possibly can, and if not us we can certainly find an avenue for them. I can honestly say that this pandemic, albeit it was a detriment to business, but I think it really showed what the town is about and what we do together as a community to really help everyone as much as possible."
Joann Gattinelli | Mayor, Washington Township

"We do a lot with the town and we do a lot with Rowan University. … Mantua is a good little town and it's very homey and family-oriented. They have an event every year [for our charity]."
Pete Mauro, Co-founder | An Opportunity's Knockin'

"We've been [in Mantua] for about five years. We have close proximity to Washington Township and Glassboro; we also have plenty of highway access so it's easy to get to and from Philadelphia, Cherry Hill and surrounding areas, so it's a really convenient centralized location. … Mantua is a friendly place to do business. It's a smaller town so the administrators and the people who operate the town are very friendly to businesses coming in that want to improve real estate or build. We found it to be an easy place to not only do business but also establish business."
Frank Lauletta, Partner | Lauletta Birnbaum Attorneys at Law



Click here

to subscribe to the free digital editions of South Jersey Biz.

To read the digital edition of South Jersey Biz,

click

here.



Published (and copyrighted) in South Jersey Biz, Volume 10, Issue 8 (August 2020).

For more info on South Jersey Biz,

click

here.


To subscribe to South Jersey Biz,

click

here.


To advertise in South Jersey Biz,

click

here.