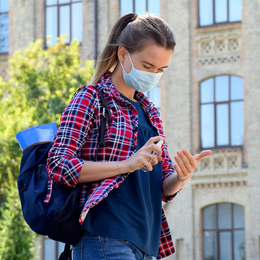 A Quick Study
How area colleges and universities are adapting during the pandemic.
This is supposed to be the most exciting time of year for college students, from freshmen starting a new chapter to upperclassmen reuniting with one another and seniors living it up in their final year before entering the workforce.
It's been anything but. COVID-19 has changed the course for just about every college and university in the country. Institutions had to switch to all remote learning at a moment's notice last March and have been forced to make major changes for the upcoming semester and beyond.
The start of the 2020-2021 school year is unlike any other, but colleges and universities are doing everything in their power to make this year as normal as possible for their students and faculty.
When COVID-19 hit, college campuses had to shut down with no time to think. The rest of the semester had to be completed online, which was challenging to say the least.
"One of the challenges we've had over the last five months has been, we never closed," says Rowan College at Burlington County President Michael Cioce. "So in March, we had 7,000-plus students registered and enrolled and by mid-March every single course was an online course. Would you have drawn it up that way? No, but it didn't waver on the learning outcomes."
This year, the small upside to the fall semester is colleges are prepared to teach virtually and hope to not run into the same obstacles they faced last spring.
"When we went out in March, we got kicked out the door—literally lights out, shut down," says Frederick Keating, president, Rowan College of South Jersey (RCSJ). "It was extremely difficult to bring everything together in online delivery. Now, we're going in prepared and using synchronized learning where we can give them face-to-face moments on the screen with the instructor and classmates as if they were literally sitting in the classroom. We think that will change the paradigm quickly to where students say online learning isn't [their] thing to a different type of arena—they are re-engaged with classmates and faculty. It's a new delivery that is far better than what they expected March through May."
But going remote brings a new issue—not all students have laptops or can afford them, and the financial hardships families have experienced as a result of the pandemic are not making it easy for some students to purchase laptops or even pay for classes. RCSJ tackled this problem right away by teaming up with organizations and companies.
"We cut a deal with Verizon for an education membership account for basic educational needs for $25 [per] month. We had the Cumberland and Gloucester Foundation donate $100,000 and incorporated that as a last dollar scholarship with financial aid profiles. Also, Barnes & Noble became a partner and did a great job securing machines that are capable for the types of learning these students would need at our level and ran around $600. We built it into financial aid and this money comes into rounding out at $0."
Camden County College (CCC) is also helping students who need laptops and WiFi accessibility.
"There are quite a few students who need laptops and/or WiFi accessibility. How do we make that a reality? All of our parking lots in Blackwood and Camden, students park their cars and do homework right there. Now we have WiFi available for students in those parking areas and we're talking about looking at hotspots and making that possible for students in the fall," says Donald Borden, president of CCC.
It's not just about getting the resources for students to succeed. Many instructors did not teach any remote classes before COVID-19, and getting them the tools they need to teach this fall and even providing them with instruction on how to teach remotely is a big component.
"Stockton's Center for Learning Design has held workshops for faculty all summer on creative ways to use technology like Zoom to enhance the learning experience this fall," says President Harvey Kesselman. "Our IT department has provided webcams and headsets. Having more time to prepare online lessons has allowed faculty the opportunity to learn, share and take more advantage of the technology."
Rowan University also trained its faculty this summer and gave them the support system they needed to be properly ready for the upcoming school year, and Joe Cardona, vice president for university relations, says "students are eager" now compared to March.
"Students like remote learning when it's done right, and we've prepared our faculty for this year," he says.
When it came time to make the decision to switch to fully remote, in-person or hybrid, every college administrator said their primary concern was, and still is, the safety of their students, faculty and staff, and they are prepared to move in whatever direction necessary to keep that concern and make everyone's well-being a priority.
Most of the colleges and universities in this area are going remote in some capacity. Stockton's plan is to start classes in September with a mix of online, hybrid and in-person classes such as labs. The majority of CCC's classes will be remote with the exception of labs as well. RCSJ is planning on doing 85 percent of its classes online and 15 percent hybrid.
"Labs are classes that are not just conducive to the virtual environment," Borden says.
RCBC is doing in-person classes, virtual classes, hybrid and something called virtual live, which Cioce says is similar to hybrid. "Say your schedule prevents you from being able to log-in at 9 a.m. on Mondays and Wednesdays; this has one lecture and it's completed."
Rutgers University made a university-wide decision, which includes Rutgers University-Camden, to go 100 percent remote, but staff members are making themselves available for students who want to have in-person meetings.
"Not only are we reaching remote, but many staff are telecommuting," says Larry Gaines, senior vice chancellor, Rutgers University-Camden. "We will provide student services both in-person and remotely We're going to request students who want to have an in-person student services meeting to make reservations so we can make sure we don't have waiting areas and social distancing problems, but will make arrangements to have face-to-face meetings if students request it."
Gaines says the biggest challenge he's found is keeping up with all of the guidelines.
"The landscape changes day to day. The governors have a tough job trying to keep ahead of this thing and do what's best for everyone. Sometimes you'll get directions on Monday that are one thing and they change on Friday, but that's the nature of the beast," he says. "That's what we're dealing with right now."
Rowan University, like Rutgers-Camden and other universities, also dealt with the changing landscape, nixing one reopening plan after another and making modifications constantly based on the state's guidelines.
"We had planned all along to fully open in the fall with the idea we would have a flexible plan in place where we could shift to a different mode immediately," Cardona says. "A month ago, things were looking good and we were going to open up, but two weeks after that the governor said not so much. The plan we had to submit to the state was just for our labs and hands-on courses to be in-person. Certainly with the medical schools, nursing, engineering and biological sciences programs, things like that you need to have labs.
"A week later we were told we could open up a little more if we have all the safety criteria in place. We are going to ease into that, adding more in-person classes. We expect there to be 50 percent of classes in-person and 50 percent remote. With that said, every class meeting in-person has to be able to accommodate students who go to remote."
Cardona says it's all about being flexible, and when students go from an online class one week to an in-person class the following week and they must be comfortable adapting from one to another.
"Now we look back and all this hard work was worth it because we can actually do this," he says. "There's no difference in going one week fully remote and the next week half the class in the classroom. There will be an A group, a B group, meetings certain days in-person and it will work out well. With flexibility and every class built that way, it doesn't matter when change comes."
Colleges have also had to take a different approach toward student life and activities. Stockton, for example, is a big commuter school—almost two-thirds of students are commuters—and already had programs in place to make all students feel part of the college community.
"The pandemic has provided more opportunities to think outside the box and plan for creative programming," says Kesselman. "Our student development and campus life staff, as well as student organizations on campus have all been developing plans to provide socializing opportunities for students living both on and off campus."
Schools are doing all of this while still giving every student the best college experience possible under the circumstances and reminding students all the activities and clubs are still in session, just like during a normal school year.
"The clubs are still there, activities are still happening, study groups are still being formed and friendships are still being established, even in a socially distanced universe," Cioce says. "Learning doesn't stop, college doesn't stop. The stress associated with homework and midterms doesn't stop. There are constants that are part of the educational experience like interacting with instructors and advising students what to take next semester. Our services have been nonstop offered in different modalities. We are in the business of educating students and that hasn't stopped since mid-March."
"We didn't abandon anything we were doing," Keating says. "Athletically we are taking a 60-day entitlement but they can practice, there's structured practices within the teams under the control of CDC regulations. Student life and clubs are going to meet with a Zoom-type approach, and same thing with the honor society. We want to give them as close to a normal experience except for the obvious—we won't be on campus or in-person. We didn't shut down any component of the quality of life of education. We just had to move it to another platform for the large part."
Schools are also finding more ways to connect with their students through social media than ever before.
"Stockton Student Ambassadors has Facebook Live events with new students to answer questions and a new virtual weekly social club is being formed to connect students through Zoom," Kesselman says. "Our University Weekend is being reimagined as University Weekend to Go. If alumni and families can't come to us, we'll find ways to come to them."
Cardona says socializing will be a challenge, but just like with classes, he hopes students adapt to "the new normal."
"Maintaining those things and creating ways is the challenge," he says. "Our spring festival will be outside. It will be different this year but I hope everyone still looks forward to that. There will still be activities people will be engaged in, but until we get way past this, even when a vaccine is introduced, this is our new normal. It will be interesting to see how things develop on campus."
"There is no denying this semester will be different, but that does not mean it cannot be fun and educational," Kesselman says. "The key will be creativity and student cooperation in following the health and safety precautions. The more everyone cooperates, the more we can do."



Click here

to subscribe to the free digital editions of South Jersey Biz.

To read the digital edition of South Jersey Biz,

click

here.



Published (and copyrighted) in South Jersey Biz, Volume 10, Issue 8 (August 2020).

For more info on South Jersey Biz,

click

here.


To subscribe to South Jersey Biz,

click

here.


To advertise in South Jersey Biz,

click

here.