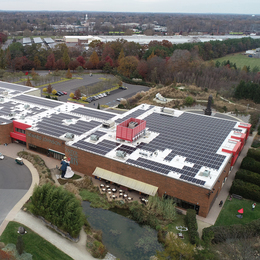 Sponsored Content: Taking the Heat Off the Bottom Line
Geoscape Solar provides business owners with an alternative energy solution that transcends the economy.
The economic struggles the country is currently facing feel all too familiar for partners Michael Boches, CEO, and Lee Watson, COO, of Geoscape Solar. In 2008, both had careers in other industries
—
Boches was an investment banker and Watson was in construction management
—
when the recession hit, prompting them to begin exploring alternative business opportunities that could thrive in a downturn and provide savings to clients in any economic climate.
After extensively researching the solar industry, Boches created Geoscape Solar. Shortly afterward, Boches partnered with Jeffrey Chavkin, who shared a background in finance. Watson joined the partnership and the company's solar journey moved forward.
"A dozen years back, solar was a relatively new industry. People had little education about it, including myself," says Watson. "There were phenomenal incentives being offered by the federal government that almost made solar sound too good to be true. It was a hurdle during a recession because people had a hard time wrapping their heads around something that they both can afford and makes long-term financial sense."
Once solar took off as a money-saving concept, New Jersey became completely saturated with companies that offered solar. "In 2012, New Jersey hit a peak of approximately 700 solar companies. It was a combination of large corporate enterprises and mom-and-pop businesses
—
everyone wanted to call themselves a solar company. And then it crashed in 2013," Boches says, "and many of those companies went out of business before the industry leveled out."
Staying exclusively dedicated to solar projects put Geoscape on the map as one of the most trusted solar energy providers in the state. In its 12 years, the company has maintained an A+ rating from the Better Business Bureau
—
no small feat in the construction industry. Residential installations were initially the bread and butter of its business, but in recent years there has been a noticeable shift as more commercial and nonprofit customers realize the economic value of going solar.
Rising utility costs are just one of the concerns among business owners and a solar installation can mitigate the instability of the energy market and save upwards of 70 percent off electricity rates.
Given the owners' background in finance, Geoscape Solar is in a unique position to offer multiple, customized options for customers to fund their project, including no-money-down alternatives for businesses and nonprofits. On the state incentive level, New Jersey is about to transition to Transition Renewable Energy Credits (TREC) program, which offers fixed-rate pricing and doesn't depend on market flux. "The stability of the new program is allowing us to provide some of the best financing offerings for the commercial marketplace since starting the company," says Boches.
Geoscape customizes each system for maximum efficiency, providing a 25-year warranty, although systems can last upwards of 40-plus years.
It's something businesses should consider now more than ever, as this pandemic has forced them to look at their vulnerabilities. "A business' No. 1 fear is if they will be open tomorrow, and if they are, how can they squeeze out what they can in difficult times?" says Boches. "We can offer cost savings, without any financial commitment or loan, to anyone with an operating budget
—
that goes for churches and nonprofits
—
and we can get started immediately. Within a few months, they'll be saving money."
Projects are continuing, even during the shutdown, he continues. "All preliminary designs can be completed through satellite imaging and presentations can be shown through online conference calls. When a customer decides to move forward, a site visit is required for measurement confirmation which can be completed outside with one to three people and no need to meet face to face with the owner," he says. When installations begin, Geoscape's staff obeys social distancing guidelines, staying separated while on roofs and wearing appropriate protective gear.
Watson says companies that invest in solar are seen as business leaders. Decision makers see the value of marketing their company as "green." Nonprofits see going solar as a logical continuation of their mission statement. "We have a tremendous amount of referral business because these companies are talking to each other, discussing the large-scale benefits their company has received because they went solar," he says, "and the positive experience they had going solar with Geoscape."
The environmental impact isn't lost on consumers either. "There is a growing awareness throughout society about the environmental impact of global warming," says Boches. "Solar reduces our reliance on fossil fuels and that's one of the key reasons we got into this industry. When companies do go solar, they tout it."
Geoscape promises to be a transparent and reliable partner in any organization's move to solar energy. "Our first job is as educators, helping customers understand the complexities around the rules and regulations, breaking down the incentives and helping them make informed decisions," says Boches. "Our promise is solar done right and we're there to see your project through."
Geoscape Solar

520 Fellowship Road | Mount Laurel
30A Vreeland Road | Florham Park
877-GEO-SUN-1 |
GeoscapeSolar.com
Click here

to subscribe to the free digital editions of South Jersey Biz.

To read the digital edition of South Jersey Biz,

click
here.


Published (and copyrighted) in South Jersey Biz, Volume 10, Issue 4 (April 2020).

For more info on South Jersey Biz,

click
here
.

To subscribe to South Jersey Biz,

click
here
.

To advertise in South Jersey Biz,

click
here
.