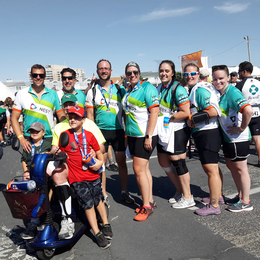 Caring for the Community
We recognize the companies giving back in our Community Impact Awards.
More than ever we are seeing companies helping out the community in incredible ways since the COVID-19 pandemic started, but the South Jersey business community has been steadfast in helping those in need for quite some time. A number of businesses have even joined forces in some initiatives to give back and provide essential resources to enhance the communities they serve.

We are proud to present you our second annual Community Impact Awards.
Throughout the 25 years of NEST's history, founder Bob Almond Sr. has made it part of the company's mission to give back to the community. Employees are given the opportunity to support a variety of organizations with their teams. Some examples include holding multiple fundraisers throughout the year to support the National MS Society, supporting Big Brothers Big Sisters, and employees participating in MuckFest and the City to Shore Bike event since 1994—
raising over $50,000 for the organization last year. Additionally, NEST provides bedroom and event sponsorship, as well as cooks meals at the Ronald McDonald House Southern New Jersey.
CLM Advisors' business model was built off how it can use its knowledge and education to help businesses in the community, and each employee has a goal to give back in any way he or she possibly can. CLM Advisors participates in various food drives, coat drives and backpack drives every year. Employees have also participated in the Gloucester County Chamber's Day of Action the past few years, where they painted fences and cleaned horse stables, packed activity kits for children in need and made lunches for families in need. Additionally, CLM Advisors has been a sponsor of The Ike Foundation's Scholarship Dinner with the goal of providing college scholarships to high school seniors. Currently, CLM Advisors employees are planning to ride in the Bike MS: City to Shore Ride 2020.
Working as STEM activists and civic champions, Dewberry supports the communities where its employees live and work. Its mission is to connect its employees with opportunities to support community needs and align the company's resources in support of community-oriented involvement. Over the past few years, Dewberry has assembled hundreds of sandwiches at Cathedral Kitchen—serving those of the city of Camden and the rest of Camden County. Dewberry has also teamed with Alloy Silverstein for its annual Adopt-A-Family program, helping families experience joy during the holiday season.
Part of Workplace Human Capital Management's mission is to give back and be a resource for the community. The YMCA, Maryville Addiction Treatment Center, Habitat for Humanity and the Food Bank of South Jersey (FBSJ) are some of the organizations it is involved with. Most recently, Workplace HCM started a food drive and used the ALS Ice Bucket Challenge model as a way of building awareness about food insecurity in South Jersey. Workplace HCM challenged its clients, business partners and friends to first donate food or money to the FBSJ then challenge three of their clients, business partners or friends to do the same. To date, HCM has collected over 2,000 pounds of food and raised over $3,000 for the FBSJ.
Wolf Commercial Real Estate (WCRE)
Committed to helping the community, WCRE formed the WCRE Foundation in 2016 and has raised over $300,000 from its fundraising efforts, which include annual charity golf tournaments and hockey games that raise up to $100,000 each year. Some of the organizations WCRE and its foundation support include Bancroft, CARES Institute at Rowan University, the American Cancer Society, the Susan G. Komen Foundation, Samaritan Healthcare & Hospice and the Jewish Federation of Southern New Jersey.
Additionally, WCRE dedicates a portion of proceeds from transactions to a local charity and offers its clients the option to designate the charitable portion of their transaction to a charity of their choice as well.
The Columbia Bank Foundation has grown to become one of the largest private foundations in the state. Last year, it granted nearly $3 million in statewide community donations, including more than $550,000 to South Jersey charitable organizations such as the Boys & Girls Club of Gloucester County, the Food Bank of South Jersey, the Ritz Theatre Company and Joseph's Home of Camden. Most recently, the Alicia Rose Victorious Foundation received a grant to support its specialized therapy program for hospitalized children or adults.
Besides direct grants, the foundation also gives back through the bank's Employee Sponsored Giving Program, which allows employees to nominate charities to receive special grants. Charities that have received these grants include Autism Speaks and St. Jude Children's Research Hospital.
Charny Karpousis Altieri & Donoian, P.A.
Each member of the law firm Charny Karpousis Altieri & Donoian is strongly committed to the community by accepting leadership positions in professional associations and providing pro bono legal services to indigent individuals. They are also committed to continuing the firm's community service by supporting local and statewide charitable organizations such as the Wills for Heroes Program;
District IV Fee Arbitration Panel; Camden and Burlington County Family Law Committees SJLS Expungement and Family Law Projects; CASA;
Center for Family Services; Salvation Army Kroc Center;
Alice Paul Leadership Institute; Ronald McDonald House; BookSmiles; Collecting for a Cause; Go Red: Katz JCC; Cooper Foundation; and Saint Ephrem School.
Paulsboro Refining Company
Paulsboro Refinery management and employees are positively committed to supporting South Jersey with its contributions having a direct impact on thousands of residents. The company gives back by volunteering for numerous activities year-round, including food collections and distributions hosted by the South Jersey Food Bank, United Way's "Day of Caring," participating in STEM Night and Read Across America at local elementary schools and providing holiday gifts for nearly 100 families through its annual employee-driven Adopt-A-Family program. In addition, every year employees contribute more than $425,000 to the United Way of Gloucester County—the largest employee-giving campaign in the county.
William Penn Bank Community Foundation
William Penn Bank is celebrating 150 years of providing community banking at heart with the William Penn Bank Community Foundation. It was established as an extension of its commitment to the communities served by the bank and its employees. The foundation offers a stable, ongoing source of support to nonprofit organizations its neighbors depend on for housing, community and economic development, education, health and human services.
The foundation has proudly supported organizations such as The Ronald McDonald House, Virtua Health Foundation, Mainstage Center for the Arts and the Never Miss A Beat Foundation. Its goal is to make these communities better places to live and work.
American Heritage Credit Union
American Heritage Credit Union's mission is to enhance the communities it serves. American Heritage's BizKid$ financial literacy program supported over 30 local schools in 2019 and awarded 30 $1,000 scholarships to college-bound members. Over the past year, American Heritage's members and employees collected over $16,000 for its Books for Kids program and raised over $25,000 for its Adopt-A-Family holiday gift program. Through branch and employee food drives, over 3,100 pounds of food were collected and distributed to community partners. The credit union's Kids-N-Hope Foundation donated more than $225,000 to Children's Hospital of Philadelphia in 2019, and since its formation, has contributed more than $1.6 million to pediatric music therapy programs. Additionally, in the aftermath of Hurricane Dorian last year, CEO Bruce Foulke and COO Scott McCaw performed a humanitarian trip to help Bahamian credit unions recover.
Alloy Silverstein
As part of the firm's core values, Alloy Silverstein encourages employees to do the right thing for its clients, firm and community. The accountants and advisors have given back to South Jersey by raising over $75,000 for the American Heart Association's Go Red for Women since 2005; with hundreds of "Alloy Cares" service hours through group volunteer days and individual paid volunteer time off; and through various collection drives each year. Additionally, Alloy Silverstein partners with the Center for Family Services (CFFS) in its annual Adopt-A-Family program, "adopting" 25-50 families and group homes each holiday season, and also supports CFFS's back-to-school campaign—Project Backpack—donating new backpacks and school supplies to children and teens in their care.


Click here

to subscribe to the free digital editions of South Jersey Biz.

To read the digital edition of South Jersey Biz,

click
here.


Published (and copyrighted) in South Jersey Biz, Volume 10, Issue 4 (April 2020).

For more info on South Jersey Biz,

click
here
.

To subscribe to South Jersey Biz,

click
here
.

To advertise in South Jersey Biz,

click
here
.