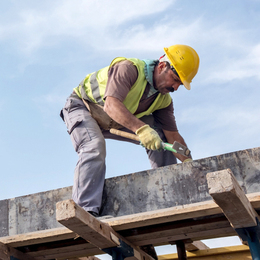 A Time for Change
As the world comes to a standstill, essential construction projects continue throughout South Jersey—shining a positive light during the COVID-19 pandemic.

The year 2020 has been one of tremendous change in normal everyday life, as well as in business and construction. The current COVID-19 pandemic has shut down small businesses, closed schools and offices, and enforced a stay-at-home order. But here in South Jersey, construction continues to boom.
Gov. Phil Murphy recently placed an executive order declaring all non-essential construction to cease work, but that has not stopped local construction companies from working. Solar energy has been deemed essential, and Geoscape Solar is one company that has adjusted the way it works to fit in with the stay-at-home executive order. The company's day-to-day operations may have changed, but its production, if anything has grown.
"Gov. Murphy has declared solar essential and that is a big statement in terms of what solar energy is doing for the environment and doing for our state," says Irene Heifetz, marketing manager for Geoscape Solar. "We are still here, we are working and we are trying to make this time better for people in terms of the short-term electric bill and the long-term
—
making New Jersey a better place climate wise and in terms of our carbon emissions."
Geoscape Solar has continued its work signing with several nonprofit organizations such as churches, synagogues and even a credit union. The company is also working closely on residential properties to ensure that those working from home are saving as much money as they can during this time.
"Our communication with our clients is stronger than it has ever been. This is because we consider all our clients both solar partners and family," says Lee Watson, COO. "These are unprecedented times and we're making an extra effort to reach out to our extended Geoscape family to check in on them and see if there is anything they need or anything we can do to help them through things."
Geoscape Solar is not the only business deemed essential during this time. With the state's stay-at-home order that forced schools to close, it has allowed contractors to take advantage by working on school projects while there are no students or employees and move up their timelines.
"We have a number of K-12 facility upgrades, including a new guidance suite for Gateway Regional (High School), HVAC at Manasquan High School, early childhood classrooms at Edgewater Park (Township School District) and security projects for Southampton and Burlington City school districts," says Regan Young, president of RYEBREAD Architects. "At the same time, we're working on library improvements grants, Unitarian Church renovations and a three-chapel funeral home. Some of our projects that were supposed to happen during summer break, we snuck them in early and they are being done while schools are closed now."
Almost every company has faced newfound challenges, but they are taking it in stride and working to move forward. Design, pre-bid, bid opening and construction meetings have all moved to online video calls, and document exchange with clients, contractors and code officials have moved online as well.
"There's going to be delays in property taxes, and that means that towns won't collect them as fast, then we won't get them as fast," says Young. "There are questions like, 'when are we going to go back to analog education? When September comes around, are the kids going to be back in the schools or are they not?'"
"New Road Construction is involved in dozens of educational construction projects from K-12, higher education, and the charter school community and has served this sector for 40 years," says Chuck Romanoli, certified construction manager. "Most schools are pursuing projects involving renovations and upgrades for code compliance, energy efficiency and security projects. We are currently working on dozens of building projects, including a $150 million building program at West Windsor Schools, a $50 million new academic building for Rowan University and a new municipal building in Medford Township. All of our current projects are public construction projects deemed essential by the governor's executive order and are therefore continuing."
The private sector has suffered during this pandemic, forcing projects to be postponed or even canceled all together, but the public sector is moving forward, taking proper precautions and ensuring all of its workers are safe and healthy.
"A lot of discussion has taken place regarding construction activity, maintaining safe working conditions and allowing access to buildings during the pandemic," Romanoli says. "New Road Construction was a leader during this pandemic being one of the first to require workers to have face coverings and for contractors to provide adequate wash stations with running water and soap for the workers."
Employing Bricklayers is another company that has felt the effects of the global pandemic but is able to continue its work and move forward with their projects.
"I believe that health care and pharmaceuticals, those basic, essential projects will continue," says Amy Hesseney, executive director. "There are also so many school projects going on, creating different buildings and construction warehouse projects."
Along with health care, schools and warehouses, local infrastructure needs its necessary maintenance and upgrades as well. Engineers Labor-Employer Cooperative 825, a labor union spanning over the entire state of New Jersey, is moving forward with replacing gas mains, milling, paving and road and bridge work.
"We're building warehouses, doing the site work
—
we're doing utility work all over. There's milling, paving, road and bridge work in all counties in South Jersey," Kate Gibbs, deputy director says. "There's major utility and water work being done. There's a gas line replacement and gas meter replacement, water and sewer upgrades and a new water treatment plant down in Wildwood. There are a ton of projects that will be moving forward."
One positive about the stay-at-home order is that everyday infrastructure projects are being completed without disrupting people's lives. Since everyone is at home and fewer people are on the road, projects are being completed quicker and more efficiently.
"For instance, the other day I was driving to the pharmacy to pick up my prescription and I was going down a street where there is a high school, a middle school and an elementary school, and they had one lane closed to do PSE&G work," Gibbs says. "One of our contractors was actually working on it so I went around using the one lane with no problem. But on a normal day, if I was going to the pharmacy and one lane was closed on that road, you would have had the high school, middle school and elementary school traffic, and that would have caused delays. Those gas mains or gas lines are now fixed and modernized and we didn't have to impact parents, school kids or neighbors. Now they're going to be fixed, the roads are going to be repaved nice and smooth so when we come out of this, you get a better road, you get better gas mains and you don't have to disrupt people's lives."



Click here

to subscribe to the free digital editions of South Jersey Biz.

To read the digital edition of South Jersey Biz,

click

here.


Published (and copyrighted) in South Jersey Biz, Volume 10, Issue 4 (April 2020).

For more info on South Jersey Biz,

click
here
.

To subscribe to South Jersey Biz,

click
here
.

To advertise in South Jersey Biz,

click
here
.