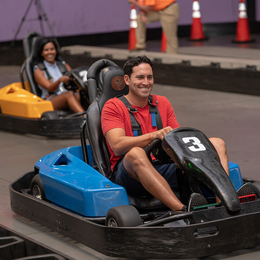 Sponsored Content: Combining Work and Play
The Funplex is the area's go-to place for corporate events and team building exercises, creating lasting memories for employees through fun and games.

In 2011, Bill Masel moved to Fort Lauderdale with hopes to escape the dreary New Jersey winters, but five years ago he was drawn back to his roots when he joined Holman Enterprises. Now, as an internal audit manager with the company, Masel runs his own team of auditors in South Jersey remotely from his home in Florida.
It can be daunting as a new team leader—especially one who works remotely—to build relationships with his team from a distance, so Masel became inspired to arrange team building exercises at The Funplex in Mount Laurel.
"There is a pretty big au
dit group here, about 20 people, and I wanted to put together something where everyone can introduce themselves, talk amongst one another and create a lasting bond," Masel says. "I heard someone in the office mention the Funplex and I thought that it would be a great experience for my team."
With a newly renovated VIP bowling suite that includes four private lanes, a modern lounge area and the ability to customize in-house catering packages, team building exercises are taken to a whole new level. Not only does the Funplex offer private bowling, but customers can partake in laser tag, go-kart racing and arcade games. Companies can either rent out specific rooms or even the whole building to accommodate for up to 2,000 guests.
"They offered a few different food packages to go along with our event and we picked one with sliders, chicken and some desserts," Masel says. "It was nice, and after that the team was able to go free and play laser tag and arcade games with the $5 game card each person was given. It allowed me to split our group into four teams which were made up of people who didn't work together much and it gave them the chance to interact, to have that freedom to talk with one another."
Pat Jones, president of JM Creative Enterprises has been organizing events since 1997, ensuring that each client receives top quality events tailored to their specific needs and wants. She has partnered with the Funplex on numerous occasions to not only bring together families but to create memories that will last a lifetime.
"Funplex has a staff that is very customer focused. For example, they have a really great food
menu here that you can choose from and what I personally liked as a planner was how Funplex
will work with you to customize your menu if need be," adds Jones. "One of our clients we work with at the Funplex cannot have any pork products and when we discussed it with Funplex, they told us not to worry and they worked with their chefs to make sure the food our request of no pork was met. They were really helpful and professional throughout the whole process."
The Funplex allows for yearlong events, but they offer even more activities in the summer. The outdoor pavilion opens to include picnic areas, the Splashplex Water Park, a barbecue buffet, ice cream bars, rides and
outdoor rides like the FunCoaster and Bumper Boats.
"We have actually pushed back this event until closer to summer so we can not only take advantage of the outside pavilion but all of the outdoor activities," Jones says. "There is miniature golf, a lot of outdoor rides and also their splash park, which is a cool water park. So the event is not just limited to the indoor arcade activities and everyone loves it."
No matter if the event is for business or pleasure, The Funplex is able to cater to everyone's needs, ensuring an ultimately fun time and creating long-lasting memories.
"Our team played laser tag and bowled together, helping connect everyone a lot because days later they were still talking about it," Masel says. "It was brought up in conversation and it gave them some kind of common ground which was great."
3320-24 Route 38
|
Mount Laurel
856-273-9666
|
TheFunplex.com
To read the digital edition of South Jersey Biz, click
here
.

Published (and copyrighted) in South Jersey Biz, Volume 10, Issue 3 (March 2020).

For more info on South Jersey Biz, click
here

.
To subscribe to South Jersey Biz, click
here
.
To advertise in South Jersey Biz, click
here
.