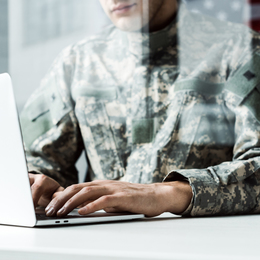 Protecting Veterans
South Jersey's colleges and universities are offering robust services and programs to help veterans pursue their education and prepare them for the workforce.
From developing new majors and academic programs to forging partnerships with local corporations, South Jersey's colleges and universities continue to take steps to attract students from across the globe. As they strive to cultivate the business leaders of tomorrow, many institutions of higher education have turned their sights on an often underserved segment of the student population—

veterans

.
That's why the region's colleges and universities have been rolling out various programs, services and facilities targeted toward helping veterans either pursue an education or continue their education upon their arrival home, as well as to prepare them for the workforce and secure employment—all while meeting their unique needs, which range from housing and financial challenges to physical or mental health issues.


With a reputation as a national leader in student veteran support services, the Rutgers University—Camden Office of Military & Veterans Affairs (OMVA) partners with external organizations and corporations related to the university's various majors of study to offer workshops throughout the year. Rutgers University–Camden was recently named a Purple Heart University by the Military Order of the Purple Heart, making it the first higher education institution in the state of New Jersey to earn the distinction.


"Our workshops and partnerships assist in preparing student veterans as well as non-veterans receiving VA benefits with exposure to hiring practices in corporate America," explains Frederick Davis, director of OMVA. The presenters cover topics such as

résumé

preparation and host mock interviews.


"The presenters also often advise the student veterans on the attributes they already possess, such as punctuality, dedication to the mission they're presented with, and being a structured individual who wants to get the job done," he adds. "I also preach to student veterans about how two key elements spoken of often in the military—loyalty and honor—translate into conducting one's self with loyalty and honor within the workplace."


According to Michael Callahan, Monmouth University'sdirector of student support and veteran services and project coordinator for the Coming Home Project—a program that helps prepare social work students and community practitioners to better meet the needs of veterans—the university aggressively markets its student veterans to companies such as Verizon, Merck, JPMorgan Chase and Prudential.


"These companies all have strong diversity hiring initiatives and veteran programs, and these partnerships give our veteran students the opportunity to ask recruiters questions that are unique to their situation, such as how they should articulate military experiences on their

résumé

and during interviews," Callahan says. "Employers aren't only screening applicants and looking for veterans to hire so they can leverage their military experience, they're also coaching, teaching and mentoring them through the process to help the student become a better candidate not only for their particular organization, but any other organization."

Monmouth University's School of Social Work also launched the Coming Home Project to provide its social work students and community practitioners with resources such as staff and advocacy training, organizational consulting and public policy analysis so that it can better meet the needs of returning career, reservist and National Guard military personnel and their families.

"All of these services are crucial when you have a Marine Corps infantryman who did three tours in Afghanistan and enrolls in college because he wants to pursue a career in the financial industry … only to discover in his first math class that he's struggling with dyscalculia, a cognitive effect of PTSD or mild traumatic brain injury. If the support services aren't there, the student might determine math just isn't for him and drop out of the program," Callahan says. "But we can help that veteran through our robust service program and collaborating with organizations like the VA and providers that can give them the adaptive technology they need to overcome their disability and pursue any career they want."

The state's colleges and universities also offer an array of benefits specifically for their veteran students. Rutgers was the first in the state to offer free elective credits based on DD-214 for years of service, as well as the first to offer a three-day advance to register for classes. At Rowan University, among the benefits for veterans are a waived application and orientation registration fee and veteran/dependent scholarships, as well as facilities such as a dedicated military services office to help both veterans and dependents during their transition and throughout their academic career. Rowan also hosts a Military Appreciation Week with daily events supporting student veterans and dependents, as well as a transfer orientation breakfast where student veterans have an opportunity to meet with military service office representatives prior to the start of orientation.

"We feel that it's important to focus not only on veterans but on their dependents, as they have also given so much during their loved one's service," says Beth Sosnoski, coordinator and school certifying official for the university's office of military services. "When you're looking at a dependent's

résumé

they may have a work history that shows them changing jobs every three years because their loved one's duty station or assignment changed."

At Rowan College of South Jersey, other resources include a bookshelf for veterans with donated books in case their benefits don't entirely cover the cost of books for their courses, a veteran lounge, as well as veteran-to-veteran tutoring and group fitness programs. The college also hosts an annual event that invites vendors on campus to offer everything from services to employment opportunities. "I think it's important because during the Vietnam War era, or my era during the Gulf War, these kinds of opportunities just didn't exist … so many veterans were left on their own to try to procure the services they needed or figure out how to pursue job opportunities," explains John F. Ryder Jr., director of student affairs and military services. "We believe in putting the experience they obtained in the military to good use, but unfortunately veterans sometimes get pushed aside and often need that extra support."

South Jersey's colleges and universities also continue to tout the value of a veteran employee to their corporate partners. "It's a great way to diversify your workforce, and for the business owner, you're getting someone who already has real-world experience and understands what it means to have a vision and work toward a common mission," Callahan says. His office also aims to help tackle common veteran issues, such as homelessness, as well as the effects of non-treatment for service-related disorders—and ensures that veterans have secured employment positions that pay a living wage upon graduation.

"These are people who have given up so much to serve their country, and although the government has stepped in to offer various protections, many veterans will still struggle … and sometimes they just need that one opportunity to make a difference within the community or a workplace," Ryder concludes.
To read the digital edition of South Jersey Biz, click here.

Published (and copyrighted) in South Jersey Biz, Volume 10, Issue 3 (March 2020).

For more info on South Jersey Biz, click here.
To subscribe to South Jersey Biz, click here.

To advertise in South Jersey Biz, click here.