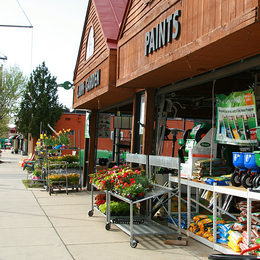 Embracing the Differences
Variety is a way of life and business for Haddon Township and its vicinity.
Variety is often a word people use to describe a town or city. With so much going on, it's a good way to address the many aspects that make up a place to live or do business. While there are many places in New Jersey where variety can be found, in South Jersey, Haddon Township and the surrounding area certainly fit the bill. It truly is a veritable melting pot of things to do and see with plenty of opportunity to grow and prosper.
"I've always joked when people ask me to describe Haddon Township. I say, 'We have the butcher, the baker and the candlestick maker,'" says Kate Burns, director of the business improvement district. "But we do kind of have it all. We have small boutiques and restaurants, a gas station, a Target, drug stores, a supermarket, doctors, attorneys, CPAs and medical professional buildings. A lot of towns can't say they have all of that in their backyards, and we do."
Perhaps what makes the area truly special is the space in which all of that is offered. The main street is cozy, the parks are plentiful, and there is so much to see and do that it is truly hard to imagine that so much can be packed into one area.
We spoke with several local businesses and officials from Haddon Township about the appeal the area has for residents and business owners alike, and why variety is what the area thrives on.

Community
A conversation about Haddon Township and the surrounding area, including Collingswood, cannot be conducted without the word "community" being mentioned at least once. It has different meanings to those using it—whether they're discussing the population or the feeling of the area—but it all comes down to describing a place that truly feels like home to all kinds of people and businesses.
"It is awesome [being a member of this community]," says Barbara DiBuono, manager for Blake-Doyle Funeral Home, which has been serving Collingswood and the greater community for over 50 years. "All the businesses support each other and support Collingswood.
"The more successful the businesse­­s are the more successful the town is so everyone is invested in the success of all the businesses," she continues. "There is a real sense of community."The fact that there are so many different types of businesses available in one area is what really allows people to take advantage of the community-type living, Burns acknowledges.
"You really don't have to leave town to do anything," she says. "You can get everything you need, and most people are very loyal to that as well and support our local businesses."
The government has been offering free festivals and entertainment in areas like Haddon Square—a public space in town perfect for holding large community events—in an effort to give back to the residents who have been supporting local businesses and who are so committed to the place they call home.
"What we've found is people want to see live music, and at the same time get to see their friends and neighbors," Haddon Township Mayor Randall Teague says. "These types of events get people out of their homes, off their computers, and they spend some time at the event and possibly down Haddon Avenue."
Teague says because the events—which include a Summer Solstice celebration, a music festival and Octoberfest, among many others—have been so popular, the township will continue its work to beautify the Haddon Square space and make the area a destination for people that not only live in town but from other areas of South Jersey and beyond.
"These events have been a really great way to get people into our downtown," he says. "But it's also been an opportunity to show off the downtown to potential businesses."
While downtown and other shopping areas are bustling, Teague adds there is more to the area than just shopping, eating and drinking.
"The other thing we have to offer that a lot of people forget about is our parks," he says. "We have Cooper River Park, Crystal Lake, Newton Lake, Saddler's Woods and Edison Woods. We have a lot of parks and trees to take advantage of."
Accessibility
Variety is a way to describe the majority of what is available in Haddon Township and the surrounding communities, including modes of transportation. No matter how a resident or visitor may choose to get around, there is an option available.
"Because of the many options one can travel, be it walking, biking, driving or public transit, our businesses benefit as a result of increased foot traffic," says Ryan Linhart, Haddon Township commissioner and director of revenue and finance.
"The decade-long increase in foot traffic is a direct result of community participation on behalf of the local government, involved residents, and the business improvement district that coordinates activities both independently and in conjunction with township activities, like the annual Summer Solstice Festival and the music festival in October."
Even as accessible as the township is by most modes of transportation, it is continually working to improve on its structure, Teague says.
"We applied for a grant with Collingswood to look at ways to make the area even more pedestrian friendly," he notes. "We should have the results of that soon.
"It certainly doesn't hurt that we have PATCO in our town, which allows access to Philly," Teague adds. "We're seeing a lot of people from Philadelphia coming in and dining and shopping in Haddon Township because of public transportation."
Along with easy accessibility to different places in town, the variety of businesses allows for accessibility to unique merchandise and fare that may not be as available elsewhere.
Businesses like Haddon Culinary embrace and offer the variety that the area expects and has based its restaurant's culture on it.
"With our understanding of how people are into food here, it couldn't be more motivating for us to be a member of this community," says Jamie Liuzza, Haddon Culinary chef and owner. "Some folks are after healthy options, some want to indulge. Some are vegan and others appreciate our options and may not be strictly vegan.
"There are people who like to cook and love our meat and seafood cases, and others that want to eat well with convenience," he continues. "Sometimes it is all of the above. At the end of the day, we are happy to be a part of this community of food enthusiasts that keep us challenged every day. We wouldn't want to be anywhere else."
Haddon Culinary joins a variety of other businesses that have opened around Haddon Township's vicinity in the past 18 months, including restaurants, cafes, retail, fitness and yoga studios, barbershops and salons, according to Linhart.
While he admits there has been an uptick in real estate throughout town and increased business activity along the business corridors of Haddon Avenue and the White Horse Pike, due to its size, some creative thinking is going to be even more necessary as the township and area move forward.
"Haddon Township continues to reinvent itself as it only can when limited by the confines of our boundaries," Linhart says. "In our case we are approximately 99 percent built out, meaning that any physical growth must come in the form of increased density, as opposed to suburban sprawl.
"However, most residents of Haddon Township move here for the dense walkable neighborhood and embrace our town for the dense urban neighborhoods they are," he continues. "It is because of this, folks have recommended opportunities to integrate mixed-use buildings along our walkable retail corridors, which is the direction I would love to see the retail corridors move."
To read the digital edition of South Jersey Biz, click
here
.

Published (and copyrighted) in South Jersey Biz, Volume 10, Issue 3 (March 2020).

For more info on South Jersey Biz, click
here

.
To subscribe to South Jersey Biz, click
here
.
To advertise in South Jersey Biz, click
here
.