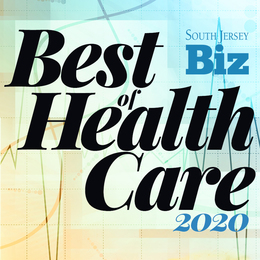 Best of Health Care 2020
18 people, programs and more that are driving the medical industry forward.
Individuals who work in the health care industry make a difference in the community every day—we've seen this more than ever the past few weeks. They are not only experts in their field, they lead by example, perform cutting-edge procedures that are able to save patients' lives and transform ideas into state-of-the-art, world-class facilities.

The people, programs and facilities below are the best of the best and continuously push boundaries and take their work to new heights, improving the lives of so many in South Jersey. We are proud to present you our Best of Health Care 2020.
Health Care Heroes
Stephen Goldfine, MD, DABFP, CAQGM, DABHP
Chief Medical Officer (CMO), Samaritan Healthcare & Hospice
Goldfine has been instrumental in making Samaritan Healthcare & Hospice a regional leader in palliative medicine, hospice care and grief support. In addition to his role as CMO, he sees patients with Samaritan's Palliative Medical Partners practice. Goldfine is board-certified in hospice, palliative and family medicine with added qualifications in geriatrics, and has more than 30 years of experience. His compassionate, expert care has earned him a 5-star rating on Healthgrades. An articulate, engaging speaker, he educates other health care providers and community members about the benefits of palliative medicine and hospice care.
Executive Vice President, Chief Experience Officer, Jefferson Health
Devine recently assumed this new role after being the president of Jefferson Health New Jersey and chief experience officer for the entire Jefferson Health enterprise. He and his team work to ensure compassionate, positive interactions at all levels at all Jefferson sites. An active and visible leader, Devine recently served as chairman of the New Jersey Hospital Association and is currently chairman of the Southern New Jersey Chamber of Commerce. Under his leadership, Jefferson's three New Jersey hospitals have been consistently recognized for providing safe, high-quality and effective patient care, earning the 2019 Healthgrades Patient Safety Excellence Award and "A's" from Leapfrog's Hospital Safety Grade. Devine also played a leading role in the recent multi-million dollar revitalizations of both the Jefferson Cherry Hill and Washington Township hospitals.
David Baiada
CEO, BAYADA Home Health Care
Baiada is CEO of BAYADA Home Health Care, a global leader in home health care with over 28,000 health care professionals serving clients in more than 360 locations in 23 states and seven countries worldwide. Serving as CEO since 2017, he oversaw BAYADA's transformation into a nonprofit organization to help ensure that the company will never be sold, and that its mission, vision, beliefs and values—codified in The BAYADA Way—will endure for generations to come. Baiada earned an MBA in health care management from the Wharton School at the University of Pennsylvania and a bachelor's degree in economics from Cornell University.
Medical Research
Richard Jermyn, D.O.
Professor, Chair, Department of Rehabilitation Medicine; Director, NeuroMusculoskeletal Institute at Rowan School of Osteopathic Medicine (SOM)
Jermyn is a pioneer in treatment, education and research in the field of pain management and addiction medicine, and his career has focused on underserved communities. He was the first in the nation to establish a curriculum focused on the prescription of opiates for second-year medical students at RowanSOM and his flagship program has evolved into a dynamic clerkship for third-year medical students and residents. Jermyn has worked with the Department of Health and Human Services to provide training to physicians and health care providers on opiate prescribing and substance use disorder. His clinical trial research interests have exceeded $1.6 million in funding.
Cancer Treatment
Jefferson Health's Sidney Kimmel Cancer Center - Washington Township
Teamwork is the name of the game at this comprehensive cancer center, where surgical experts, medical and radiation oncologists, diagnostic radiologists and pathologists work together to treat a wide range of patients. The team also benefits from the resources and support of the nationally renowned Sidney Kimmel Cancer Center in Philadelphia. Services include radiation therapy, oncology and gynecologic oncology with a focus on prevention, early detection, diagnosis, treatment and support. The facility recently added a 10,500-square-foot infusion suite equipped with 16 treatment bays, along with an on-site pharmacy and laboratory. South Jersey residents can rest assured they can address their treatment needs close to home with an experienced and compassionate staff.
Cardiac Care
Deborah Heart and Lung Center's Adult Congenital Heart Disease Program
In this innovative program, the hospital's multidisciplinary team of adult and pediatric cardiac specialists focus on the entire spectrum of adult congenital disease (caused by a heart defect before birth), including monitoring and follow-up care for adults who had heart repairs as a child; and diagnosing, treating and managing adults who learn later in life that they have an undetected heart condition that needs treatment. This integrated program brings specialized services to the 800,000 adults in the United States who have grown up with congenital heart disease, and require board-certified adult congenital specialists and cardiologists, advanced cardiac imaging, highly skilled interventionists, expert surgeons, cutting-edge electrophysiologists, advanced heart failure options and a cardiac rehabilitation program for optimum care and outcomes.
Innovation
The South Jersey MS Center at Bromley Neurology
Led by Dr. Steven Bromley, the South Jersey MS Center at Bromley Neurology has the largest, independent private infusion suite in New Jersey that focuses on neuroimmunology—treating complex conditions that affect both nervous and immune systems. The office is the first in South Jersey to offer cutting-edge biological therapies, such as IV infusions, for these conditions. In some cases, therapies are available through clinical trials before being
FDA-approved. The practice has expanded focus to take care of anyone who wants to prevent disease and promote wellness. IV therapies to support the immune system are now offered and provide essential vitamins, minerals and antioxidants. They also offer IV hydration with electrolytes which helps restore balance, overcome illness and restore wellness. "Keeping balance in mind — the more powerful your immune system is, the more it can protect you from infectious diseases and even cancer," says Dr. Bromley.
Inspira Medical Center Mullica Hill and Cancer Center
Inspira Medical Center Mullica Hill is Gloucester County's first new hospital in nearly 45 years and brings the latest in medical and communications technology to a 100-acre parcel adjacent to Rowan University's west campus. With 210 private rooms and a complete suite of smart room technology that is new to the region, the hospital enhances clinical quality, safety and the patient experience.
The medical center, as well as the adjacent leading-edge cancer center, elevate patient care in the region. The cancer center brings together medical, radiation and surgical oncologists, along with a full complement of support services. It provides comprehensive expert care with a dual focus on clinical excellence and providing an outstanding patient experience.
Pain Management
Young Lee, M.D.
President, Chief Medical Officer, Relievus
Born and raised in South Korea, Lee moved to the United States when he was 18 and had a life goal to become a physician. He completed both an anesthesia residency and pain medicine fellowship program, earning the outstanding graduate resident award at UMDNJ—Robert Wood Johnson Medical School. As a board-certified anesthesiologist and board-certified pain specialist, he started his pain practice in 2008 at Advanced Spine and Pain in Hammonton, and in 2014 the practice acquired three other pain/neurology practices and rebranded itself as Relievus. Lee performs cutting-edge procedures that help alleviate pain including new treatments such as spinal cord stimulators, stem cell, PRP, Vertiflex, the MILD procedure, medical marijuana and ketamine therapy.
Adam Sackstein, M.D.
Founder, medical director, The Pain Management Center
Sackstein is the founder and medical director of The Pain Management Center, a Prospira PainCare Center of Excellence, with locations in Turnersville, Voorhees, Hamilton and Linwood, treating patients with effective pain management solutions and helping them get back to their normal activities. After graduating from State University of New York Health Science Center of Brooklyn College of Medicine, he pursued anesthesiology residency and pain medicine training at Yale University-New Haven Hospital. A diplomate of the American Board of Pain Medicine, Sackstein is board-certified in pain medicine and anesthesiology and also a past president of the New Jersey Society of Interventional Pain Physicians and continues to serve on its executive board. He is treasurer of Premier Surgical Center in Marlton and sits on the Prospira PainCare board of directors.
Community Outreach
AtlantiCare's Diversity and Inclusion Council and Employee Resource Groups (ERG)
AtlantiCare embraces its commitment to diversity with a goal to sustain a seamless culture of inclusion, where its workforce and customers feel valued and respected. It has positioned diversity as a strategic business priority that aligns with its mission, vision and values.
AtlanticCare's ERG teams include physicians and staff who lead cultural and community awareness activities, education and community outreach, thus impacting employee engagement, quality of care, customer experiences and community connectivity. The groups are formed around common interests and are open to all employees. The groups continue to experience membership growth. They have gone from 33 members in 2010 to more than 350 active members in 2019.

Roots to Prevention Partnership
In response to a need for access to healthy food and reducing the causes of illness linked to poor diet in Camden, the Roots to Prevention Partnership (RTP) brings together a collaboration of community organizations, health care providers, educational institutions and government entities from across the city. RTP's core partners include Parkside Business & Community in Partnership, Virtua Health, Camden County, Rowan University, The Food Trust and the Camden Coalition of Healthcare Providers. Recently, the partnership won a national grant competition, the BUILD Health Challenge, in the amount of $250,000, plus a matching contribution of cash and in-kind support from Virtua Health. These funds will help increase healthy food options and income opportunities for Camden residents and support a pilot program initiative that will connect urban farmers and patients to new sources of income and affordable produce.
Heart Surgery
Pavan Atluri, M.D.
Associate Professor of Cardiovascular Surgery, Penn Medicine
Atluri is a nationally recognized expert in heart transplantation, minimally invasive mitral valve repair and septal myectomy (open heart surgery for hypertrophic cardiomyopathy). He serves as the surgical director of the heart transplant and mechanical circulatory support programs, as well as the director of robotic and minimally invasive cardiac surgery.
During his career, he has distinguished himself with multiple accolades, including the Gordon Buzby Surgical Leadership Award. Atluri holds board certifications from both the American Board of Surgery and American Board of Cardiothoracic Surgery. He is widely regarded as a thought leader in the management of complex cardiac surgical issues and in translational research focused on tissue engineered therapies for heart failure.
Arthur T. Martella, M.D.
Chief of Cardiothoracic Surgery, Virtua Our Lady of Lourdes Hospital
A leader in the use of robotics in cardiothoracic surgery, Martella recently performed his 1,000th robotic-assisted heart surgery, which puts him among an elite group of surgeons, nationally and internationally, to achieve this milestone.
Since assuming his position in 2011, Martella has led his program to national recognition, including the Watson Health 2020 50 Top Cardiovascular Hospital award. Board-certified in surgery and thoracic surgery, Martella is a graduate of Jefferson Medical College and Columbia University, and completed a fellowship in cardiothoracic surgery at the University of Rochester.
Emerging Leader
Mark Ayzenberg, M.D.
Orthopaedic Surgeon, Premier Orthopaedic Associates
Ayzenberg specializes in sports medicine, arthroscopy and reconstructive surgery. He also treats general orthopaedic trauma, including dislocations and fracture care. In patients with advanced shoulder arthritis that may not be improved with arthroscopic surgery, Ayzenberg utilizes patient-specific technology and computer navigation guidance to perform a shoulder replacement tailored to each patient's unique anatomy and needs.
Ayzenberg also serves as the assistant team physician for the Philadelphia Wings professional lacrosse team. He trained at the prestigious sports, arthroscopy and reconstructive surgery fellowship program at the Southern California Orthopedic Institute.
Neuroscience Services
NeurAbilities Healthcare
NeurAbilities Healthcare, formerly CNNH NeuroHealth, brings together the experts needed to provide evaluation, diagnoses and treatments for individuals across the lifespan with neurological, behavioral, developmental and cognitive concerns, such as autism, seizures, ADHD and migraines. These experts work collaboratively to provide a seamless experience for patients. Through its collaborative and coordinated approach, patients receive personalized care which provides them with the ability to maximize their unique potential and achieve meaningful outcomes.
NeurAbilities is opening an 8,800-square-foot autism treatment center in King of Prussia, Pa., the first step in a broader expansion planned through 2021.
Lifetime Achievement
John DiAngelo
President, CEO, Inspira Health
Under DiAngelo's leadership, Inspira has undergone tremendous advancement and expansion. DiAngelo more than doubled access points from 60 to more than 150 today, including 10 new urgent care centers and, in 2018, he led the $34 million expansion of Inspira Medical Center Vineland. Most recently, DiAngelo led the planning, approval, development and opening of the $356 million state-of-the-art medical center in Mullica Hill, as well as the adjacent leading-edge cancer center, both of which elevate patient care in the region. Additionally, his leadership and support played a critical role in Inspira's fundraising success, exceeding the $23 million stretch goal for its capital campaign—benefiting Inspira Health and its patient-centric care. DiAngelo recently announced his intention to retire from the organization at the end of 2020.
Neurology
Tudor G. Jovin, M.D.
Chief, Chairman, Cooper Neurological Institute, Cooper University Health Care
Jovin is an expert in the interventional and non-interventional treatment for the entire spectrum of stroke and cerebrovascular disorders. He is board-certified in neurology and has additional board certifications in vascular neurology and critical care neurology. He was one of the nation's first interventional neurologists, a medical subspecialty that uses minimally invasive technologies applied from within the vessels to diagnose and treat diseases of the arteries and veins of the head, neck and spine, such as acute stroke, carotid stenosis, intracranial aneurysm, and arteriovenous malformations.
Previously, Jovin was a professor of neurology and neurosurgery at the University of Pittsburgh School of Medicine and director of the Center for Neuroendovascular Therapy at the University of Pittsburgh Medical Center (UPMC). At UPMC, he also served as the director of the center's stroke institute, one of the leading centers for stroke care, education and research in the world.
To read the digital edition of South Jersey Biz, click
here
.

Published (and copyrighted) in South Jersey Biz, Volume 10, Issue 3 (March 2020).

For more info on South Jersey Biz, click
here

.
To subscribe to South Jersey Biz, click
here
.
To advertise in South Jersey Biz, click
here
.