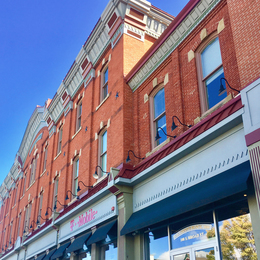 Growth Mode
The northern section of Gloucester County continues to find ways to expand.

At 329 square miles, Gloucester County is not one of the largest counties in New Jersey. In fact, it is less than half the size of nearby Burlington County—which is the state's largest at 805 square miles. Of course, geographical size is simply a number, and it does not diminish anything Gloucester County has to offer, especially in its northern left corner, where cities like Woodbury, Deptford and West Deptford are prospering.

"Our region has been in growth mode for the last few decades," says Gloucester County Freeholder Heather Simmons. "We're growing in population, development and industry."

There are several factors affecting this growth, she adds, which makes the area even more appealing.

"Gloucester County is the ideal mix of opportunity and quality of life," Simmons says. "Its superior location is what really sets it apart. We're the home of rich colonial heritage, resplendent farmland and green spaces, and an expanding educational system. We have a large inventory of properties and opportunities for businesses to succeed in a pro-business environment with a well-trained workforce."

With this in mind, we spoke with local businesses and administrators in the area to find out more about what makes Gloucester County tick and what can be expected from this area in the future.



Opportunity


The north side of Woodbury, quite literally, has been designated an area for opportunity. Selected to be a Federal Opportunity Zone, developers that choose to move to this area will be provided significant tax incentives, according to Jeff Morris, president of the Greater Woodbury Chamber of Commerce.

The area around Broad and Centre streets was also accepted into the New Jersey Neighborhood Designation Program, which is a commitment from the state to invest over a half million dollars in the neighborhood over five years with a focus on revitalization, according to Ken McIlvaine, director of economic development for Woodbury.

"The city has also continued to press forward on a redevelopment plan focused on a large portion of the 100 block of Broad Street, with an eye toward recruiting businesses that are currently missing in Woodbury," McIlvaine adds.

While Woodbury has always had a strong business background, Mayor Jessica Floyd says being designated an opportunity zone and recipient of state funding will certainly help attract new businesses to the area.

"Woodbury has traditionally had a strong services business sector, specifically legal services and educational and library services," she says. "With the new federal and state revitalization designations, Woodbury is a city of opportunity for growth in a number of sectors including small retail, entertainment, dining and additional services."

Morris also points out that if the light rail train, which has plans to run from Camden to Glassboro and has been many years in the making, finally comes to fruition, Woodbury would have two stops on the line. He says Sen. Steve Sweeny recently announced the project has been approved and will move ahead, so there are "exciting times ahead in the near future in the Woodbury area."



Ingenuity


The Deptford Mall area is often the first spot people think of when they think about Gloucester County. And with a large number of businesses in the area, this is rightfully so. Deptford Mayor Paul Medany does admit Deptford is fortunate its brick and mortar stores are doing so well, especially in this digital age, when consumers are opting to shop online instead of in-store.

"Our occupancy rate is 100 percent most of the time," he says. "It's a great location. It's literally 10 minutes from Philadelphia, right off Route 42. The traffic flow is great and it's safe."

Though occupancy is high, Medany says efforts are being made to diversify the businesses that are based in the area.

"What we're trying to do is help the mall, and encourage it to reinvent itself by attracting different uses," he explains. "We're encouraging it to attract entertainment—give folks different reasons to come."

A result of these efforts can be seen in the new tenants of the former Sears location. While Dick's Sporting Goods will be relocating to the first floor of the building, Round 1 Entertainment—known for its bowling and arcade entertainment— will be housed on the second floor.

Round 1 will join a new fitness facility at the former Sears Auto building— Medany says the facility will be a chain but could not disclose which one—and the already-established Launch Trampoline Park just up the road.

"These are all different things that are bringing people here for different reasons," he says, adding that just a short drive from the main mall area, on Clements Bridge Road, plans for a new Super Wawa, Inspira Health Urgent Care and movie theater are also in place.

Outside the mall area, Nemours duPont Pediatrics recently opened a 63,000-square-foot building, and in the summer of2019, Gloucester County, Rowan University and Rowan College of South Jersey celebrated the groundbreaking for the construction of the Rowan Medicine Center and the Economic Development Center, adds Simmons.

One of the challenges Medany says Deptford continues to face is the ability to bring a grocery store or supermarket to the area.

"People want options," he says. "[But grocery stores are] private businesses and they have financial considerations. We've contacted everyone and we just can't get anyone. We're always working toward that."



Accomplishment


Perhaps one of the biggest attractions for a business to stay in an area is success. If a business is not profitable in one area, seeking out another area that could provide better outcomes is necessary. But retention is high in the northern part of the county, and it could be due in part to its welcoming nature to businesses of all kinds, and not being oversaturated in one industry or another.

Debbie Dukes, general manager for Compass Self Storage in Deptford, says it is because of the support and encouragement her business has received from the area that she appreciates doing business here, and it has helped to grow and expand Compass into the provider it is today.

"We have been open since 2008 and have had two major expansions and now have close to 600 units—both drive up and climate controlled," she says. "We also have an 8,000-square-foot indoor car warehouse for vehicle storage, as well as a 14-foot moving truck that we rent to customers." St. John of God Community Services, a nonprofit organization that works to help improve the lives of individuals with disabilities, has also seen growth in its time in the area. A member of the community since 1968, Brother Thomas Osorio says the people and businesses in the northern part of Gloucester County have supported St. John of God since the beginning.

"St. John of God campus started with a much smaller number of clients and students," he says. "We have expanded over the years. Our current campus has allowed us to grow while continuing to be a part of the Deptford and West Deptford communities."

Simmons says the county is looking forward to seeing more success for established businesses in the future, and to continue to bring new entities to the area that can find their own success.

"We're going to continue to see growth centered around education and medicine," she says. "We're not forgetting our other industries in the county like logistics, food manufacturing, retail and hospitality.

"Our future will include more partnerships emerging with industry, education and economic development," Simmons continues. "We'll also continue to look for the opportunities to partner with surrounding towns to reduce the tax burden on the residents, improve quality of services and improve the quality of life."

Facts and Figures
200-plus The number of years Woodbury has been the county seat of Gloucester County.

1793 Year Jean Pierre Blanchard, in front of President George Washington and other dignitaries, left Philadelphia in America's first hot air balloon aerial flight, and traveled 15 miles before landing in a Deptford clearing

702.77 Number of acres of preserved farmland or open space in West Deptford Township



A Place to Gather


What was once a dilapidated building and blighted location was made beautiful again with the city of Woodbury's Gather Building. The city constructed the building to be used for community events and to be an area where residents can enjoy art installations and appealing landscaping. A semi-permanent structure, the building can be dismantled and moved to a new location if there is redevelopment interest at the location.



Did You Know?


Amazon has several locations in Burlington, Gloucester and Salem counties. Its largest Gloucester County facility is located in West Deptford. Measuring over 1 million square feet, the facility employs 2,000 workers during peak seasons and also utilizes state-of-the-art robotics in its day-to-day activities.

To read the digital edition of South Jersey Biz, click here.

Published (and copyrighted) in South Jersey Biz, Volume 10, Issue 2 (February 2020).

For more info on South Jersey Biz, click

here

.
To subscribe to South Jersey Biz, click here.
To advertise in South Jersey Biz, click here

.