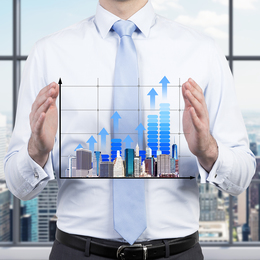 Riding High
Experts predict South Jersey will continue to see major commercial real estate growth from last year into 2020.
Last year brought plenty of economic growth and prosperity for South Jersey, and the commercial real estate market was no exception. Major developments across various industries continued to crop up throughout this area, from expanding medical and financial institutions to new dining and retail options. Fortunately, experts agree that local residents and businesses can expect to see continued commercial development in 2020, even despite some uncertainty revolving around the upcoming presidential election.

"The remainder of 2020 will be a banner year for the commercial real estate market throughout the entire state," asserts Jeffrey A. Jones, 2020 president-elect for New Jersey Realtors. He notes that several factors have led to the prosperous economic environment, including commercial banking deregulation, lower corporate and personal taxes on the federal side, unemployment at historic lows, and a consumer-driven economy. "All of these and more promise an expanding economy that has few headwinds at this stage in the year," he adds.

According to Patrick Sweeney of NAI Mertz, it's been a trend for the past couple of years for developers to go big—and in 2020, their focus has continued to be on buildings ranging from 250,000 up to 1 million square feet. The goal is to attract super-users, like Amazon, as well as national brands looking to establish a regional distribution hub. "Demand for the big-box facilities remains strong, as evidenced by the pipeline of these facilities under construction or set to break ground in 2020; from Exit 7 in Bordentown to the Pureland Industrial Complex in Gloucester County," he says.

Sweeney notes that the Burlington and Florence areas surrounding Exit 6 of the New Jersey Turnpike also remain a hotbed of development activity, including a more than 208,000-square-foot building that's currently under construction in the Haines Industrial Park in Burlington.

According to Jason M. Wolf, managing principal of Wolf Commercial Real Estate (WCRE), there are also specific industries that are particularly "hot" right now, including financial and health care institutions. For example, Chase Bank is expanding its footprint in the South Jersey and Philadelphia region, as it is now entering the market in towns including Cherry Hill and Marlton. The medical industry also continues to thrive in South Jersey; major developments include Samaritan Healthcare & Hospice's upcoming approximately 30,000-square-foot new headquarters re-development project in Mount Laurel and Virtua Health System's recent redevelopment on Route 70 in Cherry Hill that transformed a former daycare facility into a Class A medical building. Cooper University Health Care redeveloped a former Lockheed Martin building to become a rehabilitation center on Route 70 in Cherry Hill, and Cooper is also partnering with Advanced Recovery Systems on a drug rehabilitation center that will be opening soon on Cuthbert Boulevard. And, of course, there's Inspira Medical Center's hospital, which is a brand-new, $356 million facility in Mullica Hill.

"The interest rate environment is at a historical all-time low … and there's been plenty of opportunities for development," Wolf says. There are also some regions of South Jersey that have been particularly active; Sweeney points to Cherry Hill's Golden Triangle neighborhood as an example, which he says has become an epicenter of retail development in the region, while Haddonfield Road will see HomeGoods, TJ Maxx, Trader Joe's and Costco open their doors before the end of the year. On Route 38, a new Lidl will be opening before the end of the month and Ross and dd's Discounts are planned for the site of a former Toys "R" Us.

"Development in Cherry Hill has been exceptionally good. Right now it seems there's no other road in the whole southern part of the state that has more expensive ground than Route 70," adds Jeffrey Sloane, vice president of investment sales for NAI Mertz.

Wawa and CVS as well as fast casual chains like Chick-fil-A (and, of course, Starbucks) have continued to crop up through the southern half of the state. There's also been an uptick in multi-family and apartment units being developed. According to Michael McGuinness, CEO of NAIOP's New Jersey chapter, the office sector and mixed-use development is also picking up in certain areas throughout South Jersey, and many towns are reaping the benefits of changing their zoning to allow for non-traditional uses of certain spaces, including attracting the millennial population.

"Sometimes residents complain about commercial development, but then they're pretty happy when they end up selling their house for an inflated value," Sloane says. "These commercial entities are paying taxes that help support local schools and the community, so it's important to keep encouraging all of this development in our region—and I think local residents and businesses will continue to realize how it all positively impacts their quality of life."

"Any time you see development, it means more jobs and a good economy. We're currently in a healthy economic environment, and combined with these low interest rates, people are definitely spending money," Wolf adds. "The tone across the market right now is positive. And I think that trend will continue at least until we get closer to the election."

Jones notes that the commercial market is directly affected by the politics of the state and federal government, so the upcoming election will have a major impact on the environment for commercial real estate. "The presidential race is going to play a lot into corporate decision, not only for Fortune 500 companies but even the local, small business," says Chris Bieberbach, director of real estate for Tequesta Properties. "We may not see many major commitments from companies unless it's necessary. … Companies that have some time on their lease are likely going to wait and see what happens at the end of the year."

According to Curtis Lee—director of commercial operations at Berkshire Hathaway HomeServices Zack Shore, REALTORS—another issue facing South Jersey's real estate market is a shortage of inventory in most sectors of the residential market. "Many buyers are facing competition and bidding wars," he says. "I see the market continuing on the same trajectory for the remainder of the year."

Lee notes that, on the other hand, the increase in development is providing jobs in the construction sector, and as new home construction has also picked up in the area, the retail and medical industries are providing jobs within other sectors of the market. "With the current unemployment rates so low, we're seeing wage increases spurring more home formation and sales," he adds. "Generally, the South Jersey market is following the national trend of an improving economy."

A sector of the commercial real estate market that may not be keeping up is that buyers are seeking smaller spaces, such as for restaurants. "There has definitely been a drop in certain significant areas of the market, such as companies looking to build smaller units," Sloane says. However, the good news is that companies that are leasing seem to be more willing to sign on to staying in South Jersey on a longer-term basis. Bieberbach notes that the majority of the firm's leases that are smaller in square footage are generally committed to at least 10-year leases. "We're seeing some companies that want some of that visibility and office space coming into the '3M' market (Marlton, Moorestown and Mount Laurel)," he says. "These businesses being willing to commit to longer-term leases is a reflection that the economy is doing well—businesses aren't tentative about staying and doing business in South Jersey right now."

An emerging segment of the industrial sector has been "last mile" facilities, which Sweeney explains are the last link in the supply chain that enables the almost instantaneous delivery that consumers are increasingly coming to expect. These facilities tend to be smaller than the massive distribution centers, around 100,000 square feet. "Proximity to Philadelphia and New York City keeps South Jersey well positioned to attract these opportunities," he says. This opens up the market to owners who are able to expand or redevelop existing buildings to meet the "last mile" requirements. "Due to the lesser space required, areas that don't have large open parcels available for development can also be considered," he adds. The firm is representing renovated buildings in Mount Laurel and Pennsauken that will likely attract these users—these are markets that, for the most part, haven't been able to capitalize on the distribution boom.

"New Jersey's outlook is very positive for 2020, and a major part of the reason is the hot market for warehouses, distribution centers, e-commerce … basically anything that deals with getting goods to customers," says McGuinness, who notes that other up-and-coming areas that are providing opportunities to real estate developers in South Jersey are in aviation as well as renewable energy.

According to Jones, the establishment of new opportunity zones within the state are also targeting underserved markets by providing tax incentives for developers. "These incentives greatly enhance areas that were previously overlooked by developers and investors alike," he explains. Most developers pursue these projects because of the potential long-range anticipated growth, expansion and profitability.

McGuiness points out, however, that New Jersey is still somewhat lacking overall when it comes to incentives, and one of the challenges that continues to plague the industry is the business climate and lack of state programs to support development—as well as recent legislation that isn't always particularly business-friendly. "There are a lot of deals that aren't happening," he says. "Since we are a higher-cost state, incentives really do make a big difference when it comes to certain types of developments."

Overall, though, Jones points out that the commercial market and all its disciplines—retail, office, industrial and land— are facing very positive times. "The economy and consumer confidence is at an all-time high, and companies are investing in their futures behind this wave of optimism," he concludes. "[Of course, there] are challenges. But as we say down the Shore, 'Ride the wave of optimism.'"

To read the digital edition of South Jersey Biz, click here.

Published (and copyrighted) in South Jersey Biz, Volume 10, Issue 2 (February 2020).

For more info on South Jersey Biz, click here.
To subscribe to South Jersey Biz, click here.
To advertise in South Jersey Biz, click here.