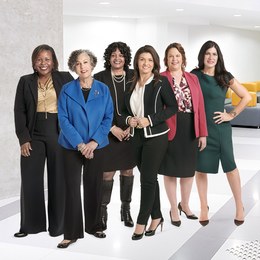 2020 Women to Watch
16 female professionals thriving in South Jersey.
Is there anything more powerful than women lifting up other women—encouraging them to be the best versions of themselves? The women before you have done just that and are empowering others at their places of work and all over the community as well. They lead by example and have attained an immeasurable amount of success by pushing boundaries and making their dreams a reality.

We are excited to present to you some of the most respected professionals in our area — South Jersey Biz's Women to Watch for 2020.
Cielo M. Hernandez
Senior vice president, chief financial officer, SJI
In her role, Hernandez is responsible for maintaining the organization's fiscal strength, enabling profitable operation through strategic planning and oversight of financial activities. Previously, she served as vice president and chief financial officer for the North America region at A.P. Moeller Maersk A/S. An accomplished executive, Hernandez previously held leadership roles at APM Terminals, Amcor and DirecTV.
An alumna of Universidad Santiago de Cali, Colombia, Hernandez earned her undergraduate degree in accounting and also received her MBA with specialization in international business from the University of Miami.
Hernandez is a certified public accountant and holds certifications in talent management, executive leadership, high-performance leadership and strategic leadership. Additionally, she is a member of the board of directors for the Chamber of Commerce Southern New Jersey as well as the Rowan University Foundation.
What's the best business advice you were ever given or gave to someone else?
"Early in my career, I was encouraged to take the time to map out my skills and align them with my passions. As a problem solver with a passion for forward-looking projections, I saw a career path in the finance world, where I could apply my skills to something I truly loved doing. Focus on what skills and experiences you need to ultimately be in your dream job. If you love what you do, you will not only increase your productivity, but improve business performance."
Dr. Monika Shealey

Senior vice president, Division of Diversity, Equity and Inclusion (DEI), Rowan University
As the inaugural senior vice president, Shealey leads this division in creating a DEI certificate program; leads the DEI council comprised of representatives from each department and unit on Rowan University's campus; is engaged in DEI strategic action planning for the campus; and has launched the Center for Neurodiversity Taskforce.


Shealey previously served as the dean of the College of Education at Rowan where she led a number of initiatives that elevated the presence of Rowan nationally and regionally, such as a recruitment and retention program for male students of color preparing to be teachers and a Ph.D. program in access, success and equity.


Shealey's research has focused on examining the experiences of traditionally marginalized groups in special education and black women in teacher education and leadership. She is a board member for the Center of Family Services, Friends School of Mullica Hill and the American Association of Colleges of Teacher Education.


What does being a successful businessperson mean in your eyes?

"Being successful means having the opportunity to lead with passion and demonstrate the positive impact of your leadership."


Julie Strohlein, CPA

Associate partner, Alloy Silverstein
Strohlein has over 20 years of experience in both public and private accounting, representing varied clientele including the medical, legal and real estate industries and trusts. Some of her favorite duties are onboarding new employees and keeping the staff up to date with new software and tax changes. She is a frequent presenter at the firm's Alloy Academy educational workshops and speaks to several high schools each year as part of the NJCPA Career Awareness Program to share her love of accounting and to promote the profession.


Strohlein is heavily involved in the community as a member of the board of the United Way Burlington-Camden and the Doctors Advisory Alliance, and serves as treasurer for Impact100 South Jersey.
What's the best business advice you were ever given or gave to someone else?

"Don't be afraid to say what you don't know. Asking good questions and learning from others will go much further than pretending you already know everything."


Fran Turchi

Chief operating officer, co-owner, National Integrity Title Agency
Turchi is a title industry expert. She began her career in 1983 in the settlement department and had the opportunity to advance into an examining role, where she honed her skills in the core functioning of title processing. In 1998, Turchi joined Integrity Title Agency and became an integral part of the operations team. She eventually teamed up with her current partner and together in 2015 they acquired the agency and National Integrity Title Agency was born. Their goal was to transform the settlement experience. A well-respected member of the real estate and title insurance industries, Turchi has built a reputation of empowerment and collaboration. Over her 30-plus years in the business, she has shown an unwavering commitment to hard work.


What are the key traits of an effective leader?

"Several key attributes come to mind—[a leader should be] honest, approachable and empathetic. I've always believed in leading by example. A strong work ethic can encourage one to follow but also inspire others to reach for excellence and ultimately lead in the future."

Jennifer Ward, Esq.

Ward Law, LLC
Combining her ambitions to run her own firm as well as chipping away at the gender inequities in the legal industry, Ward left her position as managing partner of a national law firm to start her own. Bringing along five of her best attorneys, Ward launched Ward Law, LLC in January 2019 in Moorestown, Philadelphia, New York and Tampa, Florida. Realizing that only about three percent of law firms in the U.S. are women-owned, Ward was compelled to make this dream a reality. She is recognized as a top litigator for labor and employment in both New Jersey and Pennsylvania, and also defends professionals against malpractice allegations.


What's the best business advice you were ever given or gave to someone else?

"A senior partner at my first law firm recommended that I develop a 'book of business,' a portfolio of clients. He told me that in order to have control of your professional career that an attorney needed a book of business. At the time, I had no idea what he meant, but it sounded important. From that point forward, I focused my energy on figuring it out. By my third year of practice, I generated enough work to be self-sufficient and the rest is history."


Michelle Altieri

Attorney, Charny Karpousis
Altieri & Donoian
Altieri has been practicing family law for 20 years and is experienced in all phases of divorce litigation and settlement negotiations, mediations and arbitrations. Over the years, she has handled numerous family law cases in New Jersey involving substantial marital estates and worked closely with forensic accountants and other experts on issues involving business valuations and executive compensation. Altieri is also actively involved in the professional community, including membership and leadership positions with the New Jersey State Bar Association and Camden County Bar Association. Altieri was a recipient of the Edwin P. Rome Pro Bono Achievement Award in recognition of the many pro bono clients she has represented and for her commitment to pro bono service.


What does being a successful businessperson mean in your eyes?

"As an attorney, it means listening intently to clients' needs. Each case is unique. Clients must know I understand their goals and that I am advocating on their behalf to achieve them. Even if the goals change over time or become unattainable, clients must know that I am fighting hard to assist them."


Kristina Kohl, MBA, PMP

Managing principal, HRComputes and Becoming Sustainable
As managing principal of HRComputes, Kohl guides clients through selection, implementation and optimization of human capital digital solutions to attract, retain and develop their people. She leads the Becoming Sustainable practice, developing people strategy to align organizational mission with the UN Sustainable Development Goals. Kohl brings executive business management experience from the corporate and nonprofit worlds, and her background includes serving as vice president and manager at JPMorgan Chase. She is the author of Becoming a Sustainable Organization and a professor in the Bard MBA in Sustainability program. Kohl holds an MBA from the Wharton School at the University of Pennsylvania.


What's the best business advice you were ever given or gave to someone else?

"The best advice that I was ever given was to consider the impact of your decisions on future generations. Sometimes, we are caught up in reaching short-term goals and we forget to look at the big picture. What is the legacy that you wish to leave?"


Ashley H. Buono, Esq.

Attorney, Parker McCay
Buono is an experienced attorney for the construction law department at Parker McCay. She represents public and private sector clients, focusing on reviewing bids and contracts and handling litigation derived from construction projects including arbitration, mediation, trial and appeals. She has appeared in all courts of New Jersey and Pennsylvania, as well as federal courts. Drawing from her extensive experience in litigation, Buono is able to counsel her clients in all aspects of construction law. She is a dedicated legal professional, strong women's advocate and mentor and is committed to serving her community, as she serves as an executive board member for Habitat for Humanity of Burlington County and Greater Trenton-Princeton.


What does being a successful businessperson mean in your eyes?

"A successful businessperson goes beyond just being the best and the 'gold standard' in a particular business. Sharing their good fortune by giving back to the community through service, mentoring or simply donating their time are real demonstrations of success."


Derry Holland

CEO, Oaks Integrated Care
As CEO of Oaks Integrated Care, Holland leads a team of over 1,700 employees responsible for 230 innovative health and social services programs throughout New Jersey. With more than 30 years of experience, she is dedicated to building a strong financial future and fulfilling Oaks' mission to serve the most vulnerable members of the community. Under Holland's leadership, Oaks welcomed Preferred Behavioral Health Group as an affiliate in 2017. Now serving over 43,000 individuals in 17 counties, Oaks is one of the state's most comprehensive providers. She is a licensed clinical social worker and currently serves on several boards, including NJACP, NJAMHAA and Camden Coalition of Healthcare Providers.


What are the key traits of an effective leader?
"I believe an effective leader is a strong communicator who engages in informed decision-making through an openness to listening and hearing alternative opinions, is engaged with their employees and the community at large, seeks new opportunities and identifies the potential in the people and situations before them."
Joanne Rosen
Vice president of marketing & public affairs, Samaritan Healthcare & Hospice
As a passionate 26-year Samaritan Healthcare & Hospice veteran, Rosen leads Samaritan's strategic marketing, communications, community partnerships and advocacy to advance its mission and vision, along with its commitment to inclusion, diversity and access. As liaison to Samaritan's board of trustees, Rosen also works with the strategic planning, governance and community advisory committees. In her tenure, Rosen has led marketing strategies such as the expansion of services into five counties in South Jersey, the creation of Palliative Medical Partners, the opening of The Samaritan Center for Grief Support and The Samaritan Centers in Mount Holly and Voorhees, as well as fostering of a global partnership with Kawempe Home Care, Samaritan's sister hospice in Uganda.
What's the best business advice you were ever given or gave to someone else?

"Make a commitment to lifelong learning and growth. Smart people continue to learn, not just through formal education, but also about themselves and others. Pay attention to what you can learn from your own experiences, including your successes and failures. Lastly, while using research and data to guide decision making, know when to trust your gut and follow your heart."
Karoline Moxham
Vice president, commercial relationship manager, WSFS Bank
Moxham joined WSFS Bank in 2019 and has over 25 years of experience in the financial services industry. Previously, she worked at several other financial institutions in commercial lending and also spent several years working in asset-based lending. Moxham thrives on helping her clients become more successful, both on a company or personal basis. Her ability to listen to her clients and devise creative solutions to their problems is what sets her apart from her peers. Moxham is on the board of the American Heart Association's Southern and Central New Jersey Chapter and is a current board member of NAWBO – South Jersey.
What are the key traits of an effective leader?
"The key traits of being an effective leader are being honest, open to new ideas, respectful of other's opinions and giving credit to others when it is due."
Meishka Mitchell, AICP, PP
Vice president, Cooper's Ferry Partnership
Mitchell is vice president at Cooper's Ferry Partnership (CFP), a community and economic development nonprofit organization in her hometown of Camden. She played a key role in broadening CFP's mission to address planning and redevelopment efforts in Camden's neighborhoods with a resident-driven approach. A self-proclaimed "accidental environmentalist," Mitchell promotes the value of the urban environment within the sustainability movement and has led efforts on water equity and established several award-winning replicable sustainability collaborations. She has a master of city planning from the University of Pennsylvania, is certified by the American Institute of Certified Planners and maintains a professional planner's license with the state of New Jersey.
What are the key traits of an effective leader?
"Leaders are solutions-oriented and humble listeners who are able to inspire others around them by leading by example. Leaders recognize that leadership is not a 'one-size-fits-all' arrangement and take the time to understand and respond to the individual needs of those around them. Effective leaders are perpetual students—constantly assessing themselves, learning new skills and techniques, and pushing themselves to greater levels of excellence."


Jo-Ann Weiner, EA, CFE
Owner, J.L. Weiner & Associates, LLC
Weiner worked for the IRS for 35 years before starting her forensic tax accounting practice in 2013. Her 35 years of IRS experience included auditing federal tax returns, working as a special enforcement agent on civil, criminal and grand jury cases and serving as an expert witness. Weiner makes it her goal to help those finding themselves facing a difficult federal or state audit. She also helps clients resolve financial litigation challenges and she determines assets in divorces. Weiner is a member of the Association of Certified Fraud Examiners, the National Association of Enrolled Agents and the New Jersey Society of Enrolled Agents. She serves on the Burlington County Women's Advisory Council, NAWBO's National Advocacy Council and the American Heart Association's executive leadership team.
What are the key traits of an effective leader?
"Leaders need to have a plan that offers a clear vision of what is needed to achieve a program or project and provide their teams clear job expectations, objective feedback and achievable goals."
Laura Damm
Director of sales, ACCU Staffing Services
Damm is the director of national accounts for ACCU Staffing Services, a family-owned company headquartered in Cherry Hill. Responsible for coordinating existing and new client acquisition, she has been with the company for 30 years. Damm's extensive knowledge of the staffing industry, along with her effective communication skills, have helped her to create long-lasting relationships as well as form new ones. A strategic leader with an effortless ability to solidify and maintain positive business-to-business relationships, she is an important component to the continued success of ACCU Staffing Services.
What does being a successful businessperson mean in your eyes?
"A successful businessperson places their business needs in front of their own. Regardless of how they feel personally, they must do what is right for the business."
Margo Venable
Executive dean of school community & workforce training programs, Camden County College
With over 30 years of experience in student services and workforce development, Venable establishes and maintains college partnerships, outreach programs and activities with K-12 school districts and provides professional development and training opportunities for secondary and postsecondary teachers, local businesses and organizations, workforce development and continuing education. Venable holds a MBA from the University of Phoenix and a BS in personnel management and labor relations from Rowan University. Venable oversees the college's Camden campus, along with over $7 million in grants and contracts, is an adjunct business and human services faculty member, a labor consultant and national speaker.
What does being a successful businessperson mean in your eyes?
"Successful businesspersons lead the change they want to see in their communities. They are true citizens of that community—they are the game-changers."
Sviatlana Tsiaptseyeva, CPA

Partner, Friedman LLP
Tsiaptseyeva is a partner at Friedman LLP and a member of the firm's SEC Services Group. She specializes in assisting businesses with transactional engagements, including IPOs, mergers, private placement offerings, business acquisitions and other equity or capital raises. Tsiaptseyeva has extensive experience in analyzing complex equity instruments, including preferred stock, convertible debt, warrants, share-based compensation and other financial instruments.


What's the best business advice you were ever given or gave to someone else?
"My mentor once told me that being comfortable in a position is not where you want to be. When you are able to complete the role with your eyes closed, you are no longer learning. Being outside of your comfort zone and being challenged is when you are able to grow."
To read the digital edition of South Jersey Biz, click here.

Published (and copyrighted) in South Jersey Biz, Volume 10, Issue 2 (February 2020).

For more info on South Jersey Biz, click here.
To subscribe to South Jersey Biz, click here.
To advertise in South Jersey Biz, click here.