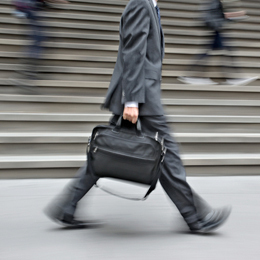 On the Move
Openings, closings, hirings and retirings in our region.

Alberto Garofalo
has been named New Jersey market president for Bank of America.
Adaptive Clinical Systems has named Temitope Keyes as vice president of business development.
Daniel M. White
has been appointed as vice president, consumer banking market manager for Columbia Bank.
Rutgers University-Camden has announced Monica Adya will become dean of the Rutgers School of Business-Camden, effective March 30. She will be the first woman to serve as dean of the Rutgers-Camden business school.
William Penn Bank has hired Linda J. Bishop as brand ambassador. In this role, she will expand the bank's marketing efforts as it embarks on strategic expansion, including its planned mergers with Fidelity Savings and Loan Association of Bucks County and Washington Savings Bank, as well as a new branch location in Collingswood.
Suzanne Wanlass VanDerwerken, M.D., FAAFP
, chair of the department of family medicine at Inspira Medical Center Mullica Hill and director of its family medicine residency program based in Woodbury, was recognized as the 2019 New Jersey Family Physician of the Year by the New Jersey Academy of Family Practice.
The Chamber of Commerce Southern New Jersey has hired Hilary Beckett as manager of government affairs.
Vantage Real Estate Services recently hired Brent Cohen and Michael Gries as sales associates.
Matthew A. Swift
has been appointed chief operating officer with The First National Bank of Elmer, in addition to his responsibilities as senior vice president and chief financial officer. Additionally, Elaine Melfe joined The First National Bank of Elmer as director of marketing and corporate culture.
CBRE has hired Jon Williams as senior vice president.
Carlos Abrams-Rivera
, president of Campbell Snacks, is leaving the company effective Feb. 1. He will be joining Kraft-Heinz as U.S. zone president.
Capehart Scatchard has welcomed two shareholders to its firm: Maura Burk and Edward F. Kuhn.
NAI Mertz recently hired Luke Pease as sales associate.
Wohlsen Construction has added Conor Evans as project executive and Gary Romein as superintendent.
Patrick Jeffrey
has been promoted to chief operating officer with T&M Associates. His previous role was New Jersey regional operations manager.
Kathryn Jervis
has been appointed dean of the School of Business of The College of New Jersey effective July 1.
Capehart Scatchard
made the holidays brighter for a Burlington County family with four young children by providing them with toys, shoes and clothing items from the children's wish lists, as well as presents for the parents.
Nicholas Motisi
, Columbia Bank's assistant treasurer, has been selected as an "Emerging Leader, Rising Star" by NJ Bankers.
DJ Alexis
, age 17,delivered more than 1,000 gifts to Jefferson Health New Jersey patients in honor of his late brother, Emanuel, who died at the hospital during the 2016 holiday season.
Phoebe A. Haddon
, chancellor of Rutgers University-Camden, and Christopher Maher, CEO and president of OceanFirst Financial Corp., have been named chair of the board of directors of the Federal Reserve Bank of Philadelphia.
#TechStarters
presented its annual Community Service Award for 2019 to
Dan Morton
. A donation in his name was made to Operation Yellow Ribbon.
Rutgers University-Camden
is South Jersey's first accredited institution in the area of teaching/education by the Society for Simulation in Healthcare.
Lora V. Northern
, Capehart Scatchard workers' compensation shareholder, has been named to the firm's executive committee.

The state Senate approved Judith Persichilli as commissioner of the New Jersey Department of Health.
Bowman & Company LLP
has received Gold Recognition in the American Heart Association's 2019 Workplace Health Achievement Index. Bowman is the first CPA firm in the state to achieve the gold level of performance.

To read the digital edition of South Jersey Biz,

click here

.



Published (and copyrighted) in South Jersey Biz, Volume 10, Issue 1 (January 2020).

For more info on South Jersey Biz, click

here

.
To subscribe to South Jersey Biz, click

here

.
To advertise in South Jersey Biz, click

here

.