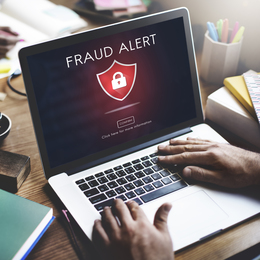 Combating Fraud through Technology
Online and mobile e-commerce are experiencing explosive growth. In 2017, global e-commerce sales totaled $1.3 trillion, up 40.3 percent from the previous year.
Payment solutions play an integral role in these transactions, but also open up opportunities for fraud. While credit cards might be the first thing that come to mind when thinking of payment fraud, they are actually the third largest target behind checks and wire payments.
This is concerning for everyone—from the average consumer to business owners. Thankfully, financial institutions like ours are utilizing technologies to make credit card transactions more secure:
Joann Smith, vice president, commercial payment solutions, M&T Bank
Since 2015, EMV chip cards have become the norm, with almost 500 million Visa chip cards being used in the United States alone. Chips have helped to decrease counterfeit fraud, which often results from data breaches, at chip-enabled merchants by 82 percent in the last three years.
Incorporating tokenization
Tokenization works by replacing the sensitive payment information on a credit card, such as the 16-digit account number, with a substitute or "token." The sensitive information is safely stored in an encrypted database, and the vendor never sees the actual credit card number. This technology has been utilized in digital wallet services like Apple Pay and Google Pay and keeps payment information secure.
Tokens have the opportunity to be used almost anywhere—whether consumers are shopping online or in person.
With the success of EMV in preventing card-present counterfeit, fraudsters are now targeting card-not-present and e-commerce transactions. This has caused many card issuers to utilize services like Visa Secure, which helps authenticate a user's identity during an e-commerce purchase. These services flag unusual activities such as large purchases or transactions made through new devices, providing an extra layer of security.
When choosing a financial institution to work with, whether for managing personal or business funds, make sure you have an opportunity to take advantage of the variety of anti-fraudulent technologies available. You likely already have a chip card stored in your wallet, but take the time to explore tokenization for an added layer of security. And always pay attention to alerts regarding suspicious activities to avoid damages to your accounts and credit.
Joe Tredinnick, senior vice president/market president, Republic Bank
How consumers can protect themselves from fraud
When it comes to email phishing, never click on anything that seems the least bit questionable. In some cases, phishing attempts are high-quality, such as encouraging you to confirm an iTunes in-app purchase or fix your deactivated PayPal account. Falling victim to these schemes allows hackers to place keyboard loggers or other malware on your device.
That said, if you are careful, these situations can be avoided. Common sense should always be the first line of defense. To protect your information, change your passwords frequently. There are password keeper apps to help you keep track of various logins. You should consistently review bank and credit card statements to ensure transactions are accurate. If anything doesn't look right, contact your bank or credit card provider immediately.
Safety and security when making purchases via mobile devices
If you use a wallet like Apple or Samsung, they create unique transaction IDs for each transaction, similar to chip cards, so they are very secure. In the remote possibility that you do have an issue, you are protected by a $0 liability.
Republic Bank expanded its online banking solutions
We are consistently expanding our online banking solutions while also ensuring that they are completely secure. We prioritize improving our information security and fraud tools, since the hacker world is always evolving. For example, we just rolled out a new mobile application with dual factor authentication.
Chip cards help reduce counterfeit fraud
Each transaction completed with a chip card creates dynamic, unique data for each transaction, unlike the static information that is contained on the magnetic strip on non-chip cards. Once a hacker or fraudster gets your magnetic strip data, they can create additional cards to perpetuate fraud
What to be aware of regarding check fraud scams
Counterfeit checks can look real, making it hard for consumers or bank employees to detect. Often, the fraudster will coerce the consumer to cash or deposit the counterfeit check and then ask that all or part of the proceeds be sent back before the bank attempts to process the check. The fraudster may ask for the funds to be returned in cash, personal check, gift card or through electronic means, such as a wire transfer, automated clearing house payment or a person-to-person transaction. If it is later determined that the check was counterfeit, the consumer will likely be held responsible for the funds provided to the fraudster. Thus, recognizing the signs of a counterfeit check is imperative in order to protect yourself.

To read the digital edition of South Jersey Biz, click here.

Published (and copyrighted) in South Jersey Biz, Volume 9, Issue 11 (November 2019).

For more info on South Jersey Biz, click here.
To subscribe to South Jersey Biz, click here.
To advertise in South Jersey Biz, click here.