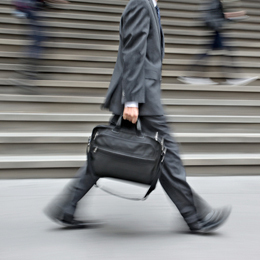 On the Move
Openings, closings, hirings and retirings in our region.

Dewberry's Kirt Ladwa, PE, has been promoted to highway department manager. A senior civil engineer with nearly 20 years of experience, Ladwa has spent his entire career with Dewberry in the transportation department.
Ken Gosnell,
vice president—finance strategy and investor relations with Campbell Soup Co., will retire. Gosnell is staying in his position until a successor is in place.
Therone L. Hopkins
and J. Michael Fischer have been appointed as vice president, commercial lender III for Columbia Bank.
The First National Bank of Elmer announced the following promotions: Cynthia L. Volk to vice president and controller and Jessie Coles to vice president and assistant controller.
Mary Elizabeth Gaskill, MSN, APN
, has joined The Ripa Center for Women's Health and Wellness at Cooper.
Genna Garofalo, Esq., Nicole L. McCann, Esq., McKenna Parris, Esq.
and Lara M. Ruggerio, Esq. have joined Capehart Scatchard as associates in its Mount Laurel office.
Inspira Health has named Kaitlan Baston, M.D., M.Sc., and board-certified addiction medicine physician, as medical director of its new inpatient acute medical detoxification and addiction treatment center. Located in Inspira Health Center Bridgeton, the 20-bed unit provides alcohol and drug detoxification services, including medication-assisted treatment for people who require medical supervision during the withdrawal process.


Friedman LLP made the following announcements: Partner Brandon Baker will lead the firm's estate and trust group and Charles Anastasia joins as principal with the firm's real estate group.
Doug Sell
has joined Bowman & Company LLP as the firm's commercial department director.
Capehart Scatchard shareholder Sanmathi (Sanu) Dev, Esq. received the Rutgers Law-Camden Alumni Association's 2019 Recent Graduate Award. This award recognizes alumni who graduated within the past 10 years and have made significant contributions to the legal profession, local community and the law school.
Matthew Reilly
, CEO and president of MEND, has been appointed to the Burlington County Board of Freeholders' Homeless Trust Fund Task Force. The task force will advise local government concerning the creation of local homeless housing programs and plans and set priorities for how to use and distribute funds raised for the county's homeless trust fund.
Teresa Sydorko
, director of communications for Delco Development, was one of nine recipients awarded with the Young Professionals Leadership Award at the Burlington County Regional Chamber of Commerce's Leadership Conference.
Kenneth Morgan, Esq
., principal with Morgan Law LLC, has been appointed to the Businesses Committed to South Jersey board of directors.
Cherry Hill Auto Imports
donated three mini remote-controlled cars to patients at Children's Regional Hospital at Cooper. The cars will be used by the children under staff supervision to drive themselves to the operating room prior to surgery.
Senate President Steve Sweeney
presented former Gov. Jim Florio with the Distinguished Lifetime Achievement Award from the Stockton Hughes Center for Public Policy.
Cooper University Health Care
, through The Cooper Foundation, has raised $30,000 to provide support to those affected by Hurricane Dorian which devastated the Bahamas in September.
State Sen. Nilsa Cruz-Perez (D-5)
is one of four state legislators who received the Legislator of the Year Award from the New Jersey Chamber of Commerce.
Capehart Scatchard shareholder Charles Rizzi was presented with an award from the board of directors of the St. Joseph's Carpenter's Society.
South Jersey Federal Credit Union has elected William Gruccio and Michele Hewitt to their board of directors.

Capehart Scatchard
held a jeans month fundraiser for the National Breast Cancer Foundation, Inc. (NBCF) for Breast Cancer Awareness Month during October and raised $1,434.

To read the digital edition of South Jersey Biz, click here.

Published (and copyrighted) in South Jersey Biz, Volume 9, Issue 11 (November 2019).

For more info on South Jersey Biz, click here.
To subscribe to South Jersey Biz, click here.
To advertise in South Jersey Biz, click here.