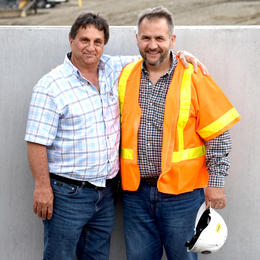 Sponsored Content: Building Bonds That Last
With a team approach and a focus on relationships, TD Bank helps its commercial clients achieve their goals.

When John Ruga talks about the tremendous growth his company, Northeast Precast, has experienced in the last decade, it is hard for him to contain his excitement.
Since its founding in the early 2000s, the precast concrete manufacturer has evolved from a purely residential firm into one with a major impact on the commercial market, working on schools, warehouses, parking garages and more.
"Things are going extremely well," Ruga says. "It has certainly taken a lot of effort, but we've built a company with a strong reputation." As Northeast Precast has continued to expand its reach and add employees, it needed to partner with a financial institution that shared its grand vision for the future. It found one in TD Bank.

Ruga's company recently purchased a 250-acre site in Vineland and began construction on its massive new headquarters thanks to a significant commercial loan from TD Bank.

"We needed to expand but we were running into some road blocks," he says. "I think there's a tendency to get complacent, and we move pretty quickly when we make a decision to do something. Our old bank was a little resistant and wasn't comfortable with helping fund the expansion we needed.

"That's when TD stepped in. They spent a lot of time to truly understand what we were doing, and once they understood it they were ready to move. They backed up their words; it wasn't just empty talk. They stepped up to the plate and we're very thankful for that."

Ruga's relationship with TD actually started about three years before the current project, when he first met with Greg Carlisle, the Southern New Jersey regional vice president, and Kevin Gibala, vice president and commercial relationship manager for Gloucester, Cumberland and Salem counties.

Although Ruga did not have any banking needs initially, they developed a bond over time. "John has incredible integrity and character and everybody knows that in the community," Gibala says. "He's someone that TD wanted to align with."

"The culture he creates as an employer— which includes giving back to his employees, creating a positive work environment, promoting from within and creating a very nice work-life balance for his employees—is very similar to the culture at TD Bank," Carlisle adds.

When the opportunity arose to work hand in hand, TD Bank was eager to take it. Ruga was impressed at how the TD team jumped in with both feet and did its homework on his industry, extensively poring over the numbers and projections before making a commitment to Northeast Precast.

"John was very forthcoming and cooperative, which really helps," Carlisle says. "He got us all the information we needed in a timely manner and he invited all of us to come down on multiple occasions to see the project from its beginning stages. While there was a lot of due diligence required as we created a financing deal for them—from the numbers to potential risks—John provided a very clear picture.

"We continue to have an open dialogue with him on a weekly basis and we continue to go down and tour the facility and help with any needs they might have along the way."

With all of its customers, whether it's a large corporate account or a small business, TD Bank takes a team approach throughout the process. It is common for Carlisle, Gibala and South Jersey Market President Rob Curley to all be present in person for an initial meeting, and they are always available to address concerns.

That openness leads to a fruitful partnership.

"John trusted us completely and listened to us," Gibala says. "He told us all of his goals and visions, and I think we were successful in helping him accomplish them. We brought a team from TD Bank representing lending, risk and underwriting to our meetings with him. John appreciated that when we said we were going to come through on something, we were actually able to execute it. The decision-makers were sitting with us at the meetings, which made things a lot easier and streamlined."

Ruga believes this is only the beginning, and envisions many more years of working closely with the TD Bank team.

"We feel very strong with TD and it's only gotten stronger as we've been together," he says. "I was looking for a bank that understood us and where we could have a true relationship. We're grateful for what we've found there."

In a strong economy with numerous projects getting underway throughout South Jersey, TD Bank can offer customized solutions to fit its customers' needs. But building lasting connections like the one with Ruga will always be the top priority.

"Even though we're a financial institution that provides products, we pride ourselves on being customer service-oriented," Carlisle says. "We take time to get to know each customer and offer solutions and advice that work for their needs. Our philosophy is to always keep the clients' best interests front and center."
Call or connect.
1-856-232-9111 |
www.tdbank.com
To read the digital edition of South Jersey Biz, click
here
.

Published (and copyrighted) in South Jersey Biz, Volume 9, Issue 5 (May 2019).
For more info on South Jersey Biz, click
here
.
To subscribe to South Jersey Biz, click
here
.
To advertise in South Jersey Biz, click
here
.