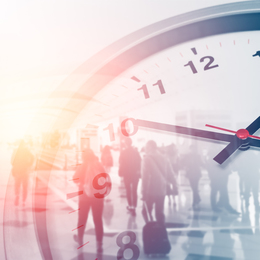 Close of Biz: Looking Back
Do you ever wish you could tell your younger self something if you had the chance?
We posed this question to local executives, who also talked about the various challenges they faced as they advanced in their careers and the path each of them took to get where they are today.




What would you tell your younger self if you had the chance?
Daniel Sulpizio
Executive vice president, COO South Jersey Federal Credit Union
"Don't overdo the 'career worry.' If you do a good job and do what is right by people, things will always work out and for reasons we cannot always comprehend. Appreciate that it is a gift to get to know new people, especially those who are different from you in some way, culturally, ethnically, etc. Push yourself out of your comfort zone."
"That I should have more confidence in myself. Many times throughout my early career I felt I needed partners or investors to support me in building the company. In hindsight, that compromise proved confusing to me and my growing staff, because we didn't have a focused leader or a plan for the individual and the company's growth."

Tammy Torres
CEO, Salem Medical Center
"I would tell my younger self to take ownership of the work you do. Don't wait for recognition. There's a fine line between tooting your own horn and championing your own work, but I think it is important to make sure you're being recognized for what you're contributing to your organization."
What have been the biggest challenges you've had to overcome?
Daniel Sulpizio

"I have always worked hard at building relationships for the business line that I was responsible for; getting to know new people by networking was so important. In my efforts to fulfill the business need, many times I neglected to network 'me.' If I had done so, different opportunities may have presented themselves."

Michael Fischette
"The constantly shifting business and regulatory climate over the last 30 years. Today, climate change and electric grid reliability influence all our decisions. It's difficult to reeducate and retool the workforce when the markets are this volatile; it takes constant training and reinforcement of new ways of thinking."

Tammy Torres
"My greatest challenge turned out to be my greatest accomplishment: education. As a bedside nurse I sought educational opportunities that would help me increase my nursing skills. As I pursued these new opportunities, I continued with my education, culminating with a doctorate of nursing practice. It was never easy with full-time, demanding work and raising a family."
What was the path you took to get where you are today?
Daniel Sulpizio

"Getting to know what I was good at and staying focused on that. Playing up on my strengths was just as important as recognizing areas I needed to improve upon and then getting the resources I needed to compensate for them. Most of all, my parents were correct, treat people the way you want to be treated."
"I was blessed with absolute focus since I was in high school. I knew I wanted to own my own business from day one. I planned a path that would allow me to work for a large company after college to give me maximum experience in the industry. Over time, I was able to assemble a talented group that continues to grow today and reinvent ourselves as the world changes."
Tammy Torres

"I started out at the bedside in critical care nursing at Yale New Haven Hospital and then progressed through leadership roles at various hospitals before becoming CEO of Salem Medical Center. Along the way I had the privilege to serve with excellent mentors and colleagues who nurtured and guided me in my career aspirations. I try now to pay it forward any chance I have."

To read the digital edition of South Jersey Biz,

click

here.



Published (and copyrighted) in South Jersey Biz, Volume 9, Issue 9 (September 2019).

For more info on South Jersey Biz, click

here

.
To subscribe to South Jersey Biz, click

here

.
To advertise in South Jersey Biz, click

here

.