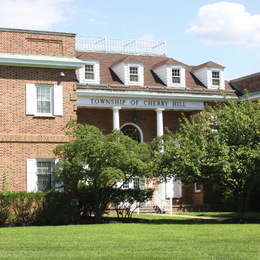 Abundant Advances
Business continues to boom in Cherry Hill.
Sixty years ago this year, Alloy Silverstein opened in South Jersey.
Formerly based in Camden and then Pennsauken, the CPA firm moved to Cherry Hill in the fall of 1973, following many of its clients to the area.
While a shifting client base was one reason for the move, another of the major factors was Cherry Hill's location, says Dennis Vogt, CPA, partner for Alloy Silverstein.
"We have a location convenient for both us and our clients—accessible to major highways, close to Philadelphia, within proximity to a growing and thriving retail capital of South Jersey, etc.," he says. "Clients and prospects from outside the region who are unfamiliar with South Jersey still know where Cherry Hill is."
With the growth that has been taking place all around town the past few years, it's obvious Alloy Silverstein is not the only company looking to capitalize on Cherry Hill's prime location. Businesses from all sectors have homed in on everything Cherry Hill has to offer, and they're bringing more opportunities to town than ever before. American Heritage Credit Union is one of those businesses, having opened their second location in New Jersey in Cherry Hill just this month.
"Cherry Hill is a vibrant, exciting and growing community and we are excited to be part of it," says Mike Dinneen, vice president of marketing. "Our mission is to enhance the lives of both our members as well as the communities we serve. As a member-owned institution, our value proposition of outstanding, community and member-focused partnership is already resonating with the thriving retail, business, mixed-use and residential communities of Cherry Hill."
Medical
One of the business sectors to see the most significant development in Cherry Hill is the medical arena. This is especially evident along Route 70, which has become known as the Healthcare Highway. Here, Virtua, Cooper Health Systems, Penn Medicine, South Jersey Radiology Associates, Advocare and Nemours have all invested millions into new offices, additions, renovations and remodeling of sites along the road.
"With Cooper Hospital taking over the Lockheed Martin building next to the Crowne Plaza Hotel, and Penn Medicine, which is wildly successful right in the middle of Cherry Hill, completing its expansion, along with Lourdes Healthcare—now Virtua—and all the other medical offices that have opened, we've really become a regional destination for medical," Cherry Hill Mayor Chuck Cahn says. "People come from Princeton, Atlantic City and of course South Jersey, rather than having to go to Philadelphia."
Of course, Route 70's Healthcare Highway does not include the numerous specialty practices and urgent cares that have also opened within the township, or the major redevelopment occurring at Jefferson Hospital, notes Lorissa Luciani, director of community development for Cherry Hill Township.
Cherry Hill's attractiveness to the medical sector, along with the host of other industries that call its borders home, is beneficial to residents, but it is also especially helpful to other business owners like David Suleski, president and founder of #TechStarters. A single-source IT firm specializing in network security, ransomware prevention and remediation, business critical backups, Windows servers and managed IT support, #TechStarters specializes in assisting professional organizations in the medical, dental, financial and law fields.
"We chose our location for the convenience factor," Suleski says. "A good number of our clients are in South Jersey but also Philadelphia, and allowing our employees to be able to get on and off 295 easily played a huge part in our decision.
"But it's also super important for me to be near family—family always comes first—and as a Cherry Hill resident I knew I wanted to have a business here," Suleski concludes.
Retail and Hospitality
Perhaps the most notable project occurring in the retail and hospitality sectors of Cherry Hill is the continued expansion of Garden State Park. A long-awaited, and controversial, Costco will soon be coming to the former racetrack site, along with a Duluth Trading Company—an army-navy-type store—and a Trader Joe's, TJ Maxx and HomeGoods nearby, according to Cahn.
"A lot of people think brick and mortar businesses are fading away, with everyone buying things on the internet," he says. "But Cherry Hill continues to thrive and see huge construction and getting people shopping and getting out and about.
"Restaurants are also being built up and down Haddonfield Road," he adds. "There has been a huge renovation of the west side of Cherry Hill."
Also on Route 70, Cahn notes the former Subaru headquarters building has been demolished and the site has been cleared. Although there is not a firm user for the site yet, he says, "there are lot of people kicking the tires."
Elsewhere in the township, German grocer Lidl also has plans to open a store at the intersection of Route 38 and Cuthbert Avenue, and Cahn says there is increasing interest in the hospitality and entertainment sectors.
"We do see a lot of interest in hotel development and entertainment," he says. "All the things the young people enjoy, whether it's axe throwing—all the experience-type things—are interested.
"iFLY, which is a tower that you go into and have a simulation of a parachute experience, so you go parachuting without leaving the building—they're looking to come," Cahn continues. "It's all about entertainment, and then the hotel development that goes along with it."
Camden County Freeholder and Cherry Hill resident Melinda Kane says the tremendous growth in Cherry Hill really has made it the commerce hub of South Jersey.
"It's become a place for eating, shopping and playing," she says. "It's not just an area that people drive through to get somewhere. It's really a destination."
Community
Lest we forget the truly important part of Cherry Hill and the reason for all this expansion—the well-being of the residents—Cahn says there is still a major focus on land preservation.
"Progress and building is important, but in Cherry Hill it's all about preserving and protecting open space," he says. "We've been careful to do that the last eight years and made sure open space is not touched.
"We don't want to see overdevelopment, but a nice balance of development in under-utilized areas but not overdevelopment," Cahn continues. "I think we've done a very good job of balancing the two."
Open space aside, there are businesses in the township that are working on maintaining quality of life for residents as well. The Katz JCC, for example, which has called Cherry Hill home since 1948, brings events to the township every year that businesses and residents alike benefit from.
Its next contribution will be the Mid-Atlantic Junior Maccabi Games in May 2020, which will bring approximately 2,000 young Jewish athletes from across the Mid-Atlantic region together for a day of competition, according to Stephanie Dworkin, marketing director for the JCC.
While the JCC is a Jewish community center, Dworkin says their focus is far more reaching.
"We are open to everyone of all ages, faiths, cultures, etc.," she says. "We offer programs that provide something for everyone."
FACTS AND FIGURES
250,000
Cherry Hill's daily population during the work weeks.
Golden Mile
The nickname residents have given the expansion along Haddonfield Road between the Cherry Hill Mall and the Garden State Park development.

2020 The year when the majority of the highly anticipated businesses coming to Garden State Park will open (Trader Joe's, Costco, TJ Maxx and HomeGoods).
$10 million
Amount Camden County has committed to spending on road work in Cherry Hill.
In 2017, Cherry Hill was the third-largest job market in the entire Philadelphia-Camden-Wilmington metropolitan area, behind only Philadelphia and Wilmington.
WHAT BUSINESSES ARE SAYING
New Road Construction
,
Scott Weitz, President
"Through the years, Cherry Hill Township representatives and officials have been instrumental in assisting New Road Construction in accomplishing many successful projects for our clients as well as our own offices. From our initial transition to our current location, through a recent renovation and upgrade to our corporate offices, Cherry Hill has supported our success. Cherry Hill ... 'You couldn't pick a better place.'"
Cartridge World
,
Marty Long, Owner
"It's not what Cherry Hill has done [to help Cartridge World grow and succeed] ... it's what the people and local businesses of Cherry Hill have done. They have welcomed us with open arms, referred us to fellow businesses and embraced our business from day one. Now that we have expanded and moved into furnishing laser printers to businesses at no cost to them, our growth has truly taken off. We love owning a business in Cherry Hill."
Winterland Ice Skating Rink, LLC
(opening fall 2019)
,
Al Bartolomeo, Principle owner
"In my opinion, the best part of having a business in Cherry Hill is the way in which there is an open and cooperative relationship with the administration and freeholders of the county. I have always had, and continue to have, my ideas heard and taken seriously by the county and as a result it makes the business experience that much stronger. I enjoy knowing that their primary interest is central to my business philosophy—to create an environment that the residents of Cherry Hill will enjoy."

ACCU Staffing Services
,
Elaine M. Damm, CEO
"When ACCU Staffing Services was first established in the late 70s, Cherry Hill was known as the business hub of South Jersey—it was and continues to be a successful area for many different types of industries. Having a location in Cherry Hill gave us the opportunity for exposure not only to these businesses, but also businesses in surrounding communities like Mount Laurel and Pennsauken. Both businesses and job seekers knew about ACCU because we were in Cherry Hill, one of the most highly populated townships in Camden County."
USA Phone
,
Melissa Willhouse, Marketing and social media specialist
"USA Phone has been constantly growing and changing with the times for nearly four decades, and this community has allowed our business to succeed simply because of the great location and even greater people. We are able to network easily and effectively, provide excellent job opportunities for people all over the Greater Philadelphia area, and serve businesses of all sizes all across the country, right from our office in Cherry Hill. "
Holiday Inn Philadelphia-Cherry Hill
,
Nolan Cox, Director of sales and marketing
"The thriving commercial district on Cherry Hill's 'Golden Mile' here at the Market Place at Garden State Park brings in a wide variety of business travelers to our area. Our valued relationships within our community is what allows our hotel the ability to succeed in an ever-growing corporate environment."


To read the digital edition of South Jersey Biz,

click
here.

Published (and copyrighted) in South Jersey Biz, Volume 9, Issue 9 (September 2019).
For more info on South Jersey Biz, click
here
.
To subscribe to South Jersey Biz, click
here
.
To advertise in South Jersey Biz, click
here
.