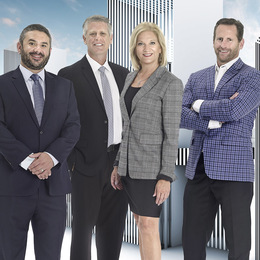 Who's Who in Real Estate
14 professionals leading the way in the commercial real estate industry.
The real estate market has gone through significant changes over the past few years, and it's no secret the commercial and industrial real estate sectors have been booming. Development and redevelopment is happening all over this area, with more major companies, as well as businesses that originated here, calling South Jersey home.
The individuals in front of you, ranging from veterans in the field to up-and-coming real estate professionals, are the ones helping those companies make the commitment to do business in South Jersey. They seize every opportunity presented in front of them, adapt to the market changes and utilize their skills and multiple years of experience to get the deal done, every time. We present to you our second annual Who's Who in Real Estate.
Senior vice president, healthcare services, Colliers International
Zweben specializes in the leasing and sale of office and medical properties, representing both landlords and tenants. He is a three-time winner of the Everest Award, given to the highest producers at Colliers. A married father of two, he is a board member of the Katz JCC and Cherry Hill Atlantic Little League.
"[Being successful] means that the hard work paid off. I take great pride in everything that I do and being recognized along with this group of successful industry peers provides a great sense of accomplishment."
Managing director, project & development services, Cushman & Wakefield
Adams serves in a leadership role at Cushman & Wakefield, overseeing a team of professionals that develops and manages institutional, commercial and industrial construction projects throughout the tri-state region. He works closely with owners, investors and tenants, utilizing his 23 years of experience in project management.
"[Being successful to me means] optimizing outcomes for our commercial real estate clients as we help them achieve their real estate goals, whether it be an occupier, investor or owner. In the process of doing this, I also enjoy and seek out opportunities to mentor and share my experience with team members and associates."
President and CEO, Delco Development
A 25-year veteran of the industry, Juliano is passionate about discovering hidden potential and working with his team and brokers to acquire sites for development or redevelopment. He is involved in every aspect of the process and is committed to its success, for both his organization and the community.
"Everything has changed [in the industry]. The whole world has changed. When I first got started in this business, people called 1-800 numbers to book hotel rooms and we used the yellow pages to generate business. That is all over. Now you have to be able to react immediately to a social media post or a change in market conditions. If you are not using technology to manage your business, you might not be in business in the future."
Executive vice president, portfolio management, Conifer Realty
Celebrating his 30th anniversary in the industry this year, Lampher has risen from an entry-level position to executive leadership and been involved in countless projects of all sizes in 20 states, from coast to coast. In his current role he oversees a team of approximately 500 professionals.
"I find the continual evolution of our industry to be especially rewarding. Whether it's new service innovations, product developments, regulatory changes, market shifts or just simply brightening someone's day with a new housing or community development opportunity, there's always a freshness to what we do that keeps us engaged and challenged."

Vice president, leasing, Whitesell Construction
With almost 25 years of experience under her belt—including the last 17 at Whitesell—Ireland's current responsibilities include landlord representation, lease negotiations, tenant retention and business development. She is a board member at Habitat for Humanity and helped raise thousands of dollars for YMCA of Burlington County through an annual wine pairing dinner she started.
"[The most rewarding part of the business is] knowing you provided the best advice for a company's operation given their situation. When businesses prosper, you're hopeful your guidance contributed to their success."
Executive vice president, principal, Metro Commercial
Brickner has been part of the Metro Commercial team for the last 25 years, and his current role involves tenant representation on a national and regional scale. His active clients include BJ's Wholesale Club throughout the U.S. and Texas Roadhouse and Total Wine in New Jersey. He has negotiated over $3.5 billion in lease consideration.
"When I first got into the business there was a clear delineation between tenants that located inside the enclosed malls and tenants that located outside the malls in strip centers, community centers and power centers. Today, malls that are successful incorporate a variety of uses to help drive traffic; uses such as gyms, salons and entertainment concepts like Dave & Buster's."
Jack Morris
President and chief executive officer, Edgewood Properties, Inc.
At age 18, Morris started his own custom-home construction company and in 1992 he founded Edgewood Properties with wife and partner Sheryl Weingarten Morris, overseeing all operations for their commercial and residential real estate properties in four states. Morris is chairman of the board of the Robert Wood Johnson University Hospital and next month will be inducted in Cento Amici, a community organization that provides need-based scholarship assistance.
"Both the challenge and the reward of the commercial real estate business is creating communities that not only meet an immediate need, but stand the test of time. Our company's philosophy is to hold our properties long-term; therefore, we're constantly thinking about how future market cycles will react to our product."


Associate, JLL Commercial Real Estate
Kemery received his New Jersey salesperson license at the age of 21 and within six months had sold over $1 million in residential real estate. A little over two years later, Kemery and his partners at JLL head all leasing and user sale activity in the Central and South Jersey markets, working with clients such as Tesla, BJ's Wholesale Club and Lowes. He is also a committee member for the YMCA of Gloucester County Y for All Charity Gala.
"The industrial real estate sector has really changed over the past several years. Retailers are continuing to scale back their storefront footprints while increasing their backend warehousing and distribution footprint as we've seen a non-stop rise in the shift toward e-commerce. [With the trend for] next day delivery, many companies are now storing more products in a larger facility while operating smaller last-mile facilities [leading to a] tremendous demand for warehousing and distribution centers both locally and across the country."
Executive vice president, corporate & brokerage services, NAI Global
After 35 years in the industry, Meyer's expertise has earned him numerous accolades, including the NAI Global Elite status on six occasions and induction into the company's hall of fame. Founder of CRESTAR Alliance and himself a Six Sigma black belt, he was recently recognized as the only NAI Global broker to complete a transaction in every U.S. state.
"The emphasis on e-commerce and last-mile distribution is significantly changing the landscape of the real estate market. In addition, the new railroad and trucking regulations are creating increased pressure on efficient logistical distribution networks. I see this sector of the real estate market continuing to grow and flourish over the next several years."
Partner, The Flynn Company
With more than three decades in the industry, Ricci oversees South Jersey operations, including leasing/sales activity, property and asset management and property acquisitions. Ricci volunteers his time generously as a current member of the Governance Committee, with the board of trustees for the ALS Association of Greater Philadelphia and as treasurer of the Moorestown Field Club.
"Technology has changed the broker's role from purveyors of information to more analysis and consultation. As many have predicted, brokerage won't go away but it will continue to change. The same is true of development and construction. Technology is changing not just traditional demand drivers, but how we build."
CEO, co-owner, National Integrity Title
Duffield was a top real estate agent with Long & Foster prior to shifting to the title industry in 2015. In his current role, he leads the strategic vision for the company, spearheads business development and partnership initiatives and aims to represent high standards of integrity to his team and clients.
"The ability to identify one's personality is key to understanding their wants and best service their needs. This is true whether a client, employee or colleague. The most rewarding part for me is when two people who I connect are able to collaborate, flourish and grow together while building a long-lasting relationship. Equally as rewarding is when we hire a new employee who adds to our highly educated, motivated team and becomes a part of our work family."
Founder and president, Hersh Realty Group, LLC
Hersh's 25-year pedigree in the industry includes positions with Louis Ross Associates, Legend Properties and Markeim Chalmers, where he headed the firm's retail brokerage division before forming his own brokerage firm. He focuses on the marketing of commercial and investment real estate for sale and lease as well as property management duties.
"The peaks, valleys and obstacles that present themselves during the course of a transaction can be challenging. Guiding and managing that process—along with the multiple parties and personalities involved in a sale or lease—through to a successful conclusion is what I find to be rewarding."
Managing director, director healthcare division, Newmark Associates
Feldman has been with Newmark Associates since 2005 but her connection to the company stems from her time as a business owner in the '80s. She has a dual role in the company, managing and coaching a team of associates, as well as directing the newly created healthcare division at Newmark. A dedicated board member of Prevent Child Abuse New Jersey, Feldman also enjoys playing golf and traveling.
"Among the challenges of this profession is that every transaction is different and requires an unbiased approach to problem solving. As a landlord representative, one needs to educate the owner as to the market demand for such space and as a tenant representative, one needs to create reasonable expectations for the prospective tenant."
Chief operating officer, chief financial officer, Nexus Properties
Germano came to Nexus in 1990 as chief financial officer and added the title of chief operating officer in 2002. A 33-year veteran of the industry, he oversees the organization's development, management and financial activities. Away from work he is a member of the board of trustees for the Inspira Health Network and Acenda.
"Success, as in the case of the Glassboro redevelopment [known as Rowan Boulevard], is seeing the various stakeholders' satisfaction that we achieved their collective goals/aspirations."


To read the digital edition of South Jersey Biz,

click
here.

Published (and copyrighted) in South Jersey Biz, Volume 9, Issue 9 (September 2019).
For more info on South Jersey Biz, click
here
.
To subscribe to South Jersey Biz, click
here
.
To advertise in South Jersey Biz, click
here
.