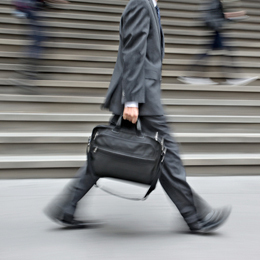 On the Move
Openings, closings, hirings and retirings in our region.

Margaret Pego, senior vice president of human resources and chief human resources officer at PSEG, will retire at the end of this year.


Bowman & Company recently announced the following promotions: Christopher Brick, CPA, CFE, RMA, PSA; Alexander P. Davidson, CPA, RMA, PSA, CFE; Michael Thilker, CPA, CITP and Jie Yang, CPA, RMA, PSA were promoted from managers to senior managers.
Joseph Costic, DO, has been named new attending thoracic surgeon at Deborah Heart and Lung Center. Costic previously served as an attending cardiothoracic surgeon, medical director for the cardiothoracic care unit and surgical director of the ECMO program at Hahnemann University Hospital.
Mike Capone
has been named refinery manager of the Paulsboro Refinery.
Donna Rendeiro has been named executive director of the office of planning advocacy and the secretary of the New Jersey State Planning Commission. She previously served as chief of administration for the New Jersey Housing and Mortgage Finance Agency.
Dilworth Paxson has added associate Benjamin S. Teris to the firm's labor & employment department and associate Jessica Titler-Lingle to the litigation department.
Delco Development, LLC, recently announced that Joseph Pergine has been hired as the general manager for its Aloft and Super 8 Hotel properties in Mount Laurel.
Michael Trumbo has been named chief information officer at InSight Telepsychiatry.
Chris Reber has been named market executive for the South Jersey market for the wealth management division of

Merrill Lynch

, part of Bank of America. He will be responsible for leading and growing the market of financial advisors, management and support personnel in order to provide clients with the firm's full financial capabilities.
Anthony Piperno has been appointed chief executive officer and president at A.C. Moore. Previously, he was chief marketing and merchandising officer for the Berlin-based company.

Duly Noted
Parker McCay recently completed a school supplies drive to support the Center for Family Services' "Project Backpack."Employees at Parker McCay spent a few weeks rounding up new school supplies including backpacks, notebooks, colored pencils, highlighters and binders to donate to area families in need.
Matthew Manella,

manager of financial planning for CORA Capital Advisors, has achieved the CSRIC designation—a certification in the field of sustainable, responsible and impact investing.
Raines Dental LLC in Mullica Hill has kicked off its month-long back-to-school drive, collecting new school supplies for the U.S. Wiggins College Preparatory Lab Family School in Camden. For the second year in a row, Dr. Jason Raines and staff are encouraging patients to donate backpacks, lunch boxes, pencils, crayons and other supplies for elementary-aged children. The drive runs through Aug. 31.
Journey Hospice in Egg Harbor Township has been named a 2019 Hospice Honors Elite recipient by HEALTHCAREfirst.
Capehart Scatchard shareholders Amy C. Goldstein, Esq. and Betsy G. Ramos, Esq. were recently selected by their peers for inclusion in The Best Lawyers in America© 2020. Goldstein was selected for the 10th consecutive year in family law practice and Ramos was selected for the first time in the area of litigation-insurance.
The following professionals have been named to the advisory board for the Senator Walter Rand Institute for Public Affairs at Rutgers University–Camden: Dan Foley, vice president of consulting for Innovative Benefit Planning; Amy Osborn, vice president and head of private banking for Republic Bank in South Jersey and Philadelphia; and Christina Renna, senior vice president at the Chamber of Commerce Southern New Jersey. They join a 26-member board consisting of leaders sharing a commitment to advancing South Jersey through the research conducted at the Rutgers University–Camden policy center.
A two-year grant from the Investors Bank Foundation for $10,000 has aided Saint Stephen's Memorial Episcopal Church in Riverside in upgrading its facilities. The grant assisted the church in updating a leaking roof, gutters that were channeling water into the basement and an alarm system and doors that were not meeting Burlington County Fire Department standards.
Acenda Integrated Health was awarded a $45,000 grant from the United Way of Gloucester County to support its older adult services program—an in-home mental health treatment program designed to support adults ages 60 and older, as well as their caregivers.
Parker McCay
supported the Food Bank of South Jersey with a corporate sponsorship, an employee food drive and a fundraiser to benefit the Summer Meals program.