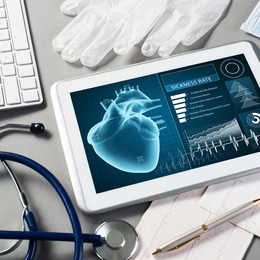 Health Care Roundup
Health care news in our region.
Virtua
has acquired Lourdes Health System in a roughly $60 million deal. Virtua and Pennsylvania-based Maxis Health System—Lourdes' parent company—had agreed to the merger in June 2018.
Deborah Heart and Lung Center's
pathology department has received a two year re-accreditation from the College of American Pathologists. This prestigious industry standard underscores the excellent standards maintained by Deborah's pathology labs.
Jefferson Health
recently debuted Direct Primary Care, a family medicine practice that provides patients with greater access to care providers and more in-depth visits. Located in Haddonfield, patients pay a monthly membership fee which includes unlimited contact with their doctor, including office visits and enhanced dialogue; extended office hours; at-home telehealth visits; access to Jefferson Health coaching services and an annual physical and flu shot. Patients' insurance will not be billed and there are no co-pays or deductibles.
Rutgers University-Camden
is introducing a new program that will prepare military veterans for a civilian career as nurses who will care specifically for other veterans. Veterans Nurses in Primary Care is funded by a three-year, $1.5 million grant from the Health Resources and Services Administration under the U.S. Department of Health and Human Services and is the only program of its kind in the Delaware Valley and the state of New Jersey.
Inspira Health
has committed to the New Jersey Department of Health to reduce low-risk C-sections. Two of Inspira's hospitals are below the goal of 23.9 percent—the percent the New Jersey Department of Health asked all hospitals in the state to commit to.
The American Association of Critical-Care Nurses (AACN) has awarded the silver-level Beacon Award for Excellence to the Progressive Care Units (PCUs) at Virtua Marlton and Virtua Voorhees hospitals. This award recognizes nurses who set the standard for quality patient care. The three-year Beacon Award for Excellence represents a significant milestone in exceptional care and healthy work environments. Specifically, the award recognizes caregivers who align practices with AACN's healthy work environment standards.
Deborah Heart and Lung Center
has received the American Heart Association's Get with the Guidelines-Heart Failure Gold Plus with Honor Roll Quality Achievement Award. The award recognizes the hospital's commitment to ensuring heart failure patients receive the most appropriate treatment according to nationally recognized, research-based guidelines founded in the latest scientific evidence. The goal is speeding recovery and reducing hospital readmissions for heart failure patients.