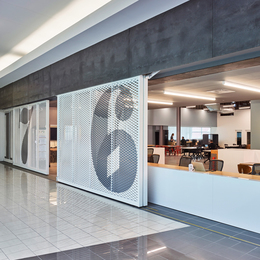 Igniting Success
The New Jersey Economic Development Authority's new program is changing the way entrepreneurs do business in the state.

Starting your own business is not easy. But the New Jersey Economic Development Authority (NJEDA) is working to make it easier.

Through its new program, NJ Ignite, the NJEDA is offering entrepreneurs an avenue to get out of the garages and coffee shops they may be working in—and into a location where they can have access to whatever they might need for their business to thrive and profit.

"The program was announced last summer, and really came about because of a vision and desire from Gov. [Phil] Murphy to support incubators in the state," explains Kathleen Coviello, VP of technology and life sciences investments, NJEDA. "When he campaigned, one of the things he said is New Jersey does not have enough incubators. When he came into office and we sat down and talked about what we have, what we found is that although we don't have big name incubators, we do have a plethora of collaborative work spaces and new incubators coming online that don't have visibility."

With this knowledge, NJ Ignite was created as a way to get entrepreneurs into these incubators and benefiting from all they have to offer. Under the program, the NJEDA will provide up to six months' rent, while the collaborative workspace provides rent for half the length of the NJEDA's commitment.

"Many young startups don't have enough capital; they're starting their business on their own dime, whether it's through a 401(k) or credit card debit," Coviello says. "They have to make hard choices on where to spend limited resources, and usually paying rent to someone else falls to the bottom of the pile. Ignite is the way to ease the burden on entrepreneurs and get them into these spaces."

The benefits of working in incubators, co-working spaces and accelerators, are two-fold, says Diane Holtaway, associate director of marketing for the Rutgers Food Innovation Center, which has locations in Bridgeton and Piscataway and has been offering food-based businesses resources to succeed for over two decades.

Not only do the facilities offer workspace, conference rooms, computers, phones and copy machines—facility resources that are critical in running a business—but they offer a place where entrepreneurs can have access to personal resources as well.

"So many businesses have the same questions," she says. "They go through the same processes. Being in the same place enables them to learn from one another, in addition to being surrounded by other experts in the field. Just by being in this one place is an extraordinary benefit to the business."

Jennifer L. Maher, Esq., CEO of 1776, a startup incubator with a location inside the Cherry Hill Mall, agrees.

"Being an entrepreneur is an emotional roller coaster," she says. "Being around like-minded people that are with you for the ebbs and flows, helping you to celebrate the big moments when you sign the big customers or land the big contract, or being able to motivate you to get back out there because it is a roller coaster, is a big deal."

The Cherry Hill location of 1776, which is one of the company's 10 locations, is unique, too, not only because it is located in a 12,000-square-foot section of the mall, but because is offers a 500-square-foot Founder's Market where its consumer-based entrepreneurs can sell their wares.

"It helps to make the barrier entry to selling really low," Maher says. "Our members are paying a membership fee to be in the market but all of the companies are out of e-commerce and into a brick and mortar space."

While not all incubators have availability to such markets, by signing on to be a participant in the Ignite program, host sites agree to sponsor eight events a year, which can further enhance the entrepreneur's experience at the site, according to Coviello.

"These events come in all kinds of different formats," she explains. "They can be a seminar on, 'How do I pitch investors,' or a round table discussion with investors or other entrepreneurs, or office hours with accountants. … It brings skills to the doorstep of these entrepreneurs and makes it easy for them to tap into these resources."

While the program is focused on assisting technology and life sciences entrepreneurs, which has long been a strong sector in New Jersey, as Maher points out, it also has a huge return on investment for the state.

In fact, Maher notes that 1776 shifted its real estate strategy to focus more in New Jersey now, thanks to the Ignite program.

"We're looking to continue stretching along the Amtrak corridor [which 1776 does now, down into Northern Virginia] and up into Princeton, New Brunswick, Newark," she says. "We're going to look there instead of further south because the EDA offers such great programs for the entrepreneurs."

Maher adds the application process was easy for both 1776 and its first Ignite member, which was recently approved to the program, while Coviello notes if there is an entrepreneur interested in working with a co-working site that is not currently approved by the NJEDA, the NJEDA wants to hear about it.

If this all sounds a bit unlike the typical business model, that's because it is. But as Camden County Freeholder Director Louis Cappelli Jr. points out, it is a model of the greater good.

"This is a totally different model than the highly competitive, zero sum game that most people think about out in Silicon Valley," he says. "When businesses and industries work together, it typically leads to more innovation, better products and an overall greater benefit to the community."