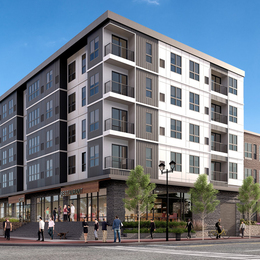 Invested in the City
The city of Camden is making tremendous strides with major investments being put into all sectors.
In Camden, a city that once topped a list of the most dangerous places in the United States, crime and unemployment are at all-time lows and economic development is steadily on the rise.
A consistently profitable city, Camden is returning to its roots as major corporations are calling it home, hoping to reinvigorate the economy and bring in a more robust workforce and increase declining populations. Partnerships, business-to-business connections and inclusion from the state's major players are helping the city trend in a much more positive direction.
"The city of Camden in the last seven decades has seen decline in population— why? Because for decades there was limited opportunity. But today, for example, we see investments in eds and meds that is second to none," says Camden Mayor Frank Moran. "From the works of Cooper University Health Care and what they are doing in our community to the medical schools and the merger of Our Lady of Lourdes and Virtua—which they have commitment to expand and improve their quality of services through the city— things are happening in the city. And we need to make sure it continues."
Nichelle Pace, spokeswoman for the City of Camden Business Association, says her group works hard with city officials to not only help it continue to grow, but to make sure it's more inclusive and that bigger businesses are helping younger, smaller ones.
"We're just trying to make sure we're keeping close ties with the city and keep those relationships going," she says. "We all have a stake in making sure Camden has a more inclusive business climate. It's really important to keep that dialogue open with city, county and state officials."
Pace says the business association has focused its efforts on launching a Camden procurement database, where businesses can link up with others for whatever they may need.
"It would help spur another part of economic growth that's really needed in the city," says Pace, whose group is currently working on getting the project up and helping to create funding for the portal.
Supply chain management company NFI, insurance brokerage Connor Strong & Buckelew and American Water all opened or relocated to the waterfront in Camden, taking advantage of a tax incentive program made available in 2013.
"Over 800 Camden residents have been employed by these companies coming in," says Freeholder Director Louis Cappelli. "That's the most important part of the businesses coming into Camden." With all of this comes the need for improvements to transportation hubs in and out of the city. The Walter Rand Transportation Center opened 30 years ago and is served by the PATCO Speedline, River Line, New Jersey Transit and Greyhound buses. The county is working closely with PATCO and NJ Transit to create a new and improved center.
"Obviously, public transportation is something that is crucial to all urban areas and in order for a city to develop into a world-class city, you need to have outstanding transportation services and that's what we're shooting for," Cappelli says.
The new transit center will feature a redesigned bus terminal with more than two dozen weather-protected shelters, a central concourse connecting bus berths and train platforms, public parking and space for restaurants and retail along Broadway, as well as office and residential space.
Cappelli says the eventual Glassboro-Camden Line, a proposed 18-mile passenger rail line similar to the River Line, with stops in Mantua, Deptford, Gloucester City and more, will have a stop at the new transportation center.
"We also believe if we weave in a new transportation hub, it would attract new businesses and create new opportunities for office, residential and retail growth," Cappelli says.
The city isn't just a thriving one for businesses but for people living there or looking to move into the riverside community. A ribbon-cutting was recently held for 11 Cooper, the first apartment complex to break ground in over a decade. The building will hold 156 units, mostly at market rate.
And right on the waterfront, the first hotel in nearly five decades is set to open on an empty lot next to the old Campbell's Field. The 180-room Hilton Garden Inn is projected to open in 2020.
"We're looking at the convenience of a new hotel for the first time in 50 years on the Camden waterfront—that is remarkable," says Moran. "If that doesn't tell you or expresses the level of confidence the Hilton Garden Inn has in what's happening in the city, I don't know what does. We're excited about that. I had the privilege of meeting recruiters hiring up to 75 new full-service jobs at that hotel, where Camden residents are a priority."
Cooper's Ferry Partnership
Dollars are also being invested in residential areas and parks. The city of Camden and Camden County are devoting more than $10 million into the city's parks department and the state is adding more than double that, says Joe Myers, vice president and chief operating officer of Cooper's Ferry Partnership, a nonprofit that works to plan and implement urban redevelopment projects in Camden. Five neighborhood parks were revitalized last year, including Alberta Woods and Fourth and Washington, and others like Reverend Evers and Whitman Park will see improvements.
Cooper's Ferry and the city have collaborated on a park program called Connect the Lots, a series of outdoor activities that's designed to "engage residents, entertain visitors, invigorate neighborhood open spaces and aid in community transformation. "Camden Night Gardens, Camden's Got Talent and Camden Peace Games are just some of the offerings in which residents and others can take part.
"The idea is to take parks that are under-utilized and put in free programs, and we hire local organizations to put together the programming," Myers says. "When you start looking at data, you find increased usage, increased attendance and increased community engagement."
At the new American Water headquarters, which opened in December, a nearly 100-year-old pier was converted into a 2-acre public park that is serving as a venue for Connect the Lots. The ribbon was cut for the park in May.
There's a new nationwide trend that's manifesting itself in Camden and that's philanthropic and private sector entities making investments in the city, Myers says. Bloomberg Philanthropies, which is the charitable giving outlet of founder Michael R. Bloomberg, invested more than $1 million in collaboration with Cooper's Ferry, Rutgers University-Camden and city officials to tackle illegal dumping in Camden.
"You're now having these national foundations looking at Camden and looking to make investments," says Myers, who is attributing the efforts to "strong leadership" that includes Moran, Cappelli and other county officials.
"It's absolutely imperative that you have a shared vision for that inclusive prosperity. They are interested and willing to make their investments and leverage those dollars."
Centerville, a neighborhood southeast of the main waterfront area, will be home to 255 brand-new homes, says Nick Cangelosi, vice president of development for Camden-based The Michaels Organization, a leader in residential real estate. About 300 dilapidated housing units built in the 1930s are being transformed.
"We're truly building a new neighborhood," says Cangelosi, "introducing new public streets, lighting and landscaping. That's something that's very important to us."
Sixty-four historic homes in the Cooper Plaza neighborhood along Haddon and Washington avenues are being redeveloped with new roofs, exteriors, bathrooms, basements and more. That project is expected to be completed in September.
"It's great to talk about some of the corporate centers, but it's instrumental to revitalize the entire city," Cangelosi says. "That's great you have all these businesses and institutions, but when we look at overall city transformation, it really needs to happen in the neighborhood as well. It's vital the city builds up concurrently with the business component."
Camden Arts Yard is 3,400 square feet of outdoor space transformed into a beer garden— with cocktails, food and games—from an abandoned lot on Market Street just blocks from Rutgers' campus downtown. It opened this spring and Food Network veteran Aaron McCargo, who created the menu for the spot, says people are getting excited about the very first of its kind in the city.
"It's always been a dream and a passion of mine to have this type of venue in the city of Camden," says McCargo. "It's giving folks that live here or come in a reason to stay and not have to go to Cherry Hill or Philly to enjoy a cocktail."
McCargo, who was born and raised in Camden and previously owned two restaurants in the city, says it's important for this type of business to open in addition to the big businesses calling the waterfront home. A business like this, with its menu that includes a Jersey-style cheesesteak, pulled pork and fried sweet plantains, "lets big corporations know it's not just about bringing your business here, but it's also about getting your workers, your staff and your employees to see a brighter side of Camden," he says. "It's giving them an opportunity to walk outside of those businesses and walk up the corridor and really find something great they can eat," McCargo adds.
The Camden native says the food scene in Camden is "kicking up tremendously."
"There is a lot of space and room for folks to bring businesses here which will help the city to be painted as a better place," he says.
$7 million
The amountof grant moneyNJ Transit gaveto the Camden County Freeholders to finance a pedestrian bridge thatwill span MLK Boulevard
2
The number of restaurants Philadelphia restaurateur Michael Schulson is reportedly opening on the waterfront
156
The number of rooms in Camden's first apartment complex in a decade
180
The number of rooms in Camden's first hotel in 50 years
WHAT BUSINESSES ARE SAYING
Coriell Institute for Medical Research,
Jean-Pierre Issa, MD, president and CEO
"One of the things that drew me to Coriell as its new CEO earlier this year is Camden's unlimited potential for growth. There is a buzz about this city—you can feel it in the passion of its residents, the pride the people that work and live here show and the commitment to Camden that is demonstrated by our elected leaders. Camden is truly rising. I'm proud that Coriell has called Camden home since 1953, and I look forward to being part of the next generation to lead Coriell and Camden into the next
Bell Pharmacy,
Anthony V. Minniti, RPh, owner
"I am most excited to see the level of community involvement in revitalizing our city. No effort can succeed without residents' commitment. I'm seeing a level of enthusiasm and pride that I haven't seen in my 30 years working in Camden. The residents of Camden are the most loyal, caring people I've ever encountered. I've served families from their first prescription through their grandchildren's first prescription. I never worry about competition or chains or mail order because they truly appreciate our commitment to them and I am thankful every day for their commitment to us. For me? There is no other place I would ever want to practice."
Rutgers University-Camden,
Mike Sepanic,associate chancellor for external relations
"Camden is rising, and Rutgers–Camden is proud to be a partner in this national success story. We've built a civic engagement program that partners with the community to strengthen families and neighborhoods. Rutgers–Camden completed more than 372,000 hours of service to the community last year, including more than 22,700 hours of pro bono legal services provided by our law students. More than 4,400 Rutgers–Camden students earned course credits in 179 engaged civic learning courses during that time. We work to enhance pathways to college for Camden families, through Rutgers–Camden programs such as the Rutgers Future Scholars and the Hill Family Center. Rutgers is 'all in' on Camden Rising."
Catholic Partnership Schools,
Brian Barry,director of development
"The best thing about Catholic Partnership Schools being in Camden is the richness of culture in its neighborhoods and proximity to the growing array of world-class organizations right in our own backyard. It is our mission to partner with these organizations, bringing workforce opportunities and benefiting from enriched exposure and experiences for the students and families we serve, while empowering them to maintain their cultural identities."
Salvation Army Kroc Center,
Major Terry Wood,Kroc Center Administrator
"This month we are excited to celebrate the fifth anniversary of the Kroc Center. It has been The Salvation Army's honor to serve in Camden for 135 years before we were 'super-sized.' Joan Kroc's vision for Kroc Centers was to be places where potential meets opportunity. There is an abundance of both in Camden. Camden has amazing people, great leaders and it is a wonderful place to do business."