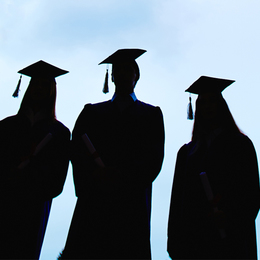 Economic Powerhouses
Local colleges and universities are bolstering the economy in significant ways.

In South Jersey, the economic impact of the region's colleges and universities is seemingly limitless. From job creation and innovation to providing local businesses with a skilled, qualified workforce, local universities like Rowan, Rutgers and Stockton, as well as the region's community colleges, are all doing their part to bolster South Jersey's economy.
According to Michael Sepanic, associate chancellor for external relations at Rutgers University–Camden, higher education is a primary economic driver across the United States—and the same is true in South Jersey. Research universities like Rutgers–Camden bring millions of dollars in federal research funds into the region each year; these grants boost employment and have a multiplier effect in terms of their impact on purchases made from local vendors, he explains.
"College graduates tend to get their first jobs—and often permanently locate— near their alma maters," Sepanic adds. "Thanks to Rutgers–Camden, Rowan, Stockton and all of the county colleges, South Jersey is fighting to reverse New Jersey's historic 'brain drain' by retaining these best and brightest minds."
In fact, some of South Jersey's county colleges recently took a major step forward in the name of supporting local students and keeping them in the region. Earlier this summer, Cumberland County College and Rowan College of Gloucester County furthered their commitment to providing an affordable college education by merging to create the Rowan College of South Jersey (RCSJ). The merger is also creating the lowest tuition cost of all two- and four-year schools in the state of New Jersey—
$152 per credit hour for students living in Cumberland and Gloucester counties.
"The joining of these two schools to create a regional, dual-use campus will create an educational partnership that is the first of its kind in New Jersey. This will help make a higher education more affordable and more accessible to students and their families," says state Senate President Steve Sweeney. "The students and residents will benefit from increased academic offerings and the opportunity for a seamless transition into Rowan University. The productive working relationship among the university community, businesses, trade associations, workers and employees will deliver academic and economic benefits. This is how the future of higher education should look."
Students of RCSJ can also choose to pursue Rowan University's 3+1 program, which allows them to pay for three years of tuition at the county college and one year at Rowan University—meaning they could potentially earn a Rowan degree for as little as $30,000. The program is also available at Rowan College of Burlington County (RCBC).
"Student enrollment in the 3+1 program is off the charts—it allows students to keep more money in their pocket, and it keeps them in Burlington County and continuing to contribute to our local economy. These students can graduate with little to no debt, immediately enter the workforce without concern over student loan payments and they'll have the funds for housing or a new vehicle," asserts Michael Cioce, president of RCBC. "This partnership is paying off in spades because it's a win-win-win for everyone—the college benefits from the third year revenue, the student benefits from the third year savings and the economy benefits when those students remain in the local area and reinvest those savings back into work and play."
Rutgers University–Camden also implemented its nationally recognized Bridging the Gap program, which reduces the cost of tuition for New Jersey's working families—sometimes all the way to 100 percent. In fall 2018, more than 600 incoming students benefited from the program, which Sepanic explains closes the gap between federal and state sources of financial support, and the balance of tuition and the general campus fee. "It's critically important that South Jersey families have every opportunity to achieve their goals with a college degree," he adds. "Rutgers University–Camden is committed to working across all of South Jersey to help make our region competitive for business and attractive for families."
Along with improved affordability, Dr. Frederick Keating, president of Rowan College of South Jersey, notes that RCSJ will also help South Jersey become more attractive to businesses considering a move to New Jersey. "We're very optimistic that this partnership will have a major impact on the local economy—we believe we have the ingredients to give South Jersey something it has never had before," he says. "Our goal is always to educate South Jersey's population and offer an affordable education to local students … but we never forget that local industry needs employees."
In addition to providing businesses with skilled, qualified workers, the region's colleges and universities also continue to serve as major employers and economic drivers on their own. According to a study released this spring by an international labor market analytics firm, every dollar invested in RCBC returns more than 20 dollars in student income, tax revenue and societal benefit; the analysis showed that the college added $504.9 million in income to Burlington County.
"When we undertook the exercise of trying to measure our economic impact, we realized how many different areas the college actually touches in our community, from retaining students in the local region and serving as an employer to our alumni who become part of the local workforce," Cioce says.
Rowan University also continues to be an economic powerhouse in South Jersey. A major employer in the area, Rowan's ongoing growth and partnerships with the region's county colleges, health care institutions and local businesses are bolstering the economy not only in South Jersey, but across the entire state. The university has undertaken $298 million in capital construction investments within the past five years alone, and a recent economic impact analysis by a private research firm quantified Rowan's impact at $1.53 billion. Rowan directly supports 4,460 jobs at the university and close to 7,000 jobs indirectly in the state each year.
"We believe we not only have the responsibility of providing an affordable and accessible education to all citizens, but that we must do whatever we can to enhance the economy of the region and make South Jersey a better place to live and raise a family," says Dr. Ali A. Houshmand, president of Rowan University.
In addition to direct spending by the university, Rowan affiliates and partners have undertaken projects that remain closely aligned with the university, such as the $426 million mixed-use Rowan Boulevard and Inspira Health's new $350 million hospital, which is set to open this fall in Mullica Hill. Also scheduled to open in the fall is the Joint Health Sciences Center in Camden, which will provide a state-of-the-art research lab space for researchers at both Rowan and Rutgers–Camden, as well as deliver learning space for students from Camden County College. The collaborative facility was an initiative of the Rowan University/Rutgers–Camden Board of Governors. "It's unique in the state of New Jersey, and a model for how to maximize public investment in our future growth," Sepanic says. Top researchers from both Rowan and Rutgers will share ideas and build upon each other's work to accelerate the pace of research in South Jersey, he adds.
"We have the ability to build partnerships that create jobs, including construction jobs as well as the retail and restaurant jobs at Rowan Boulevard. …These are people who are now able to purchase a home and pay their mortgage in South Jersey," Houshmand adds. "These partnerships have had a significant impact on the economy of our region, our local workforce and the attractiveness of the region for industry to come in and do business in South Jersey."
The leaders of RCSJ also hope to develop a corridor of 'eds and meds' as well as commerce along Route 55, which will include Inspira Health's new hospital. The health care network already maintains a location next to the college in Vineland. According to John DiAngelo, president and chief executive officer of Inspira Health, the partnership with Rowan has created benefits such as a strong internship program and enabled Rowan students to complete their rotations at Inspira facilities. It has also led to Inspira's Innovation Center at the South Jersey Technology Park at Rowan University, as well as an urgent care center at Rowan Boulevard. The hospital will also open a $70 million cancer center early next year.
"As quickly as we are growing, so is Rowan … and when we work together, it brings so much to the region. From the creation of jobs, new construction and helping Rowan students earn the best possible education by working at one of our 160 locations—including hospitals, doctor's offices and urgent care facilities—this partnership has allowed us to reach out and help countless residents in our service area," he says. "When you look at the economic juggernaut this partnership has created, we strive to continue to develop these opportunities for the benefit of our region." Rowan also continues to grow both on campus as well as within the community, such as expanding its student center and School of Osteopathic Medicine, in addition to planned buildings downtown that are in the works.
The only four-year university in the southeast region of the state, Stockton University is also experiencing growth and contributing to the local economy. The university opened Stockton University Atlantic City, a new residential campus housing 533 students on the Boardwalk, plus an academic center and parking garage. A health sciences center and a Unified Science Center II also opened in 2018 on a newly designed academic quad on the main campus in Galloway Township.
"Stockton serves as an economic driver in the region," says Peter Baratta, chief planning officer for Stockton University. "As a state-designated anchor institution in Atlantic City, the university is helping to diversify the gaming and tourism economy, attract a more diverse workforce and support artistic and cultural activities like the recent city-wide 48 blocks Atlantic City." Baratta notes that the university employs nearly 1,600 people.
"We feel that what we bring to the table is opportunity. South Jersey's corridor of education, medicine and commerce is ensuring that none of our residents ever have to leave the state for an accessible, affordable education," Keating concludes. "We all know that industry needs employees—and we're confident that South Jersey will continue to be an attractive location to do business."