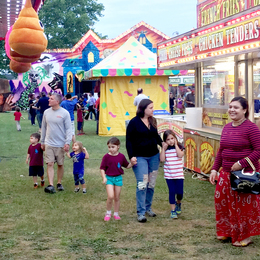 Businesses Here To Stay
From large companies making investments for the long haul to development projects happening almost everywhere you turn, businesses are happy to call Burlington County home.

Kristi Howell has seen Burlington County go through many changes in her 17 years as president and CEO of the Burlington County Chamber of Commerce; most recently the investment many businesses are making by either planting their roots here for the first time, or moving into a larger space within the county.

"We've seen a boom of warehouse development and distribution centers on the Route 130 corridor," she says. "Burlington Coat Factory made an investment in redoing their headquarters and Radwell International Inc. moved to Medco Pharmaceuticals' old site (a 312,000-square-foot building). We are seeing great growth of businesses growing and staying here, and that's because the county has been so aggressive in working with businesses to keep them here in our county and keep our county residents with great paying jobs," she says.

It also helps to be in a great location. "Burlington County has great accessibility to major roadways and cities; you can be in Philadelphia in 25 to 30 minutes, New York City in two hours and Washington, D.C. in three hours. It really makes us geographically desirable in terms of the play and quality of life foremployees," Howell says. "In terms of theemployer and the business, we are accessible for people and commuters and have some great national and regional headquarters here because of the proximity.

"Our goal is to keep businesses here, help them connect with other businesses and help make sure the employees are taken care of and have services they need. We are readily accessible to make sure they want to stay here."



Florence


Mayor Craig Wilkie grew up in Florence Township and says it's always been a tight-knit community. "There's still a personal connection throughout the community, people care," he says. "We try to keep that small town America feel."

Wilkie says Florence was the industrial hub years ago with Roebling Steel Co. and Griffin Pipe factory, and Florence is now home to distribution centers of many well-established companies, such as Amazon, B&H Photo Video, Subaru, Express Scripts and Burlington Coat Factory.

Additionally, the township planning board recently approved a mixed-use development plan to bring 240 apartments, retail space anda hotel to the township. Fifteen percent of the apartments will be affordable housing units and the development will also include a clubhouse, recycling center and retention pond.

"The key piece for this property that makes it so important is the funding for improvement on Cedar Lane and the east side of Route 130.This intersection has been a concern for manyyears, not just because of recent development, but the redesign of the (New Jersey) Turnpike didn't take into consideration the growth going on in that area," Wilkie says. "We've been supportive to get improvements made to the intersection, and then get a first-rate hotel, like a Marriott and a nice restaurant into that space."



Lumberton


Julie Kronfeld, SIOR, vice president with NAI Mertz says Lumberton is full of possibilities and sees more activity happening in that area currently and in the near future.

"Lumberton has historically been at the end of the line with commercial and industrial activity, but we've been seeing a push toward there and strong activity going on along Route38 past Mount Laurel into Lumberton—especially retail, office and industrial activity," she says. "We are encouraged by a couple of things already going on."

One of them being the Wellington Farms redevelopment project—a mixed-use development with nearly 400 housing units on the 211-acre farmland site. It consists of 92 single-family homes, 300 multi-family units and 106,000square feet of retail space within three buildings.

"That project will be great for the town and add the body to support the retail you've already got existing," Kronfeld says. "I feel like Lumberton has been an overlooked communitythat's starting to bloom and mature."

Mount Holly
Small town charm, a busy downtown Main Street and numerous events that take place throughout the year—Mount Holly has a lot going for it, partly due to the downtown revitalization program which has already brought in new businesses and ventures for the town.

"Mount Holly has a ton of things going on," Sean Kennedy, director of recreation says. Thetown's newest addition is the Mount Holly'sFarmers Market, which made its debut on June13. The farmers market was made possible thanks to a grant from the Farmers Market Promotion Program of the U.S. Department of Agriculture. Mount Holly also collaborated with Rowan College of Burlington County's culinary arts school, where students perform cooking demonstrations with some of the fresh produce.

"It's right in the heart of downtown at the corner of High and Washington Streets, and it gets foot traffic going in town," Kennedy says. "There's plenty of parking, it's a short walk to downtown area where all the shops are— Downtown Pizza and Grill, Vincent's Homemade Ice Cream, Village Idiot Brewery, Spellbound Brewery, The Local Eatery and Pub to name a few. It gets people out instead of just driving by and catching a quick glimpse of whatwe have to offer in town."

Regan Young is the founder of RYEBREADArchitects, a staple in Mount Holly celebrating30 years in business. He and his team have done an extensive amount of work in Mount Holly and surrounding areas, such as an expansion for The Local Eatery and Pub and an $8 million expansion of the Relief Fire Company house.

He has seen Mount Holly go through many stages, and is excited to not only see the town go through this revitalization, he's thrilled to be a part of it.

"I wanted to be a part of the revitalization program, as well as be the architect rehabbing projects downtown," Young says. "We have recruited, rehabbed and brought new businesses into town, as well as strengthened existing businesses. It's an exciting time to be here."

Mount Laurel
Mount Laurel recently had its groundbreaking for Centerton Village, a 103 one- to three-bedroom apartment complex within two four-story buildings on the corner of Centerton Road and Marne Highway across from Topgolf. Seven units will be specifically for veterans, and Centerton Village will also include a community room, onsite laundry and a playground.

The New Jersey Housing and Mortgage Finance Agency low-income housing tax credit program awarded $1.75 million in tax credits to the Volunteers of America Delaware Valley to make this project possible.

Deborah Heart and Lung Center
Deborah Heart and Lung Center in Browns Mills is unique in that it's the only hospital in the Delaware Valley region that focuses on cardiac, vascular and lung disease, and president and CEO Joseph Chirichella says it's crucial to the area because there are few other medical offices nearby.

"This part of the county is a medical desert. The only thing in town right now other than Deborahfrom a health care standpoint is one primary care office, a podiatrist and a dentist," he says. "We are trying to use our campus as a way of bringing some specialists and other health care professionals to the community."

Deborah Heart and Lung Center helps out as many people as it can in the community, screening up to 10,000 patients a year at health fairs, senior community centers, as well as going to high schools to screen children and teenagers.

GRANTS AWARDED


Trail Systems


Burlington County was awarded part of $3.6 million in grants toward trail systems from the Delaware Valley Regional Planning Commission. The two Burlington County grants arefor $105,000 in planning costs for a trail connecting the Pemberton Rail Trail to Brendan Byrne Street, and $165,000 for the Rancocas Creek Greenway Trail from the Rowan Estate in Westampton to Historic Smithville Park in Eastampton.



Farmers Market


Mount Holly received a $46,088 grant from the Farmers Market Promotion Program of the U.S. Department of Agriculture to have a farmers market for the first time in the town, and make the farmers market possible for three seasons.

FACTS AND FIGURES
$1 billion Reported cost of Virtua's planned medical complex in Westampton, which will replace Virtua Memorial Hospital in Mount Holly

$22 million Amount developers spent on the former Burlington Center, which will likely become mixed-used development

Nearly 400 Number of homes that will be built as part of the Wellington Farms mixed-used development project on 211 acres of farmland on Route 38 in Lumberton

WHAT BUSINESSES ARE SAYING
Artis Senior Living, Katie Knook, Director of Marketing
"The best part about having a business in Burlington County is the membersof the county themselves. This community is strengthened by its need and want to help others around them and create the feeling that you are never alone and always have a friend to lean on. People advocate for one another—young and old—and continue to support them every step oftheir journey."

Cipriani Remodeling Solutions, Bob Buchan, Marketing Director
"The Burlington County Regional Chamber of Commerce along with the mayor andthe director of economic and community development from Mount Laurel have done a great job welcoming us into the township with a ribbon cutting ceremony for our grand opening. We've been in business for 40 years in Gloucester County and now we're looking forward to another40 years in Burlington County."

The Lerepco Group, Kim Leiby, Director of Business Development
"What attracted The Lerepco Group to Burlington County was location, location, location. We love the fact that Burlington County is close to the Shore, Philadelphia and not too far from New York City. There are so many ratables, access points, restaurants and entertainment. We feel Burlington County as a whole is very business friendly."

Liberty Lake Day Camp, Andy Pritikin, Owner/Director
"The best part about having a business in Burlington County is the people—100 percent. Burlington County folks are laid back andfriendly, and have realistic expectations about life—including their kids. Burlington County is closer to a 'Midwest' attitude than a 'city attitude' and I love it. People from Center City, Cherry Hill and Mercer County send their kidsto Liberty Lake because they know that we have nice kids (from nice parents) with great values."

Wolf Commercial Real Estate (WCRE),Jason Wolf, President
"The best part about having a business in Burlington County is the location. It provides our clients and team members a convenient location with access to other nearby counties within New Jersey and Pennsylvania."

DLC Technology, Darren L. Crane, President
"Burlington County and its municipalities have created master plans that serve to mature services and features, while maintaining a balance of preservation. The result is a growing and changing county that attracts top talent to live and work in the area, giving rise to additional small and medium businesses. This results in a constantly growing and evolving marketplace for our business."

To read the digital edition of South Jersey Biz, click

here

.



Published (and copyrighted) in South Jersey Biz, Volume 9, Issue 6 (June 2019).

For more info on South Jersey Biz, click

here

.
To subscribe to South Jersey Biz, click

here

.
To advertise in South Jersey Biz, click

here

.