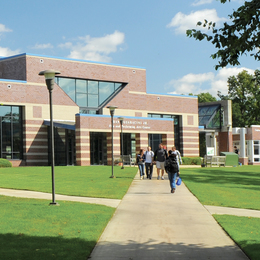 Powered By Partnerships
Projects are thriving in Cumberland County with the help of private and public entities working together.

Some say "two heads are better than one" and in Cumberland County it's proven to be a successful economic strategy. An area with a rich history of glass, textiles and food production, the county has made huge strides in shaking off its stereotypes and ushered in a climate of innovation and improvement. But the effort has not been made by just one group—it's been a combination of local and county organizations in the public and private sector working in concert for the best outcome for all of Cumberland County's residents and businesses.

For instance, Cumberland Grows is a joint initiative with the Bridgeton Area Chamber of Commerce and the Cumberland Development Group, whose members include local municipalities. The marketing project is responsible for reaching business decision-makers and educating them about all that Cumberland County has to offer—affordable land, infrastructure and economic incentives—with a unified voice.

The Cumberland County Improvement Authority (CCIA) has become a major conduit for development in the county, from the state-of-the-art Cumberland Technical Education Center that opened in 2016, to the planned brand-new county jail in Bridgeton. Much has been done through partnerships with other agencies, including the Cumberland Empowerment Zone Corporation.

The combined resources make for a better result, and Cumberland County is poised to reap the rewards for generations to come thanks to the solid foundation built by these partnerships.



ECONOMIC PROJECTS


Vineland
F&S Produce Facility
After the Progresso Soup plant closed in 2017, it was a loss of over 300 jobs and left Vineland with a large empty building. But several months later the facility was purchased by F&S Produce after the company secured $24 million in tax breaks over 10 years from the state Economic Development Authority, guaranteeing to keep280 jobs and 60 or more new positions. The building was retrofitted and F&S moved in last November. Elsewhere on the same location, another 120,000 square feet of space is under construction with drainage infrastructure and equipment replacement. This area will be dedicated to F&S' fruit and apple operations with approximately 120 employees.

"The Progresso plant closure was significant, especially in the loss of jobs," says Gerald Velazquez III, executive director of the CCIA. "F&S being there now means we have a viable facility and a company that is hiring folks, creating new jobs, and also working with other ancillary businesses to lease out space."

This could be the foundation for F&S to become a national player, he adds. "Progresso was once just a local company, so in a perfect world, F&S grows and becomes a more significant contributor to the economy not just here but nationally."

Kres Cold Storage
Just last month Vineland's city council approved a loan worth more than $1 million for a freezer and cold storage warehouse owned by KRES Cold Storage. The 38,000-square-foot warehouse will be built on the former GraphiColor property.

Millville
Hurley Industrial Park
Since opening in 2011, the industrial park adjacent to Millville Airport has not had success in finding tenants. There is now interest from an Italian meat processing company, Rovagnati USA, that is looking to build on a 44-acre parcel in the park. While the deal is going through the Planning Board process, it could be the boost Millville needs to encourage other businesses to come to the industrial park.

"From our perspective, this means jobs and ratables for the county," says Velazquez. "The focus is to direct new development to the areas that are developable and the industrial park is in an Opportunity Zone, so it makes sense to drive businesses there."

Glasstown Creative Enterprise Center
Located in downtown Millville in the Arts & Innovation Center, the Glasstown Creative Enterprise Center is South Jersey's first co-operative workspace. Offering 3,000 square feet of dedicated desks/cubicles and conference rooms, the CEC is home to Holly City Development Corporation, which also spearheaded the project.

Laura Wallick, program manager at New Jersey Community Capital (NJCC), says the Creative Enterprise Center was funded with financing and a small grant through the THRIVE South Jersey program.

"This project took a vacant, underutilized building and created a mixed-use space with market-rate apartments, four artist studiosand an incubator for community groups and small businesses to use," says Wallick. "The response has been nothing but positive. We've heard artists are constantly looking for affordable space to work and exhibit, and as far as the incubator, a number of people are using it, including Holly City."

Bridgeton
Food Specialization Center
Food is at the core of Cumberland County's history, and it continues to embrace new ways to stay relevant in the industry. Branching off of its success with the award-winning Rutgers Food Innovation Center (RFIC), which has seen 200 businesses come through since opening in 2001, Bridgeton is close to opening a Food Specialization Center, a $9.2 million initiative with the CCIA. This space will act almost like a graduation area for those coming through RFIC and foster new food technology. Last fall, Bridgeton received the New Jersey Innovation Challenge grant, worth $100,000, to help establish a "Center for Smart Food Manufacturing" tech hub.

NJCC has allocated $10.5 million in new markets tax credits for the Food Specialization Center. "We felt strongly that the allocation of credits to this project would catalyze economic development growth because the project has the potential to have a significant impact on the future of the food industry in Cumberland County," Wallick says. "It's adjacent to Rutgers FIC, and essentially creates a graduation space for the companies and entrepreneurs in the incubator to grow to the next level while keeping them here in the county, as opposed to moving outside of the community."

Bridgeton Area Chamber of Commerce Executive Director Tony Stanzione says the city's connection to the RFIC has been important. "It seems right now the county is still building on its heritage of food production and the Rutgers Food Innovation Center has been a real positive for us when talking to prospects in the food business, especially from outside the U.S.," he says. "In Bridgeton, land is plentiful and affordable compared to other sections of New Jersey and surrounding states and the infrastructure is in place. We like to promote the entrepreneurial spirit and we will foster partnerships and do what we have to do to bring new jobs and business to the county."

Virtual Reality and Data Campus
Located on the former Cumberland County Technical Education Center site in Bridgeton will now be a 120,000-square-foot facility dedicated to data storage and virtual reality media services. Operated by XConnect, it will provide digital infrastructure, cloud computing and storage, virtual reality services and media distribution to the Eastern seaboard. A 60 MW solar installation is another piece of the project, supporting the data campus with clean energy, the construction of which is estimated to generate more than $25 million in the local economy.

"This is a significant project because it returns a large building from a non-tax ratable to something that will generate tax revenue and employment for the area," says Stanzione. According to representatives familiar with the project, upwards of 400 jobs will be tied to XConnect, and there are discussions regarding partnerships with local educational institutions for training and internships.

EDUCATION
Planned merger of Rowan College of Gloucester County and Cumberland County College
Some of the biggest buzz in the county centers around the yet-to-be-finalized merger between RCGC and CCC which would create Rowan College of South Jersey. Students in South Jersey would unquestionably have access to more educational opportunities through this merger, which is the driving force behind the plan.

"Both institutions recognize that accessibility to opportunities for high-quality education is of paramount importance for the residents and employers of our region," says Robert Clark, Ph.D, head of institutional research at Cumberland County College and merger liaison. "We can only provide these opportunities if our institutions remain strong, and changes in the higher education environment make this increasingly challenging. As a larger, more robust merged institution with campuses in both counties, Rowan College of South Jersey will be able to provide for the needs of Cumberland and Gloucester county residents and employers in ways that neither institution could do alone."

Josh Piddington, RCGC chief information officer, says access to an affordable education is a core tenant of community colleges and is an important aspect of this merger. "We're both completely about access to a quality education in this market," he says. "Everything is becoming more expensive and part of this is we hope to keep the cost of education down by merging."

Students of the new two-campus community college would also have access to the 3+1 program, allowing them to attend their first three years on the Cumberland or Gloucester campus with their final year at Rowan University, essentially obtaining a Rowan University bachelor's degree for under $30,000.

The ultimate goal is to create more qualified individuals who will stay in the area for their careers. It will also spur the eds and meds corridor along Route 55 between the campuses. Piddington says they hope to have medical partners in the near future and create synergies between education, medicine and the various chambers of commerce in the area. "We want feedback about what these organizations are looking for in graduates and adapt curriculum to better prepare students," he says.

Cumberland County stands to benefit on the whole from the merger, says Clark. "[The county] strives to offer its residents and businesses the greatest possible range of opportunities through which they can thrive and grow. Our community college was established more than a half-century ago to enable these goals, and this college has been highly successful in its endeavors," he says. "But we acknowledge that what has worked in the past may not work in the future. We are re-imagining the college in a way that will best serve our county, its residents and businesses for the next half-century and beyond. We see this merger as central to this success."

Beverage Tourism
In response to the fast-growing wine production industry in Cumberland County, CCC has developed an academic certificate for the needs of the beverage tourism industry. Patricia Mooneyham, assistant director, workforce, community and technical education at CCC, says wine agri-business is on the rise thanks to a legislative loosening of laws about who could plant vineyards as well as produce, sell and even ship wines.

There is also a cultural shift, notes Mooneyham, with wineries, breweries and distilleries becoming social meeting places and continuing to impact employment.

"Currently wineries are sending employees out of state for training about wines. CCC has developed an academic certificate around the needs of the beverage tourism industry. As part of the Top Shelf Education Program, we are re-introducing those programs as Workforce Education classes," she says. "The art and wine education classes are a nice addition to our other art offerings at Clay College in the Arts and Innovation Center in Millville. It is a fun way for people to learn about New Jersey wines combined with different art mediums.

"Our plan is to start with wine and then layer in brewery and distillery education in the program as well. Long term, it would be great to become known as the wine college of New Jersey," Mooneyham continues.

CUMBERLAND COUNTY BUSINESS TERMS TO KNOW
Opportunity Zones
Cumberland County has five qualified Opportunity Zones in Vineland, Bridgeton and Millville. Investors in these zones receive a deferral on the capital gains tax, ultimately paying only 85 percent tax on the original gain. Any gain accrued on the investment during the 10-year period is tax free.

Free Trade Zone
A portion of the Millville Airport is designated as an FTZ (formerly known as foreign trade zone), which allows imported goods to be stored duty- and quota-freein an area outside of a designated U.S. Customs port of entry. Duty is deferred until the goods leave the FTZ.

Grow NJ changes
The popular tax program is under intense scrutiny as Gov. Phil Murphy has appointed a task force to investigate the state agency responsible for handing out the tax breaks to corporations amounting to $11 billion. Gerald Velazquez III says the Cumberland County Improvement Authority will continue working with the EDA to see how available programs can best be maximized.



FACTS AND FIGURES


Under $30,000 Amount of a bachelor's degreefrom Rowan University through its 3+1 Program, available for students in the county pending the merger between RCGC andCumberland County College
14
Total acres dedicated to grape production in Cumberland County

$24 million Amount in tax breaks over 10 years for the F&S produce facility in Vineland

$3,000 Amount of credit against federal taxes Empowerment Zone businesses can take for every existing and new hire employee living and working in the Empowerment Zone

$20 million Amount NJCC has invested in projects in South Jersey through its thrive South Jersey Initiative

40 Percent of the country's population within an 8-hour drive from Cumberland County*
*According to Cumberland Grows



To read the digital edition of South Jersey Biz, click here.

Published (and copyrighted) in South Jersey Biz, Volume 9, Issue 5 (May 2019).

For more info on South Jersey Biz, click here.
To subscribe to South Jersey Biz, click here.
To advertise in South Jersey Biz, click here.