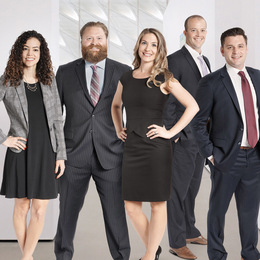 20 Under 40
20 young minds that are changing the way we do business.

It's an exciting time for business in South Jersey, and the young individuals you see before you is one of the reasons why. They found success at an early age due to being extremely driven and passionate about what they do, and are making quite a difference in our region. From tackling the opioid addiction head on to being community activists and starting their own companies before the age of 20, they are redefining the way we do business and helping others and are paving the way in South Jersey for the next generation.
Ernest Holtzheimer
Attorney, Montgomery McCracken
Age: 29
Years in the industry: 5
Holtzheimer's practice focuses on mergers and acquisitions, corporate finance and other general corporate matters. He currently serves on the executive committees of the Philadelphia Bar Association's Business Law Section and Young Lawyers Division, and is the technology chair of the American Bar Association's Business Law Section Private Equity & Venture Capital Committee. An active community member, he serves on several nonprofit boards including the Special Olympics PA-Philadelphia executive advisory board and The Spruce Foundation board of directors. He is also a member of the board of managers of Rowan University's Innovation Venture Fund and Rowan University's entrepreneurship advisory committee.
10-year goal: "Within the next10 years, I hope to become a partner at my firm and to continue serving my community by being active in nonprofit and professional organizations."
What is the most rewarding part of your work? "I am fortunate to be able to work with many small and family businesses from the start or as they scale. Being able to see the impact my work has on their and their families' lives is part of what I enjoy most about my profession."
James F. Baird IV, DO
Assistant Medical Director Emergency Department, Jefferson Washington Township Hospital
Age: 37
Years in the industry: 5
Baird is one of the region's best-known experts on the topic of health care's role in stemming the opioid addiction in South Jersey. He's dedicated his early career in fighting the epidemic by using hospital resources to educate physicians on proper prescribing of opiates, working with community advocates to tackle issues facing those suffering from addiction, discussing the topic with local and federal legislators, and working to change the stigma of addiction in our society. In 2018, he received the NJ Narcotics Enforcement Officers Association (NEOA) Civilian Leadership Award, a certificate of appreciation from the DEA for "Outstanding Contributions in the Field of Drug Law Enforcement."
10-year goal:
"My 10
-
year goal would be to continue honing in the art of practicing emergency medicine. I would like to be board certified in addiction medicine and continue to advocate and treat this patient population. I hope to hold a higher level of administrative leadership to work for physicians' practice to focus on patient-centered care, and to support and advocate for my fellow physicians in the rapidly changing climate of our American health care system."
What drew you to your field?
"I told my parents at the age of 12 that I wanted to be a doctor. I was very inquisitive about how the human body functioned and healed itself. I wanted to diagnose and treat people similar to how a mechanic fixes a car. I was dead-set on becoming a physician. As a young fourth-year medical student, my first rotation of the year was in the emergency room. The minute I stepped into the ER, my entire outlook on what a physician is, and should be, changed forever."
Veronica Diaz
Manager Sales Enablement, AmeriHealth
Age: 29
Years in the industry: 8
As manager of sales enablement for AmeriHealth New Jersey, Diaz
oversees the sales strategy and product development for all of the statewide health plan's sales segments. Her team is also responsible for ensuring a seamless experience for all members, customers and brokers. This includes
overseeing telesales, which involves strategic planning and the training of front-facing agents who assist members during open enrollment and special enrollment periods. Diaz, who is bilingual, also leads the company's efforts to reach out to Hispanic residents and help with enrolling in individual health insurance plans during open enrollment. She holds a bachelor's degree in economics from Rutgers University where she is currently pursuing a master's in health care management.
10-year goal: "In the next 10 years I envision myself continuing to grow in my career and take on more leadership roles, as I love being part of something that is bigger than just myself. I love to motivate, inspire and empower people. A wise boss once told me that you have to love coming to work every day and love what you are doing on a daily basis, so I know that working for an organization where I am in line with the mission, enjoy the culture and have a direct impact on the community is a necessity for me."
How do you unwind? "I love to take a 5 a.m. CrossFit class, which really helps relieve stress and get me going in the morning—I truly feel it's the best way to start off my day as I feel energized and ready to conquer the world! I enjoy working out and it's a part of my daily routine, so getting it out of the way nice and early allows for 'free time' in the evening to do other things I enjoy, such as spending time with my family."
Adam Cummins
President/CEO, Remedy Group
Years in the industry:
14
Cummins is the president of Remedy Group, a contract sales organization that addresses access limitations in the pharmaceutical and health care industry. With over 14 years in outsource staffing and services, Cummins has developed an innovative approach by leveraging virtual sales professionals and today's technology to maximize clients' reach and frequency. This cutting-edge business model has proven to be successful across many specialty markets, including the Department of Defense and the Department of Veterans Affairs. A former Division I lacrosse player at Towson University,
Cummins continues to promote the significance of being part of a team
by creating a high-energy work environment that is built on accountability, hard work and collaboration.
10-year goal
: "I want to c
ontinue to build our value as a multi-faceted business partner by diversifying our solution offerings based on industry and client needs."
What advice would you give to other young professionals?
"There is not a job or experience that I did not learn something that made me who I am today. Approach everything as an opportunity to get better and the sky is the limit!"
David S. Tatninov
Product Manager, AAA South Jersey
Age: 36
Years in the industry: 11
Known for his passion, enthusiasm and commitment to excellence, Tatninov is product manager at AAA South Jersey, where he manages the club's robust membership program, affinity products and corporate sales department. Throughout his 11-year tenure with the organization, he has established himself as a thought leader through his strong business competence, sound knowledge of the industry, and exceptional ability to analyze and forecast business trends. Now, in a leadership role with the organization, he is focused on creating a collaborative environment that leads to results.
10-year goal:"Ten years from now I'd like to look back and see that I continued my education, advanced in my career, and that I did everything possible to be the best husband to my wife and father to my children."
How do you unwind? "I like to gather with family and friends to enjoy good food and to share many laughs."
Erica Anderson-Blaylock, Assoc. AIA
Project Architect, City Invincible Architecture
Age: 32
Years in the industry: 10
While specializing in health care and educational architecture, Anderson-Blaylock's role at City Invincible includes working with clients and consultants throughout all phases of a project. With her self-driven nature and thorough attention to detail, Anderson-Blaylock ensures that each project she works on is efficiently and effectively coordinated. Having grown up working for her family's large construction company, she recognizes the need for an open collaboration between designers and contractors to creatively solve problems and effectively build one's designs. She received her bachelor of architecture from Rensselaer Polytechnic Institute and is currently pursuing her licensure. Outside of work, she volunteers her time as treasurer of the American Institute of Architects (AIA) West Jersey Section and mentors high school students as team leader of the Camden ACE (architecture, construction, engineering) mentor program.
10-year goal: "I am currently pursuing my licensure to become a registered architect. My goal is to further develop my knowledge/work and become a leader in the health care architecture industry; being motivated by the fact that the design of our built environment can directly/indirectly influence the health of our society."
What is the most rewarding part of your work?
"
The most rewarding part of my career typically occurs at the end of a project, when a design is successfully constructed and regarded as a functional, sustainable and visually appealing space for its inhabitants."
Mariel J. Giletto
Shareholder and Corporate Law Department Chair, Capehart Scatchard
Age: 38
Years in the industry: 14
As the firm's youngest female shareholder and department leader, Giletto has reinvigorated the corporate department through increased revenue growth and rapid attorney expansion. She prides herself in cultivating long-term relationships with her clients by offering creative, outside-of-the-box solutions for not just legal issues, but also for matters of business strategy. Giletto is a community activist and fierce advocate for women in her capacity as a shareholder at the firm and as a community volunteer. In 2018, she was appointed to the Burlington County Advisory Council on Women. She also volunteers with the National Association of Women Business Leaders South Jersey (NAWBOSJ) where she serves on the board as public policy director. Within the firm, she mentors her colleagues as the shareholder liaison for the women's leadership committee.
10-year goal: "My 10-year goal is to be the go-to attorney for South Jersey's premier businesses."
What is the most rewarding part of your work? "Helping clients devise practical solutions to their business challenges."
Quandell Iglesia
Founder and President, Quandell Iglesia Consulting; SNJ Millennials
Age: 19
Years in the industry: 4
Motivation is Iglesia's middle name. At the tender age of 16, Iglesia was a junior at Williamstown High School and founded Photobliss, LLC, a full-service photography company. In June 2017 he founded Quandell Iglesia Consulting, specializing in public speaking, business startups and social media consulting. Iglesia is also the founder and president of SNJ Millennials, a nonprofit organization that was launched in September 2017 to introduce young professionals to new business networks. It provides the appropriate tools to those individuals, so they are fully equipped for their future endeavors. This includes workshops, networking mixers and business educational resources for young business professionals. As if his plate wasn't full enough, Iglesia recently joined Keller Williams Realty Inc., Washington Township as assistant team leader.
10-year goal: "For SNJ Millennials to be South Jersey's No. 1 resource for business professionals to learn, build and grow."
What advice would you give to other young professionals? "Your greatest self has been waiting your whole life; don't make it wait."
Christopher Cicalese, CPA, MSTFP
Manager, Alloy Silverstein
Age:30
Years in the industry:12
Since beginning his accounting career in 2007, Cicalese has developed a specialty in providing a wide range of accounting, tax planning and consulting services to professional athletes and PGA Tour professionals. As director of cloud services, Cicalese is a leading member of the firm's internal technology and computer committee, where he is responsible for keeping the firm abreast of technological advances and updates. After graduating from Rutgers University-Camden in 2011, Cicalese achieved his master's in taxation and financial planning from Widener University in 2012. He has been recognized as a Top 100 Must-Follow Tax Twitter Feed by Forbes (@AthleteCPA).
10-year goal: "Over the next 10 years, I expect to have been pushed outside of my comfort zone multiple times. While I grow professionally, I will be able to have more opportunity to give back and will help more families that have been less fortunate than others. It is great to grow, but more important to try to bring people with you along the way to better the community and those that have helped support you."
What is the most rewarding part of your work? "The relationships we build. While not every client opens up, a lot of them will rely on you and tell you things that they hold close to the chest. In one instance, a client took the time to email our managing partner to thank them because they felt the services and information I provided them not only were good for their business, but also helped secure a future for their family. We become part of our clients' inner circle and to see something through and have a client bring you in is one of the best feelings you can have."
Megan Varrell
Director of Membership and Events, Gloucester County Chamber of Commerce (GCCC)
Age: 33
Years in the industry: 7
Varrell is responsible for bringing in and retaining memberships and offering South Jersey businesses affordable advertising opportunities. Passionate about working together to grow together, Varrell has a long history with GCCC, having been an ambassador for four years, winning chamber member of the year in 2017 and in 2018 winning the membership contest. Currently, she is competing in "Dancing with the Gloucester County Stars" to benefit the GCCC Foundation.
10-year goal: "Within the next decade and with the guidance of Les Vail, my goal is to expand my role at GCCC with the aspirations of becoming the next CEO. I also want to launch a nonprofit that focuses on providing meals and music to low-income children in Gloucester County—all while working to grow as the community leader that my friends and colleagues trust."
What advice would you give to other young professionals? "Establish your personal brand. Decide what you want your reputation in the workplace to be, and let your actions define you. Keep promises, and make deadlines. I also suggest any young professional to seek out a mentor."
Chris Henderson
Principal, Vice President, Wolf Commercial Real Estate (WCRE)
Age: 30
Years in the industry: 6
Henderson
focuses on all facets of commercial real estate in South Jersey and the Philadelphia region. Distinguished by his uncanny ability to find, source and cultivate opportunities for his clients,
Henderson
has gained notoriety as one of the office's most prolific business generators and has redefined success for young professionals entering the business.
Prior to joining WCRE, he played professional baseball for the Los Angeles Dodgers organization. Henderson is married to his wife, Jaime and has three girls, Savannah, Olivia and Charlotte.
10-year goal: "To continue to help grow the WCRE story, adding our flag in multiple cities with multiple arms within the real estate industry. Being entrepreneurial and thinking outside the box has helped me personally in my career along with the success of WCRE."
What drew you to your field?
"
I was drawn to the real estate industry just through my desire to learn more about it initially. After transacting my first couple of deals I was captivated by the competition, adrenaline and the overall excitement of the industry."
Farah Morgan MD, FACE
Associate Professor of Medicine, Cooper University Health Care
Age: 39
Years in the industry: 15
Morgan started her medical career at Rutgers Medical School and went on for training in internal medicine at the University of Virginia, where she served as a fourth-year chief resident. She was awarded a position in UVA's Endocrine Fellowship Program where she completed her training in endocrinology as well as research training with an NIH National Research Service Award in 2010.After graduating from fellowship, she joined the Division of Endocrinology at Cooper University Hospital where she practices clinical medicine and also serves as the program director for the Endocrine Fellowship and co-course director for the endocrine course at the medical school. She was recently promoted to associate professor of medicine based on her academic achievements.
10-year goal: "I hope to expand our fellowship education program so we can educate young endocrinologists to serve our community and patients and improve access and quality of endocrinology specialty care."
What is the most rewarding part of your work? "The most rewarding part of my work is having the opportunity to have a meaningful impact on the lives of my patients and those of the young physicians I educate."
Jason Worth, PE, PP, CME
Group Manager, T&M Associates
Age: 36
Years in the industry: 14
Worth was born and raised in Atlantic County and graduated from Rowan University in 2005 with a bachelor's degree in civil engineering. His areas of expertise are municipal engineering, civil engineering and construction management and administration. As a group manager, Worth delivers or oversees more than $3 million in municipal engineering effort, thus improving many South Jersey communities. One of his most memorable career highs was in 2016 when Little Egg Harbor Township's Streetscape Improvement Project was recognized by the New Jersey Society of Municipal Engineers as one of the best projects of the year.
10-year goal: "I would like to continue to grow with my existing clients in addition to expanding T&M's municipal services group further into South Jersey. Personally, as my sons continue to grow, I want to be a role model for them as they reach college and their own professional careers."
What drew you to your field? "My passion for engineering and problem-solving evolved from a young age when math was my favorite subject in school. I would constantly 'reverse engineer' toys and gadgets to determine how they worked. It was my father, whom I was very close to, that inspired me to build a life and career around the things that I loved and excelled at.My math acumen was an early indicator of my life path, a path which became clearer when I developed a keen interest in how communities were planned, built, modified and maintained."
Samantha L. Haggerty
Associate Attorney, Duane Morris LLP
Age: 26
Years in the industry: 2
Haggerty practices in the areas of litigation and gaming law and has represented gaming industry clients in the licensing and regulatory process, including online gaming and sports betting clients. She contributes regularly to the Duane Morris LLP Gaming Law Blog and serves as secretary to the New Jersey State Bar Association's Casino Law Section. Admitted to practice in New Jersey and Pennsylvania, Haggerty is a 2017 graduate of Villanova University School of Law, where she was a senior staff member of the Villanova Law Review and elected to the Order of the Coif, and a cum laude graduate of Muhlenberg College.
10-year goal: "I aspire to be an expert in the gaming law industry, including the emerging sports betting and online gaming arenas, and gain valuable experience in both gaming and litigation matters."
What drew you to your field? "It is an exciting time to be a gaming lawyer, and I enjoy the analytical challenges I often see in the gaming industry, including licensing and regulatory issues. I began my career as an attorney at an exciting time for sports betting, as Murphy v. NCAA was a hot topic during that time. Practicing law is one of the only careers I ever seriously considered, and I am happy with my decision to become an attorney."
Kristen Cass
Director, Cooper River Operations
Age: 37
Years in the industry: 5
A Camden County resident for the majority of her life, Cass is honored to work for her local government. After earning a degree from Rutgers University-Camden, she began her career in retail and food service management. Cass was in search for something more meaningful and switched gears in 2014 as a child care site evaluator for the Camden County Department of Children's Services. Her diverse background and job experiences set her up for success at her current position, where her responsibilities include the Camden County Boathouse, Camden County Driving Range at Cooper River and LaScala's Birra.
10-year goal: "By modeling my mentors and learning to adapt to all situations, I hope to be in a position where I can help others reach their full potential."
What advice would you give to other young professionals? "
My advice to young professionals would be to always be true to yourself. The corporate world can be intimidating at times, so just keep working hard, always give more effort than required and you will succeed."
Aimee deVries
Vice President/Loan Officer, America One Mortgage
Age: 39
Years in the industry: 20
deVries has 20 years of experience in the mortgage business. Starting off in banks, she learned the business from the ground up. Now as a mortgage broker, she evaluates each client to find the best lender, product and price for their individual needs. From walking first-time home buyers through the process to helping clients buy their dream Shore home, deVries has the experience needed to get the job done. She loves making people's dreams come true.
10-year goal: "My 10-year goal is a thriving business, a network of happy past clients referring me family and friends, solid relationships with referring business partners, and a great [work-life] balance."
What advice would you give to other young professionals?
"
Competition is fierce—be the harder worker. Have better customer service—it will take you farther than your product does.
Come from a place of contribution—you must find a way to give back to the people who give to you.When you mess up, own it and fix it. People will respect you more because of your honesty."
Michael David Young Jr.
Paraplanner Assistant, M Financial Planning Services
Age:26
Years in the industry: 3
Young joined M Financial Planning Services in 2016 after graduating from La Salle University with a dual degree in finance and marketing. He works closely with the planning team to create financial plans, as well as provide planning research and support for M Financial clients. Like many people his age, he saw family members who had difficulty retiring due to the financial crisis of 2009. He was drawn to the financial services industry with the hope of becoming a financial coach and educator to help change that outcome for more people. Young recently became engaged and is planning a wedding for 2020.
10-year goal: "My 10-year goal is to become an advisor."
How do you unwind? "I enjoy spending time with family and friends, as well as being very active and engaging in many forms of exercise, from going to the gym to playing ice hockey with friends."
Steve Salomon
Vice President-Branch Manager, M&T Bank
Age:26
Years in the industry: 4
Salomon's responsibilities with M&T Bank include developing and growing business relationships, managing a staff of direct reports and overseeing branch operations in order to maintain a compliant operating model. Salomon is most engaged with the developing business component of his current role, and enjoys getting out in the community and connecting with local leaders and business owners. He started with M&T Bank after graduating from Temple University with a dual major in finance and marketing. He has since gone back to school and is currently pursuing his MBA at Temple with a concentration in financial management.
10-year goal: "Looking forward, I'd like to continue to build relationships with business owners in unique industries and help with any of their financial needs. In the future, I'd also be interested in spending time working in other areas of the bank to get a more holistic overview of our operations and how we add value to the communities and clients we serve."
How do you unwind? "I unwind by spending time with family and friends exploring the various parts of Philadelphia.I also love to travel and plan trips to new places to visit. This year I already visited Italy and England and have a trip planned for later in the year for Southeast Asia—Hong Kong, Singapore and Malaysia specifically."
Suzanne Farnoly
Solutions Manager, American Asphalt Company
Age: 38
Years in the industry: 4
Farnoly manages the solutions team at American Asphalt Company, which is responsible for all aspects of parking lot maintenance. When Farnoly came to American Asphalt Company in 2015, she had no previous construction or estimating experience. She is grateful to Bob Brown, president of American Asphalt Company and Dave Sulkin, business development, for taking a chance and affording her an opportunity to learn the asphalt industry and prosper within the company. In her short time with American Asphalt, she has helped to build a strong foundation and hopes to continue on a path to success.
10-year goal: "My 10-year goal is to strengthen the relationships American Asphalt has built and continue to grow the business, while always prioritizing customer service."
What advice would you give to other young professionals? "Learn something every day. It is so important to remember that there are always opportunities for growth."
Daniel L. Blanchard
Senior Litigation Associate, Lauletta Birnbaum
Age: 35
Years in the industry: 8
After graduating from the University of Pennsylvania in 2005, Blanchard obtained his Juris Doctor and a master's in public administration from Syracuse University. Prior to joining Lauletta Birnbaum, he worked as an assistant district attorney for the Philadelphia District Attorney's office and as a law clerk to the Honorable Lee A. Solomon of the New Jersey Supreme Court. He also was a clerk for the Honorable Gwendolyn Blue of the Camden County Superior Court. Blanchard has served on the board of the Lutheran Settlement House, a nonprofit organization providing social, educational, employment and counseling services to adults, youth, families and seniors in Philadelphia. He currently lives in Haddonfield with his wife and two young children, with No. 3 on the way.
10-year goal: "Ten years from now I would love to be a judge."
What drew you to your field?
"What drew me to law was the ability to counsel and assist individuals and businesses as a trusted advisor and advocate."
To read the digital edition of South Jersey Biz, click
here
.

Published (and copyrighted) in South Jersey Biz, Volume 9, Issue 5 (May 2019).
For more info on South Jersey Biz, click
here
.
To subscribe to South Jersey Biz, click
here
.
To advertise in South Jersey Biz, click
here
.