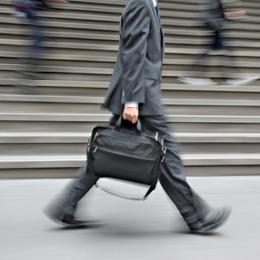 On the Move
Openings, closings, hirings and retirings in our region.


Becky Ting, SIOR, a 24-year veteran with NAI Mertz, has been promoted to senior vice president-office division. Julie Kronfeld, SIOR, will now serve as vice president-office division. Additionally, Bobbi Jean Formosa has joined the firm as executive vice president and managing director.
Bellia Office Furniture has promoted Luciana DiMattia to director of operations.
Debora Weidman-Phillips
, vice president and branch manager of Long & Foster, will also oversee three Long & Foster offices at the Jersey Shore—Longport, Margate and Sea Isle City.
Chris Malone
has been named chief financial officer for NJM Insurance Group. Malone brings more than 25 years of financial and leadership expertise, having held various leadership positions at Plymouth Rock Assurance Company, Travelers Companies and The Hartford.
Yvette Encarnacion
has been appointed to senior vice president, human resources with Columbia Bank.
S.T. Hudson Engineers promoted William C. Jenkins to vice president and director of marine services.
T&M Associates recently welcomed its first female chief financial officer, Violet Koehler.

Dilworth Paxson added Timothy J. Ford to its litigation department.
Andrew Johnson
has joined NAI Mertz as sales associate.
Thomas A. Roberto
has joined Adinolfi, Molotsky, Burick & Falkenstein, P.A. as partner.
Ryan Harbinson
has been named director of business development at Clearbridge Branding Agency.
Les Vinney
, Campbell Soup Co. chairman of the board and director, will retire, with Keith McLoughlin elected to succeed Vinney in the role. McLoughlin served as interim president and chief executive officer at Campbell from May 2018 until January 2019 when Mark Close was elected as president and CEO by the board.
The Protocall Group
has opened a new recruitment center which will serve its New Jersey and Philadelphia locations.
Ronald McDonald House of Southern New Jersey announced the election of five new members to its board of trustees: David Catalana, David Zallie, Leonard Brinson Jr., Keith Smolar and Edward Davis III.
Virtua
is the first New Jersey health system to receive an esteemed award for safety and security by the International Association for Healthcare Security and Safety.
Stockton University President Harvey Kesselman will co-chair one of five working groups that will help implement Gov. Phil Murphy's student-centered vision for New Jersey higher education.
American Heritage Credit Union
was chosen as the winner of the 2019 Dora Maxwell Social Responsibility Community Service Award. The award honors credit unions that strengthen local institutions and materially improve the lives of non-members through community outreach programs.
American Heritage Credit Union
was recently honored with three diamond awards at the annual Credit Union National Association (CUNA) Marketing & Business Development Council. The CUNA Diamond Awards recognize outstanding marketing and business development achievements in the credit union industry.
Daniele Brida Spence
was recently sworn in as councilwoman for Glassboro.
GZA GeoEnvironmental, Inc. (GZA)
has been awarded the National Safety Council's first "Safety Leadership Award" after having received the "Perfect Record Award" for the fifth year in a row. The Council's Safety Leadership Award recognizes 60 consecutive months of work without incurring an occupational injury or illness that resulted in days away from work.
Destination Maternity Corp
. has appointed Greg Kleffner to its board of directors.
Inspira Medical Center Elmer
has been named one of America's Best Hospitals by the Women's Choice Award in 2019 for obstetrics and orthopedics.
Robert Silcox
is the newest member of the Virtua board of trustees.
Bruce Deifik
, the former owner and developer of Ocean Resort Casino, died in a single-car crash in Denver. He was 64.
The People for People Foundation
received a $76,000 Home Depot Foundation grant, which will be used to install a generator in the Veterans Resource Center at Camp Salute affordable housing complex in Clayton.
Scott Mertz
and Fred Meyer have been recognized as Top Producers by NAI Global Mertz. Mertz ranked No. 1 in the world and Meyer is among a group of brokers with gross commissions over $1 million for the calendar year.
MEND
, a nonprofit organization that develops, owns and manages affordable housing for low and moderate income individuals and families, is celebrating its 50th anniversary.
The New Jersey Board of Public Utilities
has received the 2019 ENERGY STAR® Partner of the Year—Sustained Excellence Award for its continued leadership and superior contributions to ENERGY STAR through its clean energy program. The Sustained Excellence Award is the highest honor of all the ENERGY STAR awards.
Manuela Morais
, managing partner of Morais Law, spoke at the Select USA U.S. Investment Growth Seminar in Porto, Portugal, earlier this month.

To read the digital edition of South Jersey Biz, click
here
.

Published (and copyrighted) in South Jersey Biz, Volume 9, Issue 4 (April 2019).
For more info on South Jersey Biz, click
here
.
To subscribe to South Jersey Biz, click
here
.
To advertise in South Jersey Biz, click
here
.