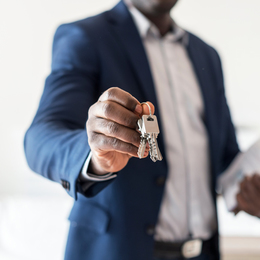 Real Estate Roundup
Real estate news and transactions in our region.

Wolf Commercial Real Estate (WCRE) represented Hyland Levin LLP in the long-term renewal of its 16,440-square-foot, Class A office lease at 6000 Sagemore Drive in Marlton.

Additionally, WCRE has been appointed by NFI Industries as the exclusive leasing and sales agent to market 1005 Laurel Oak Road in Voorhees. WCRE also represented H & W Holding LLC in the leasing and marketing of an approximately 7,500-square-foot office suite to Catholic Charities in Burlington.

NAI Mertz is the exclusive leasing agent for Executive Mews at Cherry Hill, a 112,378-square-foot executive office campus comprised of 24 one-story buildings in Cherry Hill.

CBRE has been awarded a $2.6 million construction management contract from the New Jersey Schools Development Authority for the construction of the new $133 million Camden High School in Camden. The project is estimated to create approximately 1,000 construction and ancillary jobs. Construction is scheduled to begin in the spring and the school is scheduled to open in September 2021.

Vantage Real Estate Services represented Bet365, an online gambling company head-quartered in Britain, in its signing of a long-term lease of a 18,876-square-foot office at 9000 Lincoln Drive East, Two Greentree Center in Marlton.

The Goldman Sachs Social Impact Fund has provided New Jersey Community Capital a $15 million investment to establish the Supportive Housing Fund. This will be used to develop 80 supporting housing units across New Jersey while increasing housing options and services for the state's most vulnerable populations.

Colliers International concluded a series of transactions at a medical office building located at 406 E. Gibbsboro Road in Lindenwold. The property's existing OBGYN practice will be consolidating and relocating to Voorhees in the spring. At the same time, Colliers represented the building owner, GLG Properties, in a new lease of 9,468 square feet to Virtual Medical Group. Lastly, Colliers represented GLG in its sale of the property to an affiliate of Needleman Management for $925,000.

Rose Commercial Real Estate represented Dugan Construction in the purchase of a 20,000-square-foot, one-story medical office building located at 93 Cooper Road in Voorhees.

Additionally, Rose Commercial Real Estate represented National Integrity Title in its signing of a long-term lease for its new corporate headquarters, a 5,086-square-foot office located at 1 Holtec Drive in Marlton.